Rex Motorcycles
Over the years there were at least a dozen manufacturers which used the Rex name including Sweden, Germany and Britain.
Rex GB
Rex Motor Manufacturing Co. 1900-1921
Rex-Acme 1921-1933
---

Rex Sweden
The Swedish Rex marque built motorcycles from 1908 into the 1960s.
Rex of Halmstad
---

Rex Germany
Rex of Behringersdorf 1923-1925
Rex of Munich 1948-1964
---
09-Nov-2018
jeremymarshall1 at hotmail.com
REX 1907- 350cc - leather belt drive
My wife is the grand daughter of Oliver Langton ex TT and speedway rider.
We have one of his bikes in original and running condition although I have not ridden it for 4-5 years.
Interested to make contact with any other Rex owners of similar vintage.
Jeremy Marshall
UK - Worcestershire
---
Tue Sep 13 2016
jimbo.can at blueyonder.co.uk
Parts general
Rex (Sweden) Re Roadster 1952
Any links to parts resource
Uk
---
2016-02-05
<jamiespencer76 at omitted>
james spencer
daventry england
all rex motorcycles
a staff member from 1900's
Would you know of any one that would hold the records about the people that used to work for rex cycles. i have a good friend who is re searching her great grandfarther harold berwick who worked and tested for rex motorcycles we are trying to put together information and pictures from his life. any where you can point me would be of so much help.
thankyou
james spencer
---

Sun Aug 12 2012
jimam47<at>hotmail dot com
Rex engine
Rex rex single
I have a 1914 Rex bike engine for sale
---
Tue Feb 16 2010
fab4fan-kelly at msn dot com
1961 REX COMO
I just purchased this motorbike and was wondering where to get a manual and parts. I would also like to find out the value.
---
April 2009
Mystery pioneer single, possibly a Rex?
...mystery.htm
---
Sun Nov 09 2008
robertbinns at vic.chariot.net.au
Mystery REX vee twin
REX 1907 de Luxe
The bike pictured is a 1907 Rex de Luxe vee twin. This machine had a dropped top tube permitting a lower saddle position and more stable riding position. Rex was one of the first companies to make this milestone change away from what had previously been basically a modified bicycle diamond frame. This model featured a 5 1/2 hp vee twin engine, Rexs patented twin rear tyre wheel (2 tyres mounted side by side), cantilever seat post, ROC free engine clutch in the rear wheel (previous models were direct drive, ie no clutch), and sold for a price of 50 guineas. Magneto ignition was standard on this model (although battery ignition was still on the light weight single cylinder model) and the pedalling gear had been dispensed with and foot rests provided. The Rex sprung fork was introduced in with the 1906 model and continued until 1909 at which time it was replaced with an updated version. The pictured bike would have been a top of the line machine in its day.
Regards Robert Binns, Australia
...............
Tue Feb 26 2008
tedr at btinternet dot com
Rex Motorbike Query
REX Unknown
I wonder if anyone can help me identify the bike in this picture and the aproximate year of manufacture. the rider, a distant relative, left the UK for Australia in 1926 and I think this was taken before went.
---
Sat Oct 13 2007
blue-ant11 at hotmail dot com
Freddie Barnes
Hi all I believe that my great grandfather Frederick William Barnes was an engineer for Rex before he moved to Zenith in 1907. It seems that he was responsible for the Rex patented spring fork and cantilever saddle suspension. Can anyone add to this information?? Would be most grateful for any information or advice!
Thanks
Taryn
Jersey, Channel Islands
---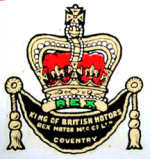 Rex of Coventry
Sat Mar 03 2007
jgardner at netconnect.com.au
Veteran Rex Motorcycles
1906-07 Rex
Can you put me in contact with anyone that is an knowledgable in 1906-07 Rex Motorcycles made in England. I'm an Australian restorer.
Regards Robert Binns
........
I have attached two photos of Rex motorcycles. The restored bike 1906 (belonging to a friend of mine in Australia) and the second print from an original glass negative is a 1907. The print was kindly given to me by Adrian Holden a photograph at Sutton Coldfield in the UK. The two bikes share many common components including the front forks, and all of the engine except the crankcases (1906 is a 3 point cradle mount and the 1907 is a "keystone" 4 point mounting). It is my understanding that sometime through 1907 magneto ignition either replaced battery ignition or was offered as an option. The 1907 remains I have is magneto ignition. I have also attached a copy of the REX logo.
I hope this information is of some value to your site. I would be interested is making contact with anyone that has information or Rex motorcycles in general and particularly from either of the years mentioned. Incidentially, my interest in 1906 Rex motorcycles has arisen from my grandfather owning this model for some years around 1909, it was a mount he spoke very highly of. Many years ago I was fortunate to come by the remains of his bike and have been collecting since.
Regards Robert Binns, Australia.
---
The Comet which was sold in Sweden was apparently a Rex, in turn a copy of an NSU.
AB Maskinfabriken Rex, Halmstad
Built c1911-1913
Motor probably made in Sweden, 2cyl, 4 stroke V-motor, 2½PS, 312cc (310cc?)
NSU Motorcycles in Sweden:
www.nsu.nu/scandmce.htm (404)
---
Jan 07
The rex is 1905 and was owned by oliver langton the TT and dirt track rider.
John Conroy
---
Sat Dec 30 2006
shopkins at mfhupy dot com
Any information needed
1977 Rex
I have a '77 Rex 125cc 4 stroke with a Garelli engine. Am looking for history info and/or other owners of the same machine
Wisconsin
---
Wed Mar 29 2006
allgoodsound at yahoo dot com
62 rex 49cc
This bike is complete has les than 3000 miles on it. red with hand painted white pin stripe. Seats two .needs new seat material but still have original grandfather gave me this gem 20 yrs ago. he bought it new in munich in 62 . need info as to value or anyone who knows anything about this one please contact me . thanks Scotty.
seattle wa. usa
---
April 4, 2000
Solicitamos informacion sobre una motocicleta marca Rex cycle de aproximadamente 98c.c año 1938.
La misma tiene 3 velocidades, palanca de cambios en el tanque, la horquilla delantera es con resorte como las motos antiguas.Por lo poco que se sabe tiene un parecido con la Peugeot 125, 150, 175c.c de los años 40 al 50.
El encendido es por magneto y la luz es tambien por el mismo sistema.
El rodado es de 17 pulgadas.
Yo poseo dicha moto en un estado practicamente original.El color original es beige .
Agradesco si ustedes tienen informacion sobre dicha moto y si fuera posible enviarme especificaciones y una foto de la misma.
Como dato adicional en el motor y platos de freno se encuentran inscripciones en idioma frances.
Desde ya muy agradecido por lo que puedan informarme en caso de que ustedes me lo solicitaran enviaria foto de dicha moto.
Alejandra Di Leone -- adl at adinet.com.uy
From Sheldon: My best translation. Someone please inform me if I missed something.
I need information on a 1938 Rex 98c.c. motorcycle. It has 3 speeds, gearshift in the tank, the front (????) is like the motorcycle Antiguas. I believe it is similar to the Peugeot 125, the 150, 175c.c of 1940 to 50. The ignition is by magneto and the light is also by the same system. Wheels are 17 inches. This motorcycle is in original condition, and the original color is beige. I am hoping that someone will have information on this motorcycle and that it will be possible to send me specifications and possibly a photo of a similar one. Additional data on the motor and plates of the brakes are inscriptions in the French language. I will be very thankful for any information or photos that are supplied. -- Alejandra Di Leone -- adl at adinet.com.uy Uraguay
---
April 3, 2000
I have a REX 125 cc two stroke motorcycle year 1940 (nearly) I need any information about it.
Thanks.
Cacho -- brumi at adinet.com.uy
---
If you have a query or information about Rex motorcycles please
contact us