Vesting Motorcycles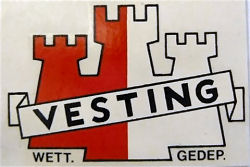 Vesting
Otto Dik founded his bicycle firm in Haarlem and built mopeds in the 1950s, constructed with HMW engines in Paperino frames. Another of his machines was the 1956 Vesting Corsa with a Demm engine - it was a rebadged Demm.
His Galletti scooters were fitted with Demm and HMW engines. (Benelli also marketed Galletti scooters)
The Vesting Corsa 1956 had a 49cc Demm engine block.
N.B. The Vesting logo is a fortified castle. The English translation of vesting is fortress.
Source: Wikipedia NL
1956 DEMM - VESTING 48 CORSA 2T
Engine: Single cylinder 2-stroke
Starter: Kick-starter
Bore & stroke: 39 x 40 mm
Engine Capacity: 49cc
Maximum power: 2.2 h.p. @ 6,500 rpm
Valves per cylinder: 2
Cooling system: Air cooling
Lubrication: Wet sump forced circulation with mechanical gear pump
Transmission: Gear primary, chain final
Clutch: Cable operated with multiple wet disk
Gearbox: 3-Speed gearbox with handlebar control
Throttle: Cable operated
Frame type: Pressed steel frame
Front Suspension: Telescopic fork and shock absorbers
Rear Suspension: Swingarm with hydraulic shock absorbers
Front Brake: Drum
Rear Brake: Drum
Front tyre: 2.00 x 23 in.
Rear tyre: 2.00 x 23 in.
Seat: Dual seat
Fuel tank capacity: approx. 10 litres
Fuel consumption: 1 litre per 70 km
Top speed: 60 km/h
Weight: approx. 50 Kg
List price: 665 Dutch Guilders
Source: Hessink's NL
---


28-Apr-2019
stan.williams064 at btinternet.com
Vesting peseta
Hi I wonder if you know anyone who could date and certificate the year of manufacture of my bike that i am restoring as i need to register it with the DVLA ,the plate on the engine only has 195? for the year so i have to prove that it is App. 1957 the frame number i readable.It has a reg.number but they have no knowledge of it.
Regards
Stan Williams
England
If you have further information or a query related to this page, please contact us
---