Henssink Auctioneers Nederlands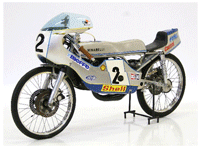 Dutch Auctioneers of the Italian Motorcycle Museum, Nederlands
A collection of engines, motorcycles and memorabilia from the Italian Motorcycle Museum in Amsterdam was auctioned by Hessink's Veilingen, Nijmegen - Nederland, June 2007.
The displays included a good many Kriedler machines which may be viewed here.
A notice on the website says that they are no longer in business.
Hessink's Veilingen - Kamerlingh Onnesstraat 35 - 6533 HK - Nijmegen - Nederland
tel. +31(0)24-3555590 - fax +31(0)24-3555529
Hessink.nl (offline Nov. 2017)

---