Motos-Anglaises
French site specialising in British motorcycles with an emphasis on those sold or manufactured in France

They have been very generous with their contributions to this site, which is delightfully French with a tasteful layout offering an enormous amount of information.
Marques covered include all of the more famous British manufacturers - Ariel, BSA, Matchless, Norton, Royal Enfield, Triumph, Velocette, Vincent - and many of the rarer breeds such as AJW, Calthorpe, Douglas, Dunstall, Excelsior, Francis Barnett, Gus Kuhn, Healey, Hesketh and Humber.
Many downloads are available including sales brochures and manuals, and there is a wealth of information for the motorcycle historian and restoration projects.
Website: motos-anglaises.com
Facebook: Le-MAC-Motos-Anglaises-Classiques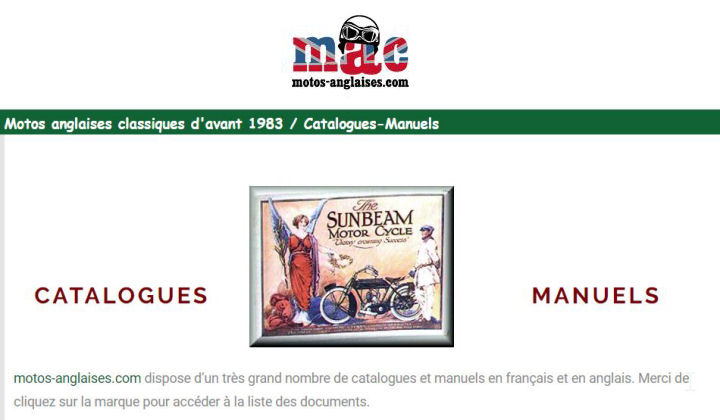 Motos Anglais also has a large selection of catalogues in PDF format.

Manuals
BSA Manuals

Manuel d'utilisation Groupe B : B31, 32, 33, 34
Manuel d'utilisation C12 1956 en français
Revue technique C10 C11 250cc 1939-1950
Manuel d'information sur les modèles A
Manuel d'instruction modèle C, B, M, A de 1956
BSA A7 A10 Manuel d'instruction modèle pre-unit Twin 1959
BSA A50 A65
A50 Star Model, A65 Star Model, A65 Rocket model Spares 1964 en anglais
Manuel d'information
Lucas Manuals

Manuel d'entretien des équipement électrique Lucas en français
Manuel d'instruction en français, Manuel d'instruction en anglais
Triumph

Modifications boulons-écrous 1968 - 1969 pdf
Etude technique des 500 & 650cc pre-unit en français pdf
650 Owner Handbook Unit
User Manual 350cc HW et 350cc OHW
Replacement Parts Tiger Cub & Terrier
Augmenter les performances d'un Tiger Cub
T20 Tiger Cub 1965
Etude sur le moteur-boite des 750 Trident en français
Owner's handbook Triumph Daytona T100R version US 1973
Manuel d'usage 1970 : T120 Bonneville, TR6 Trophy, T100 Daytona Super Sport, T150 Trident
Catalogue pièces T120 de 1958 à 1978
User Manual T140V 1977 USA
User Manual T150 Trident 1969 en anglais
Velocette

Manuel d'instruction LE 200 1952 en anglais pdf
Part List modèle 350cc de 1925 à 1931en anglais pdf
Carte Gris
Carte Gris