Alcyon was a French bicycle, automobile and motorcycle manufacturer between 1890 and 1954.
Alcyon originated from about 1890 when Edmond Gentil started the manufacture of bicycles in Neuilly, Seine. In 1902, this was complemented by motorcycle production and in 1906, the first cars were shown at the Paris Salon. Also in 1906 it founded the professional Alcyon cycling team which was active until 1955, including winning the Tour de France 6 times.
Around 1910 the factory moved in Courbevoie, in the Île-de-France.
In 1912 Alcyon competed at the Isle of Man TT races with a 348cc single-cylinder engine featuring two inlet valves and two exhaust valves.
During the First World War, production was limited only to motorcycles until 1922.
In 1928, the French House interrupted car production, as a result of other models not sold, but went on with the motorcycle until 1954, when it was absorbed by Peugeot.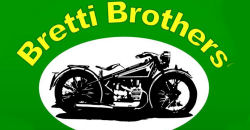 Bretti Brothers
Based in Turin and established for decades, Bretti Brothers offers vintage and classic motorcycles from the early 1900s to the mid 20th century.
More information: Bretti Brothers