Forse pochi sanno che esisteva anche la moto Maserati... Nella nostra collezione c'è...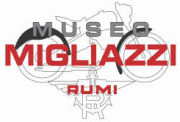 MASERATI 160/T4 (1954-1959)
La Maserati 160/T4 è una *Italmoto riprogettata usando un motore da 158 cc di cilindrata. Fu anche costruita nel 1955 una versione rivista, la 160/T4/TL.
*La ITALMOTO costruiva dal 1952 una moto di 160 cc. a quattro tempi, con cambio a quattro velocità e sospensioni teleidrauliche, presso la loro sede in Via Ferrarese, 171 a Bologna. Tutto fu trasferito a Modena e la produzione continuò con il marchio del Tridente (modello 160 T4).
SCHEDA TECNICA

Marca Moto: MASERATI
Modello: 160/T4
Nazione: Italia
Tipologia: Turismo
Anno: 1956
Tipo di motore: Monocilindro a 4 tempi
Cilindrata: 158 cc
Potenza: 7,5 CV
Cambio: 4 marce
Velocità massima: 00/105 Km/h
Colore: Rossa
Prezzo di listino: Non indicato
Nota: La Fabbrica Candele e accumulatori Maserati nel fallimento ha distrutto tutta la documentazione cartacea, quindi non è dato certo che le informazioni riportate siano totalmente esatte. Tutto quello che si è potuto ricostruire è stato tratto da alcune riviste dell'epoca. La moto esposta è da completare nella parte relativa alla marmitta.
Breve storia della marca Maserati:
Fabbrica Candele Accumulatori Maserati S.p.A. è stata un'azienda che fabbricava componenti automobilistici (candele di accensione e accumulatori), ciclomotori e motociclette. È stata attiva dal 1947 al 1960 a Modena e faceva parte della produzione di Adolfo Orsi, comprendente la Maserati. Questo gruppo di aziende fu successivamente diviso tra i fratelli e le sorelle del proprietario (1953). Sua sorella Ida Orsi ricevette la "Fabbrica Candele Accumulatori Maserati" in un periodo in cui la società era in crisi. Con l'acquisto però dell'azienda bolognese produttrice di motocicli Italmoto (1953), la compagnia entrò in un nuovo business, quello di produzione di motoveicoli. La società tornò a fare profitti vendendo i propri prodotti oltre che in Italia, anche in Sudafrica, Europa ed in America settentrionale. Anche la "Fabbrica Candele Accumulatori Maserati" continuò per un certo periodo la tradizione Maserati della qualità dei suoi prodotti, ma la produzione cessò nel 1960 a causa della concorrenza delle altre aziende motociclistiche (Moto Morini, MV Agusta, Benelli e Laverda).
---
Maserati 160 T4 (1954-1959)
The Maserati 160 / T4 is an Italmoto redesigned engine of 158cc capacity. A revised version was built in 1955, the 160 / T4 / TL.
Specifications

Brand: Maserati
Model: 160 / T4
Country: Italy
Category: Tourismo
Year: 1956
Engine Type: Fourstroke
Engine Capacity: 158 cc
Power: 7.5 HP
Gearbox: 4 speed
Maximum Speed: 105 km/h
Colour: Red
List Price: n/a
Note: Factory documentation has been lost, so it is not certain that the information is completely accurate. Everything that has been useful for restoration has been taken from magazines of the day.
A brief history of Maserati:
Maserati S.P.A. was a company which made automotive components (ignition and batteries), mopeds and motorcycles. It was active from 1947 to 1960 in Modena and was part of the production of Adolfo Orsi. This group of companies was subsequently divided between the brothers and sisters of the owner in 1953. Ida Orsi received the "Fabbrica Candele Accumulatori Maserati" in a period in which the company was in crisis.
With the purchase of the Bolognese motorcycle manufacturer Italmoto, also in 1953, the company entered into a new phase, that of production of motorcycles. The company returned to profit by selling their products in South Africa, Europe and North America, as well as Italy.
Production ceased in 1960 due in part to competition from companies like Moto Morini, MV Agusta, Benelli and Laverda, and also because of the availablilty of small, cheap cars.
An exhibit at the Museo Migliazzi
Fotostudio Massimo Cavatorta