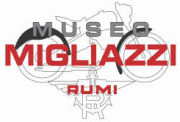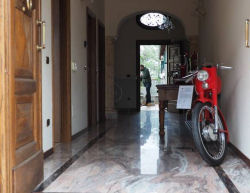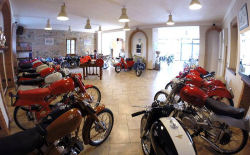 Museo Migliazzi
Art museum near Parma - vintage and classsic Italian motorcycles
Close to many of the other attractions in the area including the magnificent castello di Torrechiara, this simply delightful museum is housed in a colonial-style building overlooking Pilastro's piazza. The focus is on one of Italy's most famous brands, Rumi. Unsurprising perhaps, as it is situated next door to one of the original Rumi workshops and is run by none other than Stefano, son of the firm's founder Donnino Rumi.
The collection also displays works by Donnino who, in addition to building quite beautiful and succesful motorcycles, was also a painter and sculptor.
Other features are the Umberto Corradi collection and the trophies won by Parma-born world motocross champion Michele Rinaldi.
And of course the dolls...
A little history...
In 1954 the Rumi team took four 125cc motorcycles to Landridod Wells in Wales for the International Six Days Trial (ISDT) to compete against the best the war-ravaged world had to offer. They returned with four gold medals. The previously obscure marque was thrust into the limelight and Moto Rumi remains one of the most famous Italian brands from the golden years of Italian motorcycling.
Address:
Pilastro di Langhirano - Parma (PR)
Strada Pilastro, 7, 43013 Langhirano PR, Italy