Il racconto di un bellissimo esemplare presente nella nostra collezione.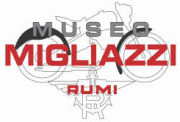 MONDIAL 200 LUSSO (1953 - 1954)
La Mondial 200 è direttamente derivata dalla 125 da corsa che, a partire dal 1949, vinse 5 titoli mondiali di velocità consecutivi. All'inizio con Carlo Ubbiali e poi con Provini e altri. La 200 lusso è l'evoluzione della 200 nata nel 1950 con forcella a parallelogramma in lamiera stampata e ruota posteriore guidata e viene prodotta a partire dal 1953 con forcella telescopica, forcellone oscillante e due ammortizzatori posteriori. Rimane in produzione solo per il '53 e '54, mentre l'anno seguente lascia il posto alla 200 Extra Lusso. Il colore argento la distingueva per brillantezza dalle altre motociclette e la sua linea era del tutto particolare, derivata dai bolidi da Gp del periodo, per cui la possiamo far rientrare in quella che attualmente è la categoria delle Superbike. Il rombo del suo motore a 4 tempi semi libero ed eroga 12 cavalli a 6000 giri, due in più rispetto alla genitrice. Rappresentava un sogno per i ragazzi dell'epoca accessibile a pochi, considerato l'alto prezzo di vendita, e le poche moto sopravvissute sono oggi custodite con profonda gelosia nelle mani di collezionisti dal palato fino.
SCHEDA TECNICA

Marca Moto: MONDIAL MOTO
Modello: 200 Lusso
Nazione: Italia
Tipologia: Turismo
Anno: 1953
Tipo di motore: Monocilidro a 4 tempi
Cilindrata: 190 cc
Potenza: 12 CV
Cambio: 4 marce
Velocità massima: 110 Km/h
Colore: Argento
Prezzo di listino: Non indicato
Nota: Le informazioni variano a seconda della fonte. Tutto quello che si è potuto ricostruire è stato tratto da alcune riviste dell'epoca.
Breve storia della marca:
L'azienda MONDIAL venne fondata nel 1929 a Milano, con la denominazione FB (acronimo di Fratelli Boselli), da una famiglia dell'aristocrazia terriera piacentina, originaria di Ancarano e composta dai fratelli Carlo, Luigi, Ettore, Giuseppe e Ada Boselli. Capofila dell'iniziativa imprenditoriale fu Giuseppe Boselli, già valente pilota e comproprietario della azienda motociclistica bolognese G.D. Il primo modello di serie fu una motocilindrica da 125 cc a 4 tempi ad aste e bilancieri: costava 348.000 lire.
---
The tale of a beautiful specimen in our collection.
Mondial 200 Luxury (1953-1954)
The Mondial 200 is directly derived from the 125cc racer which won 5 consecutive world titles 1949-1954 with riders Carlo Ubbiali, Provini and others.
Specifications
Brand: Mondial
Model: 200 Lusso
Country: Italy
Category: Tourism
Year: 1953
Engine Type: Single Cylinder Fourstroke
Engine Capacity: 190 cc
Power: 12 HP
Gearbox: 4 speed
Maximum Speed: 110 km/h
Colour: Silver
List Price: n/a
Note: the information differ according to the source. Everything that has been able to rebuild has been taken from some magazines of the time.
A brief history of the company:
The Mondial company was founded in 1929 in Milan, with the name FB (acronym of brothers Boselli), from a family of the aristocracy piacentine land, native of ankaran and composed of the brothers Charles, Luigi, Ettore, Joseph and ada boselli. Leader of entrepreneurial initiative was Giuseppe Boselli, already valente pilot and co-owner of the motorcycle company bolognese gd. The first model of series was a motocilindrica from 125 cc to 4 days to and equalizers: it cost 348.000 lire.
An exhibit at the Museo Migliazzi
Fotostudio Massimo Cavatorta