Bennett and Wood
The firm began as a bicycle dealer building penny-farthings. They were famed for the Speedwell brand under which they also produced motorcycles, along with Acme and others.
Addresses:
Bennett, C.W., 68 King Street, Sydney 1885
Bennett & Wood, 68 King Street, Sydney 1886
Bennett & Wood, 75 King Street, Sydney 1887
Bennett & Wood, 116 Clarence Street, Sydney, 1888-1891
Bennett & Wood, 159 Clarence Street, Sydney, 1892-1896
Bennett & Wood, 397 George Street, Sydney, 1897
Bennett & Wood Ltd, 397 George St, 196 Clarence St Sydney, 1898-1900
Bennett & Wood Riding School, 468 Elizabeth St, Sydney 1898-1899
Bennett & Wood, 53-55 Market St and 196 Clarence St, Sydney, 1901
Bennett & Wood, 53-55 Market St, 1902-7
Bennett, Wood, Roche Pty. Ltd., 184 Ryrie St, Geelong, 1909~1912
Bennett & Wood, 13 Wentworth Ave, Sydney, 1937.
Bennett & Wood, Cnr Pitt and Bathurst Sts, Sydney 1908-1961 ("Speedwell Corner" from about 1928)
There were also branches in Newcastle, Tamworth, Wollongong, Goulburn, Wagga, Orange, Lismore and Parramata.
The Victorian Motor Exhibition, 1912.
Mr. Frank Roche, so well known and respected by every motorist and cyclist inside and outside the State, was one of our first men to take up motoring. It's a long while ago now since he first entered the field, and I rather fancy his machine, which he drove so many years ago, would raise a smile if resuscitated now, though, in its day, it was a star attraction, and proved of great service. Mr. Roche imported a motor tricycle, fitted with a 1½ h.p. De Dion engine, and having, beside the driver's seat between the two high wheels, a basket seat in front. Upon this, Mr. Roche covered long distances, and made a journey to and back. With two up, the cycle would make good speed over flat country and on good roads, as much as 20 miles per hour could be got out of it. In negotiating hills, the engine could be helped along by the driver using his pedals. Mr. Roche parted with this "car" to a Bendigo enthusiast, after having proved, to his satisfaction, that the motor engine had come to say.
Punch (Melbourne, Vic.) Thu 5 Sep 1912
Sources: bicycles.net.au; Trove NLA; et al.
---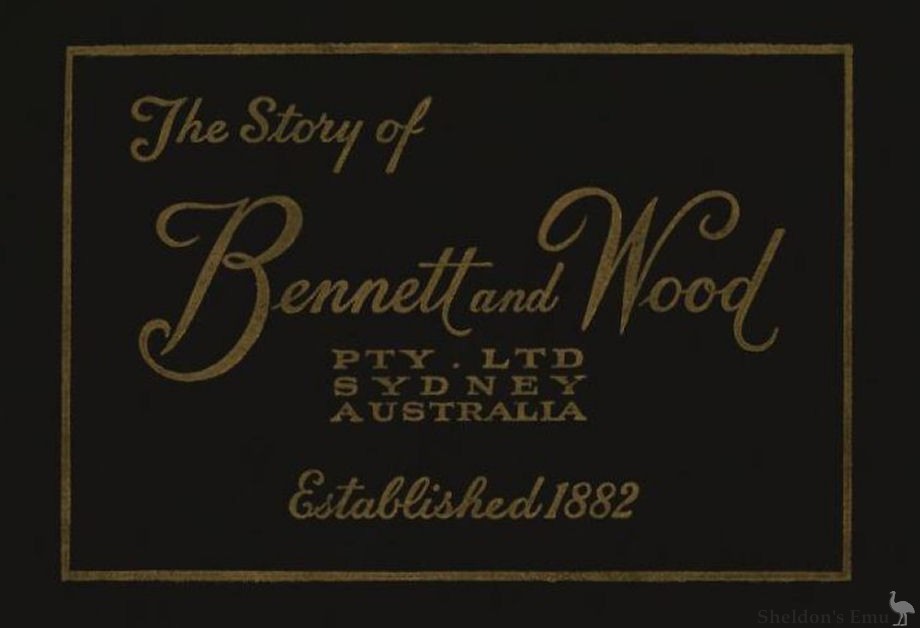 Extract from The story of Bennett and Wood Pty. Ltd, 1949. (Pages 27-29)
Motor Cycles
The association of Bennett & Wood Pty, Ltd. with the motor cycle trade dates back to the very earliest days. In 1898, the Company imported the first motor cycle to be seen in Australia. Over the years, the Company has imported a wide variety of models from many overseas sources, and has taken a leading part in popularising this form of transport in Australia. By designing many types of delivery bodies for different trades, the commercial side of motor cycling has been developed to a high degree, whilst the Company has also fostered motor cycling as a sport and relaxation by encouraging clubs and competitive open events.
INTRODUCTION OF HARLEY DAVIDSON MOTOR CYCLES
The use of the motor cycle in Australia made an important advance in 1915, when Bennett & Wood Pty. Ltd. commenced the importation of Harley Davidson motor cycles from the U.S.A. These machines brought with them many new features, and were an instant success in this country. Their rugged construction proved ideally suited to Australian needs. Giving the performance of a light delivery van for motor cycle cost of operation, these machines have proved exceedingly popular in the commercial world.
Harley Davidsons are distributed by Bennett & Wood Pty. Ltd. throughout New South Wales, Queensland and Tasmania.
B.S.A. POPULAR WITH ALL CLASSES OF AUSTRALIAN RIDERS
For more than a quarter of a century, Bennett & Wood Pty. Ltd. have imported B.S.A. motor cycles from England. These machines have proved extremely suitable for a wide variety of Australian transport needs sporting, pleasure and utility purposes. Bennett & Wood Pty. Ltd. distribute B.S.A. motor cycles in Queensland as well as in New South Wales. Other products of the B.S.A. factory Sunbeam motor cycles and New Hudson auto cycles are also distributed by the Company in N.S.W. and Queensland.
Bennett & Wood Pty. Ltd. has always provided full service facilities for the motor cycles they distribute. Over ten years ago, to more efficiently handle this work, the Company established a separate motor cycle repair and service station in the heart of the motor trade, in Wentworth Avenue, Sydney.
Fully equipped with modern plant and staffed by expert repair specialists, these workshops have facilities to execute all classes of trade repairs and are naturally used extensively by all branches of the motor cycle trade. As with the automobile spare parts section, modern bins, storage and classification methods are used in this department and the Company enjoys the reputation of being the largest parts and accessory distributor.
AGENTS THROUGHOUT TERRITORY.
Throughout the territory which the Company serves, Bennett & Wood Pty. Ltd. have established a complete distributing organisation of agents experienced in all sections of the trade, who are able to attend to the local needs of all motor cycle users.
Source:
Bennett and Wood. 1949, The story of Bennett and Wood Pty. Ltd. Bennett and Wood.
http://nla.gov.au/nla.obj-52839893