Hockley Motorcycles Australia
This is a British machine built in Birmingham for export. Production ceased during WW1 and did not resume.
An advertisement reads: "HOCKLEY 2-stroke, 2¼-h.p., 2-speed gearbox, splendid condition, real bargain. - 23, Wainhouse-st. Torrensville." The Advertiser (Adelaide, SA) Tue 18 Feb 1919.
At least two Hockley machines appeared in SA registration records for 1920 - they were likely being re-registered after the war.
15782, H. Beanland, Rosefield, 2¼ Hockley. (Jan 1920)
17510 J. Gilbertson, Virginia. 2¾ Hockley. (Oct 1920)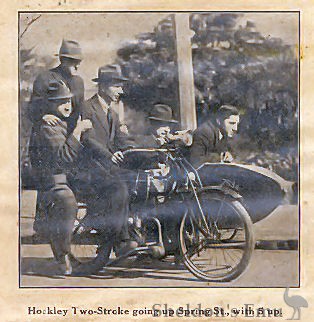 Hockley Two-Stroke
One of the most interesting two-stroke machines on the market at the present time is the 2¾ h.p. Hockley, which is represented by Mr. Barnet, of the Australian Motor Manufacturing Co. Pty. Ltd.
Mr. Barnet was sent out to Australia especially by his home firm, and as a result of his long association with the industry in England, is well fitted to handle this creditable specimen of the two-stroke machine.
The machine with due regard for local conditions, and has incorporated therein many ingenious features. Possibly the frame is the most radical departure from existing design. As is well known, the front down bar is the weak part in practically all motor cycle frames of the orthodox design. This is due to the fact that this particular member is overhung, and is subjected to road shock and engine vibration, which under some conditions impose severe bending strains thereon. In the Hockley machine duplex front down bars are used, which are coupled to the head lug at both ends, and to a common lug at the front engine plates. With this arrangement the possibility of a fractured frame should be particularly remote, while it is quite refreshing to see some originality display in the design of this highly stressed frame member.
Extract from an article in The Australian MotorCycle, Sept 1st 1916.
See also Hockley UK 1914-1916.
Sources: Trove NLA; Early Motorcycle Literature.
If you have a query or information about these motorcycles please contact us
---