Verdel Motorcycles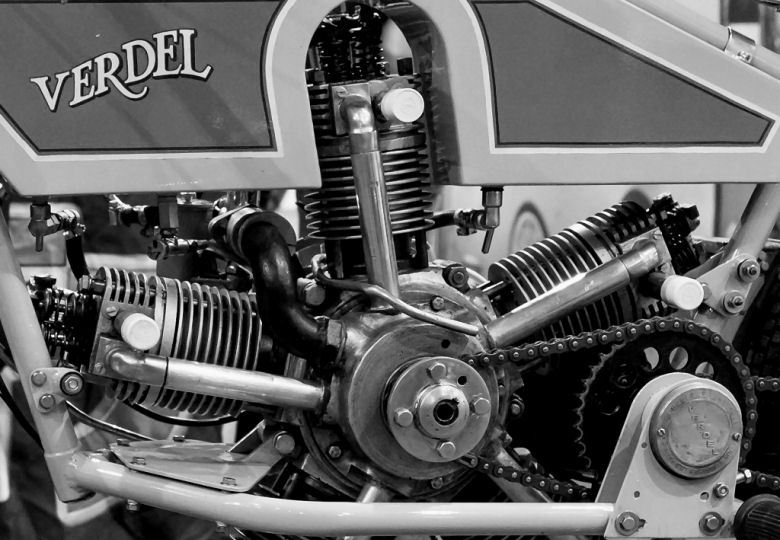 A Brief History of the Marque
Prior to WWI Louis Verdel sold bicycles, automobiles, motorcycles and other goods.
In 1912 he founded the "Société des Moteurs Le Rhône", an aircraft engine factory which soon merged with the "Société Des Moteurs Gnome" in 1915 , creating the brand Gnome et Rhône.
Verdel did not build motorcycles. The famed Verdel 5 Cylinder Rotary was built in Lancashire as an engineering exercise and purchased by Sammy Miller. See below.
---
---
Fri Sep 28 2012
tomfryars<at>googlemail.com
Black machine
Verdel Radial
The verdel was painted black when Sammy purchased it, It has since been repainted
BB7
---
Tue Apr 27 2010
tom.fryars<at>tek-dry.co.uk
Fake
Verdel 750
The Verdel and the Packer were constructed in Clitheroe, Lancashire, UK a few years back by a talented maintainance engineer. Both the Verdel and the Packer were sold to Sammy Miller as such.
Verdel did exist but made aircraft engines, no records exist, Packer did exist as motorcycle manufacturer but again no information exists.
I was in the workshop of the chap who made the tank only this morning.
Ribble Vally UK
How intriguing. So the Verdel is a sort of replica vintage machine, a Spagthorpe in the flesh if you will.

What was the purpose of building these machines, and were they sold to Miller as restored originals, do you know, or as what they are - as you put it, fakes?
.....
Correspondent replied that Sammy Miller bought them as original creations which had been built as engineering exercises, and that originally the radial engine was to have powered a Morgan-style machine but the project developed into the magnificent board-racer concept bike it is now.
---
Sat Nov 06 2010
tverdel<at>cox.net
Can I Have My Bike?
Verdel Any and All
Hey Guys;
There are a couple hundred of us in the US that want this bike, fake or not. We'll be firing up the genealogy machine any day now to see who's first in line for "Grandpa's" invention!
Cheers.
Tom Verdel
Oklahoma
---
Mon Mar 03 2008
g.huvet at perard.fr
Ask for Informations
VERDEL 750
Hello
I'm very interested by The 750 Verdel 1912
I would like to have some informations about it
Do you know a specilist of this motorbike ?
Best regards,
Guillaume HUVET
VERDUN
---
Tue Oct 09 2007
rudge-racing at tele2.ch
Verdel 1912
Verdel racer 1912
i saw this incredable mashine in the Sammy Miller museum , a real head turner, regards Alex
..........
all i could find out is it came from northern France
and i found another picture of a black one ,also included here , if i find anything else i'll let you know
cheers
alex
---
If you have a query or information about Verdel motorcycles please
contact us