Vertemati S570 Super Motard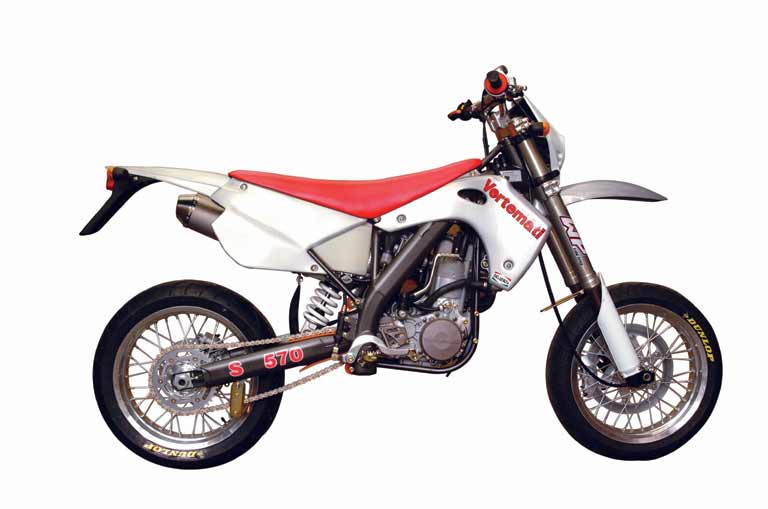 S570 Kick Start
(Note that the S450, S501, S570 and corresponding E models all have the same appearance.)
Engine

---
TYPE
Single cylinder, 4-stroke, liquid-cooled
DISPLACEMENT
570 cc
BORE
98 mm
STROKE
75.5 mm
COMPRESSION RATIO
11.3:1
FUEL
unleaded petrol
CARBURETOR
Dell'Orto PHM 38 ZS1
VALVE TIMING
4 Titainium valves SOHC, gear driven
LUBRICATION
wet sump, through oil pump with oil filter and by-pass valve engine oil capacity 800cc. Fully Synthetic 10/40 or 15/50
Ignition system

---
ELECTRONIC DIGITAL SEM
SPARK PLUG NGK CR8 EK
Transmission

---
GEAR BOX
6 speed removable cassette
CLUTCH
in oil 8 steel plates, 7 fibre discs, sealed hydraulic operation
FINAL DRIVE RATIO
42-15 ratio 2.8:1
DRIVE SYSTEM
O-ring chain 5/8"x 1/4"
STARTING SYSTEM
kick start with auto decompressor
ENGINE DIMENSIONS
width 420 mm ; length 320 mm ; width 250 mm ; weight 29 Kg(with liquids)
Chassis

---
FUEL TANK
located under the seat, capacity 8 Ltrs
FRONT SUSPENSION
WP USD 48mm Fork, Nitride legs, MXMA Multi adjust, 260 mm wheel travel
REAR SUSPENSION
25 Cr Mo 4 steel swingarm hardened and tempered WP SUSPENSION PDS shock-absorber 290 mm wheel travel
FRONT WHEEL
Talon hub, San Remo rim size 17"x3.50", tyre size Dunlop D207 120/60R17"
REAR WHEEL
Talon hub, San Remo rim size 17"x4.25", tyre size Dunlop D207 150/60R17"
FRONT BRAKE
Beringer 4 piston caliper, floating 310 mm Braking disc
REAR BRAKE
single piston floating caliper, 220 mm Braking disc
DIMENSIONS
Length 2115 mm
Handlebar width 810 mm
Wheelbase 1450 mm
Seat height 900 mm
Footpegs height 320 mm
On road weight (with oil & fuel) 116Kg
Features

---
After riding the S570 Motard recently, one experienced rider commented:"It totally suprised me, I mean when you first look at the thing up close, it certainly looks like it means business, but I was really impressed once I actually rode it.
I've got quite a lot of experience on four-stroke singles now & I could tell I was riding well, but afterwards the first thing I looked at was the lap times. If you look at the times from this morning on the Vertemati and compare with the times on my own bike, I was 4 seconds a lap faster on the Vertemati! which is superb, considering that I'd never even sat on the thing before, with more time on the bike I know I could go even quicker.
It handles round corners like it's on rails & the torque it produces as you accelerate out of a bend is amazing, I nearly flipped it first lap! it wheelies on the power in 5th!! & it had another gear to go!
The bike is so light & flickable, I can't believe it's a 570, it feels like a 125 & it's actually very easy to ride, it gives you confidence. It's a four stroke but with two stroke like response, but it still has the four stroke engine braking....I'm going to have some fun getting used to this on the road, it's wild..."
---