Vertemati E450E Enduro 2004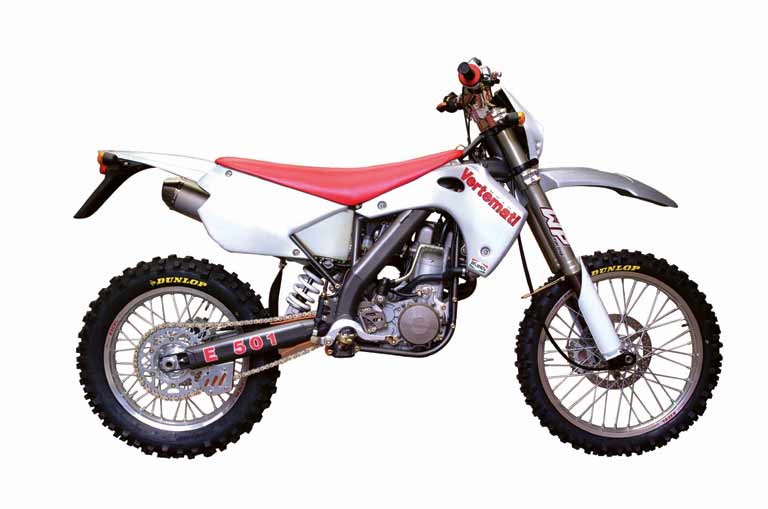 E450E Electric Start Engine

---
TYPE
Single cylinder, 4-stroke, liquid-cooled
DISPLACEMENT
449 cc
BORE
92 mm
STROKE
67.6 mm
COMPRESSION RATIO
12:1
FUEL
unleaded petrol
CARBURETOR
Dell'Orto PHM 38 ZS1
VALVE TIMING
4 Titainium valves SOHC, gear driven.
LUBRICATION
wet sump, through oil pump with oil filter and by-pass valve engine oil capacity 800cc, fully synthetic 10/40 or 15/50
Ignition system

---
ELECTRONIC DIGITAL SEM
SPARK PLUG NGK CR8EK
Transmission

---
GEAR BOX
6 speed removable cassette
CLUTCH
in oil 8 steel plates, 7 fibre discs, sealed hydraulic operation
DRIVE SYSTEM
O-ring chain 5/8" x 1/4"
STARTING SYSTEM
Electric Starter with auto decompressor
ENGINE DIMENSIONS
width 420 mm ; length 320 mm ; width 250 mm ; weight 29 Kg (with liquids)
Chassis

---
FUEL TANK
Under seat, Rear filler, Capacity 9.5 Ltrs
FRONT SUSPENSION
WP USD 48mm fork, Nitride legs, MXMA Multi adjust, 290 mm wheel travel
REAR SUSPENSION
25 Cr Mo 4 steel swingarm hardened and tempered WP SUSPENSION PDS shock-absorber 327 mm wheel travel
FRONT WHEEL
Talon hub, Excel rim size 21" x 1.6", tyre size Pirelli MT32 80/100-21"
REAR WHEEL
Talon hub, Excel rim size 18"x 2.15", tyre size Pirelli MT32 80/100-21"
FRONT BRAKE
Brembo 4 piston caliper, floating 260 mm Braking disc
REAR BRAKE
Brembo single piston floating caliper, 220 mm Braking disc
DIMENSIONS
Length 2180 mm
Handlebar width 810 mm
Wheelbase 1485 mm
Seat height 930 mm
Footpegs height 350 mm
On road weight (With oil & fuel) 116Kg
Features

---
New for '04, the eagerly awaited Vertemati Enduro 450 with electric start. Although we did obtain a handful of 450E's (all sold!)the main batch will arrive during August. This 450 Enduro machine is bristling with innovation & quality & the E450E delivers on all fronts. It rides superb, with an abundance of torquey power good for climbing and fast steering while on the throttle. The light weight and excellent WP suspension compliment the engine's serious performance, giving a rapid but suprisingly well mannered package, Ridden fast or slow, the E450 will give a great day's riding
The main critism of many other Enduro machines is that although some may have more than enough performance, they more than often are let down through a lack of torque and poor suspension which lets the whole package down. Most other machines are built to a budget and obviously there will have to be a compromise somewhere. i.e. Excellent engine - poor chassis, or Decent suspension/components, but let down by a heavy outdated and underpowered engine....sound familiar?
This is where the Vertemati comes into it's own. Break the bike down in to different sections and ask if each part of the bike is up to the job......
Engine - Superb, Powerful (Torquey) Lightweight, modern design with many new innovations !!
Chassis - Light, Very Strong Chrome Moly Frame, Quick Steering, excellent feedback !!
Components- Read the list ...Top of the range WP Suspension, Talon, Brembo, Braking, LeoVince etc,etc. Get the picture!
Many current owners of DRZ's, WR's & even KTM 400's are looking next for something fast & powerful with electric start & quality suspension. Something a little bit more exclusive, a name associated with quality, performance and class. This is the bike that can tackle most conditions well. If you compete in Enduro or Hare & Hounds events, but also like blazing the trails during your other weekends, you need a bike that can take any condtion in it's stride, a good all round package.
Look no further than the Vertemati E450E.
---