A FLAT TWIN WITH ENGINE GEAR UNIT.
The Chain-driven Wooler Revived with many Improvements and Detail Refinements.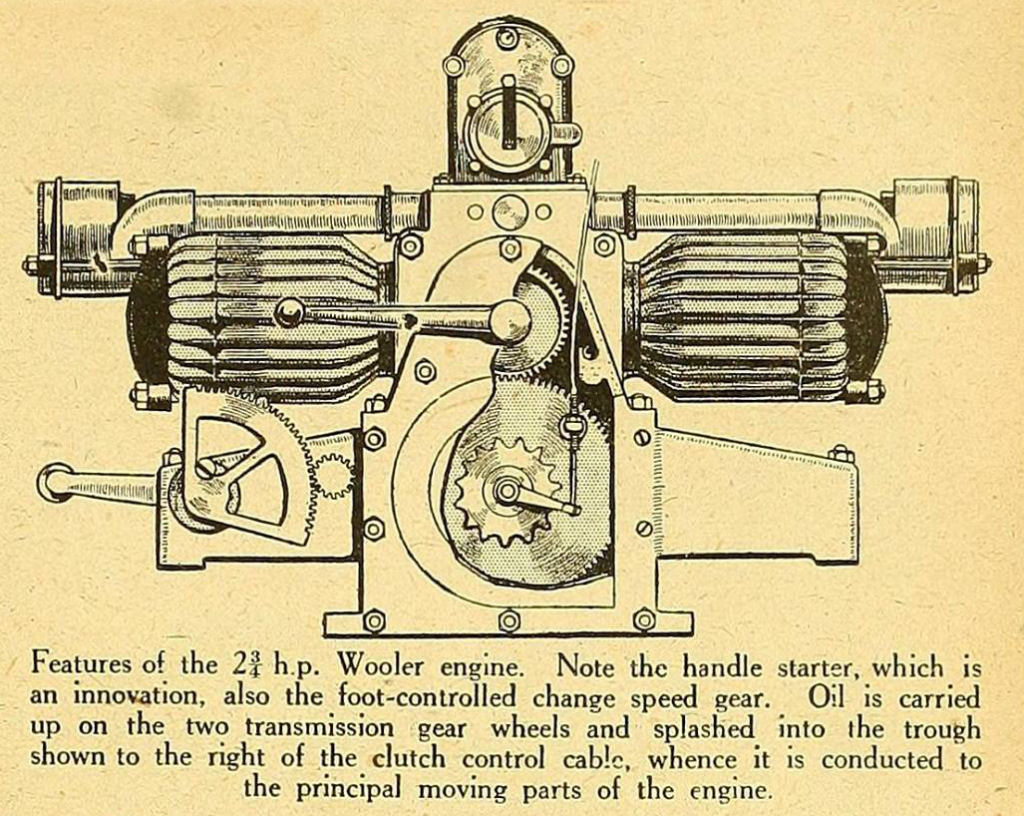 In view of the recent revival of its manufacture, details concerning the new model chain-driven 2¾ h.p. Wooler are of interest.
One of the latest innovations is the fitting of a handle starter, which is applied directly to the engine-shaft and enables the engine to be pulled over compression from the saddle. As small engines of the flat twin type are usually easy starters, one pull up is generally sufficient.
Another practical feature is a chamber screwed on to the bottom of the crank case for carrying the spare chain. It is retained by a single bolt, the chain reposing in the chamber between two thick pieces of felt; in this position it remains undamaged and cannot rattle.
Foot Control of Change Speed.
Among the peculiarities of the machine may be mentioned the method of changing gear by means of the foot, which is quite easy after a little practice.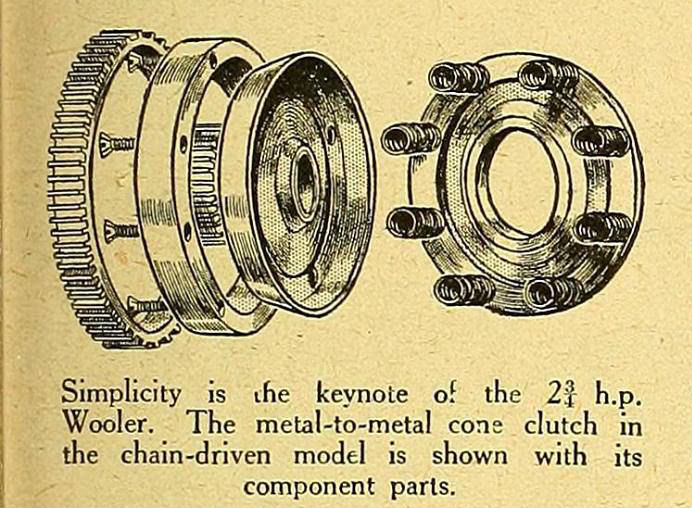 The whole engine has been carefully thought out from start to finish, and particular attention has been paid to the lubrication. Oil is carried in a large sump at the base of the engine, and is taken up by means of gear wheels through a trough, whence it is conducted to the main bearings. The oil mist which escapes through the crank case breather is carried up into the frame tubes, trapped in the horizontal and saddle tubes, and allowed to drain from, the latter back into the sump. This careful arrangement of the release, which is of the timed variety, keeps the crank case perfectly clean, and the whole system is most economical in oil consumption.
Though the bulk of our experience has been with the chain-driven Wooler, the belt-driven model is also a very practical mount, having a variable belt drive, it is worth mentioning that the Dederich-Wooler Eng. Co., Alperton, will sell this attractive little mount at £65. The chain-driven model, which is geared 5½, 8¾, and 16 to 1, is priced at £78.
The Motor Cycle March 23rd, 1922. Page 381