BITRI in het BUITENLAND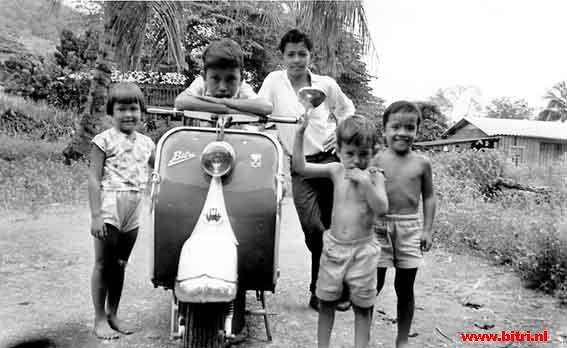 Volgens de verhalen werden Bitri's wereldwijd geëxporteerd, tot aan China toe, echter daarvan heb ik tot op heden nog geen bewijzen gevonden. Mijn inziens was het voor zo'n relatief kleine speler als Bitri ook schier onmogelijk om een wereldwijd dealernetwerk op te zetten. Verkoop aan een ver land is punt 1, maar je moet daarnaast ook mogelijkheden scheppen voor reparaties e.d. Het is natuurlijk gauw gedaan met je als exporteur, wanneer je een scooter verkoopt in een ver aziatisch land, en er vervolgens niet de faciliteiten en onderdelen hebt om bv. een reparatie onder garantie uit te voeren... Mocht iemand meer weet over de exportkanalen van Bitri destijds, dan hoor ik dat graag van u.
Het enige bewijs van een Bitri in de tropen is bovenstaande foto die ik tegenkwam op internet, waarop een Bitri staat in Nieuw Guinea in 1961.
Dichter bij huis heb ik wel enkele importeurs gevonden:
According to stories which may have been the result of advertising spin Bitri scooters were exported worldwide, to China for instance. However, of which I found to date no evidence. My thoughts are it was well nigh impossible for such a relatively small player to establish a global dealer network. Sales to a distant country are possible, of course, but you should also create opportunities for warranty repairs and spares. If an exporter sells a scooter in a distant Asian country, and do not have the facilities and components eg. a repair under warranty... If anyone knows more about the Bitri export channels, I would like to hear from you.
There is evidence of a Bitri in New Guinea in 1961, as shown in the photo above. (1)
Closer to home, I did find some importers:
BELGIË 1957
Et. Pierre Muller N.V.
Haachtse Steenweg 580
BRUSSEL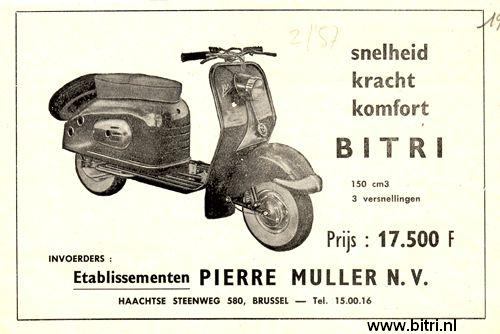 BELGIË 1959
Et. G. Grysom
Steenweg naar Bree
PEER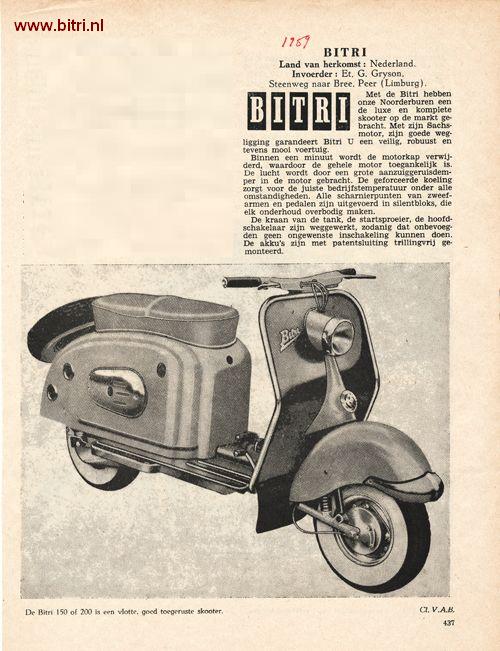 GROOT BRITANNIË 1958
Robert Eden Co.Ltd
45 St.Jamesplace
LONDON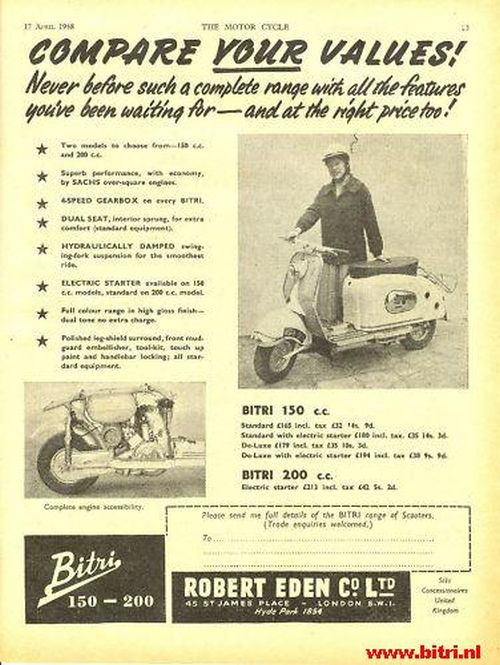 Mijn andere site: www.klassiekrijden.nu
Notes
: 1. As parts of New Guinea were Dutch colonies, it is possible the scooter was imported privately.