BITRI REGISTER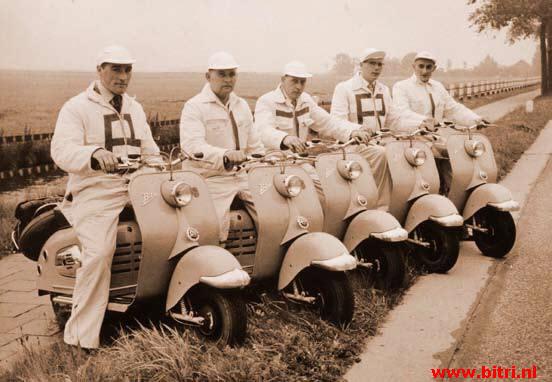 Heeft u een Bitri of weet u één te staan, meldt deze dan alstublieft aan.
Zo krijgen we met z'n allen een zo compleet mogelijk overzicht van de overlevende Bitri-scooters van de circa 4000 stuks die de Dokkumer fabriek hebben verlaten in de 50-er en 60-er jaren.
De lijst is bij lange na niet volledig, dus mocht u aanvullende gegevens hebben van de vermelde scooters, of er één kennen die niet gemeld staat, dan is alle informatie hierover zeer welkom.
Bij enkele Bitri's staat een vraagteken achter het bouwjaar (?). Dit is omdat het het bouwjaar betreft zoals aangegeven op het kenteken. Omdat de fabriek medio 60-er jaren stopte met de fabricage van scooters, lijken mij deze bouwjaren echter onwaarschijnlijk. Ook informatie hieromtrent is meer dan welkom...
If you have a BITRI or know of one, please send details.

This is an attempt to gather as much information as possible about the survivors the approximately 4,000 machines which have left the Dokkumer factory in the 50's and 60's.

The list is far from complete, so if you have additional information on the listed scooters, or know of one not on this list, all information on this very welcome.

Some entires have a question mark beside the year. This is because it is the year of manufacture as indicated on the license plate. Because the factory ceased manufacture of scooters in the mid 60s, seem to me these years of construction, however, unlikely. Similarly, information in this respect is more than welcome ...
Past owners, no further information available.
G. Kan
V.Tessera (Italië)
P.Stellingwerf
Last updated July 2019
| | | | | | |
| --- | --- | --- | --- | --- | --- |
| Frame Number | Year | Engine Type | Engine Number | Registration Plate | Owner |
| FRAMENUMMER | BOUWJAAR | MOTORTYPE | MOTORNUMMER | KENTEKEN | EIGENAAR |
| 41-0140 | 1955 | JLO 150cc | 740100 | SH-30-96 | M.en G.Bosgra |
| 41-0617a | 1957 | 150cc | 908810 | | kylesscootershop.com TX |
| 41-0324A | 1957 | JLO MG 150 147cc | 858 536 | T-060 | Hans Kambier (Docs) |
| 41-0158 | 1955 | JLO 150cc | 740162 | ZM-01-56 | Museum Ald en Sa |
| 41-0250 | 1956 | JLO 150cc | 861266 | SL-52-20 | L.Miedema |
| 41-0370 | 1956 | JLO 150cc | 881485 | n/a | A. Giordano (USA) |
| 41-0540 | 1957 | JLO 150cc | n/a | n/a | Deezer Collection |
| 41-0551 | 1957 | JLO 150cc | 908061 | SZ-76-12 | n/a |
| 41-0610 | 1957 | JLO 150cc | 908311 | n/a | B. van Wassenhove (België) |
| 41-0619 A | 29-04-1957 | ILO 150 | Nr. 908 305 | | C. van Wijk Holland (Texel) |
| 41-0621 | 1957 | JLO 150cc | 908296 | TE-20-03 | A.Boon |
| 41-1227 | 1958 | ROTAX 150cc | 1054752 | TR-80-35 | F. Kloostra |
| 41-1274 | 1958 | ROTAX 150cc | 1086882 | ZF-67-50 | M. Saarberg |
| 41-1341 | 1959 | ROTAX 150cc | 108766x | n/a | P. van Roessel |
| 41-1364 | 1959 | ROTAX 150cc | 1087689 | Geen | L.Miedema |
| 41-1437 | 1973 (?) | ROTAX 150cc | 1087441 | TU-09-43 | A. Wildschut en B.Bos |
| 41-1621 | 1961 | ROTAX 150cc | n/a | UE-30-36 | Dezer Collection (USA) |
| 41-1633 | 1961 | ROTAX 150cc | 1088043 | TL-83-51 | P.Stenvers |
| 41-9107 | 1957 | SACHS 200cc | 2252572 | ZL-28-87 | F.Beekman |
| 41-9298 | 1958 | SACHS 200cc | 2472032 | n/a | P. Ciantar (Malta) |
| 41-9312 | 1959 | SACHS 200cc | 2947952 | TU-19-20 | M.Olde Dubbelink |
| n/a | 1957 | JLO 150cc | n/a | SU-95-96 | A.Boon |
| n/a | 1958 | n/a | n/a | MF-12-LV | n/a |
| n/a | 1962 | SACHS 200cc | n/a | MF-87-LZ | n/a |
| n/a | 1958 | n/a | n/a | MG-34-DZ | n/a |
| n/a | 1958 | n/a | n/a | MH-40-DB | n/a |
| n/a | 1959 | n/a | n/a | TL-68-76 | n/a |
| n/a | 1959 | n/a | n/a | TL-71-92 | n/a |
| n/a | 1964 | n/a | n/a | TR-27-25 | n/a |
| n/a | 1958 | n/a | n/a | TR-46-13 | n/a |
| n/a | 1959 | n/a | n/a | TU-00-56 | n/a |
| n/a | 1970 (?) | n/a | n/a | TU-09-47 | n/a |
| n/a | 1960 | n/a | n/a | UE-02-76 | n/a |
| n/a | 1960 | n/a | n/a | UE-02-77 | n/a |
| n/a | 1960 | n/a | n/a | UE-02-78 | n/a |
| n/a | 1960 | n/a | n/a | UE-04-69 | n/a |
| n/a | 1962 | n/a | n/a | UE-25-46 | n/a |
| n/a | 1961 | n/a | n/a | UH-40-18 | n/a |
| n/a | 1961 | n/a | n/a | UH-46-53 | n/a |
| n/a | 1957 | n/a | n/a | VE-42-62 | n/a |
| n/a | 1969 (?) | n/a | n/a | VL-20-57 | n/a |
| n/a | 1957 | SACHS 200cc | n/a | ZF-52-74 | n/a |
| n/a | 1957 | n/a | n/a | ZF-64-08 | n/a |
| n/a | 1957 | n/a | n/a | ZU-47-41 | n/a |

Mijn andere site: www.klassiekrijden.nu