| | |
| --- | --- |
| Hoffmann Vespa 1950 | Rückseite |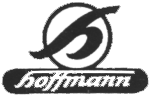 The following text is from a notice of the Hoffmann-works to bring the Vespa from 1950 to the German market.
Hoffmann Vespa 1950
On the obverse of the image is the following:
The Vespa is now manufactured in Germany!
In modern plants of Hoffmann works in the Lintorf district Dusseldorf, they will find their home and early next year will be sold in Germany. This is free for this small car the way to German consumers. Italy, Switzerland and France have been conquered by storm. The Vespa today dominates the streetscape in Milan and Marseille, Zurich and Rome. Hundreds of thousands they use at work, as a handy transport when shopping in the city, the weekend (with or without a partner) and not least as cheap minicar next to an existing car - the possibilities for its use are endlessly versatile the "Vespa" is not a motorcycle; it has all the qualities of a car: the motor is fully encapsulated, it is operated by hand levers and handles, one gets in and gets out without the risk of oil stains. The rider is protected against dirt and also against wind through the arrangement of the body of the driver; the "Vespa" is not a toy ... it is a full vehicle with an engine of 125 cc and 4 hp and capable of seating two people.
Some technical data:
Engine: Robust two-cycle engine "Vespa Hoffmann" cylinder capacity 125 cc, power output 4 hp / 4500 U / min
Gas regulation by throttle on the handlebar consumption: 2 to 2.5 1/100 km / 60 km
The power is transmitted directly to the rear wheel; 3 speeds and neutral.
Circuit: by rotating handle on the handlebar; the handle is coupled to the clutch lever so that faulty operation is excluded.
Electrical system: Flywheel Magnetzünd lighting system (25 watts - 30 watts), 6 volts, headlight and taillight
Brakes: Front and rear: Stark dimensioned internal shoe drum brake for the front wheel with grip on the handlebars, for rear wheel with foot pedal disc wheels with tires from 3.50 to 8, both wheels with screw mounting as car wheels. Front and rear suspension with strong
Spacious toolbox with tools
Capacity: 5 litres collectively
Weight: 70 kg
Permissible load 173 kg without vehicle
Accessories: spare wheel, tachometer, passenger carrier
Price and delivery: From December 1949 we will be able to receive orders. The price should correspond to a 125cc motorcycle - more we cannot say. But we intend to help the "Vespa" in Germany become a success, and will focus our pricing policy on it.
Please excuse the poor translation
Der folgende Text stammt aus einer Ankündigung der Hoffmann-Werke, die Vespa ab 1950 auf den deutschen Markt zu bringen.

Hier der Text von der Rückseite:
Die Vespa wird jetzt in Deutschland hergestellt!
In den modernen Werksanlagen der Hoffmann-Werke in Lintorf, Bezirk Düsseldorf, soll sie ihre Heimat finden und Anfang nächsten Jahres in Deutschland verkauft werden. Damit ist für dieses kleine Fahrzeug der Weg zum deutschen Verbraucher frei. Italien, die Schweiz und Frankreich sind von der "Vespa' im Sturm erobert worden. Die "Vespa" beherrscht heute das Straßenbild in Mailand und Marseille, in Zürich und in Rom. Hunderttausende benutzen sie im Beruf, als handliches Verkehrsmittel beim Einkauf in der Stadt, zum Wochenende (mit und ohne Partner) und nicht zuletzt als billiges Kleinfahrzeug neben einem vorhandenen Wagen - die Möglichkeiten ihrer Verwendung sind unendlich vielseitig. Die "Vespa" ist kein Motorrad; sie hat alle Qualitäten eines Wagens: Der Motor ist vollständig verkapselt, die Bedienung erfolgt durch handliche Hebel und Griffe, man steigt ein und steigt aus ohne die Gefahr des Beschmutzens. Wahrend der Fahrt ist durch die Anordnung der Karosserie der Fahrer vor Schmutz und auch vor Windzug geschützt. Die "Vespa" ist kein Spielzeug - sie ist ein vollwertiges Fahrzeug mit einem Motor 125 ccm und 4 PS Leistung und in der Lage, zwei Personen zu befördern.
Hier einige technische Daten:

Motor: Robuster Zweitaktmotor "Vespa-Hoffmann" Zylinderinhalt 125 ccm, Leistung 4 PS/4500 U/min
Gasregulierung durch Drehgasgriff am Lenker Verbrauch: 2 bis 2,5 1/100 km/60 km
Die Kraftübertragung erfolgt unmittelbar auf das Hinterrad; 3 Gänge u. Leerlauf
Schaltung: durch Drehgriff am Lenker; der Griff ist mit dem Kupplungshebel so gekuppelt, dass Fehlbedienung ausgeschlossen ist.
Elektrische Anlage: Schwungrad-Magnetzünd-Lichtanlage (25 Watt - maximal 30 Watt), 6 Volt, Scheinwerfer und Rücklicht
Bremsen: Vorderrad und Hinterrad: Stark dimensionierte Innenbacken-Trommelbremsen für Vorderrad mit Griff am Lenker, für Hinterrad mit Fußhebel Scheibenräder mit Bereifung 3,50-8, beide Laufräder mit Schraubenbefestigung wie Autoräder. Vorder- und Hinterrad mit starker Federung
Geräumiger Werkzeugkasten mit Werkzeug
Tank: 5 Liter fassend
Gewicht: 70 kg
Zulässige Belastung: 173 kg ohne Fahrzeug
Zubehör: Reserverad, Tachometer, Soziusträger

Preis und Lieferbedingungen: Ab Dezember 1949 werden wir in der Lage sein, Bestellungen entgegenzunehmen. Der Preis soll dem eines 125-ccm-Motorrades in etwa entsprechen - mehr ist darüber noch nicht zu sagen. Wir haben aber die Absicht, der "Vespa" auch in Deutschland zu einem vollen Erfolg zu verhelfen, und werden unsere Preispolitik darauf abstellen.
Kontakt:

Home | Caproni-Vizzola | Lube-NSU | Bastert Einspurauto | Hoffmann-Vespa | Kroboth | NSU Maxima | Brütsch | Pinguin