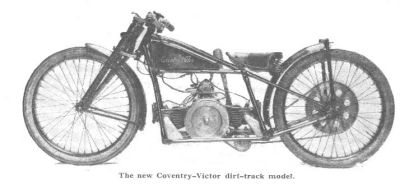 The Coventry-Victor Dirt Tracker
Experience with Dirt Track work was to result in the production of a Coventry-Victor purpose built machine.

The machine had the 488cc OHV flat twin engine fitted with a racing camshaft, mechanical lubrication and twim Amal carburetters. The carbs drew their air supply through a large box covered in Gauze to prevent dirt from entering. The drive was through a fixed gear countershaft running on ball bearings, and the Final Drive was on the offside, well clear of the cinders.

The Primary drive could be enclosed if desired, but it was arranged clear of the ground even when the side frame members were touching. Actually, there were four parallel frame members below the engine. The engine and Gear Box were fitted to the centre pair and can not come out of alignment. The outer pair were to act not only as stiffeners, but also to protect the engine in the event of a fall.
With 28in x 2.5 tyres, the ground clearance was five inches, and the wheelbase 4ft 10in which ensured the machine had a low centre of Gravity.
About the Speedway Workshop Archive