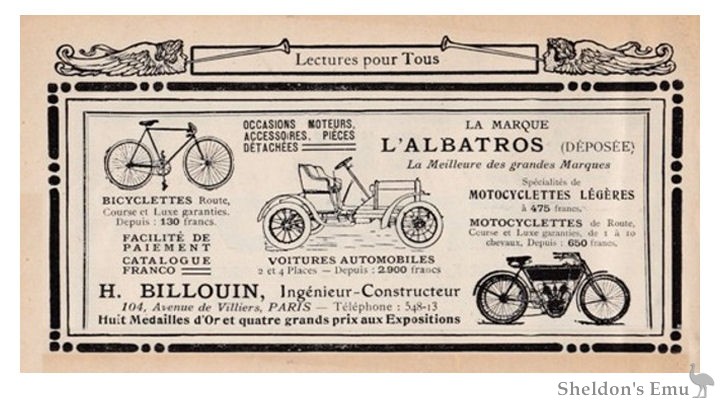 Albatros Motorcycles
A Brief History of the Marque
Manufacturer: Henri Billouin
104 avenue de Villiers Paris
Records of this firm are sparse. In 1907 their catalogue listed L'Albatros motocyclettes and a tri-car front end for adapting to other motorcycles; they were supplied with 203cc engines by A.Z.
In 1912 the company built motorcycles typical of the period powered by Givaudan engines, and also produced bicycles and a light car. These were exported to Russia shortly before the revolution.
In the same year production ceased, and in 1925 Billouin sold the company to Peugeot.
Sources: Bourdache (pp 222, 272, 286, 295, 296, 302, 310), Tragatsch, Henshaw, de.wikipedia.org.
There was an earlier L'Albatros built in Lyon 1904-1905 - see Disambiguation
---
If you have a query or information about Albatros motorcycles please
contact us
---