Motocyclettes fabriquées en France
Notes on some of the rarer French marques
This page lists brands for which we currently have only an historical precis. There is also a page on really obscure French brands.
For a more complete listing visit the French Index.
A
A.B.C. (c1905~)
Manufactured by Ateliers Balestibeau of rue Michel-de-Montaigne, Castillon-sur-Dordogne, Gascony, built an A.B.C. motocyclette prior to the first war and these were advertised around 1904-1905, along with Mototri-Contral. ABC was probably an acronym for Ateliers Balestibeau Castillon. (M. Fernand Balestibeau sold Peugeot in the same town in 1935.)
Sources: zhumoriste, motocollection
---
Abeille
Established in Saint-Quentin, Aisne, in 1900, Veuve A. de Mesmay built mostly automobiles. There is mention of a tricycle in the literature.
Source: OTTW
---
ABF
The Association Bidalot Fourès manufactured 50cc racing motorcycles in the 1970s and 80s. Only a handful were built each year. Later machines were modeled on the Seeley design.
See also Bidalot
Source: OTTW
---
ABG
The firm was originally named Arìes and built automobiles at Asnières-sur-Seine, Hauts-de-Seine in Paris from 1903 to 1938. After the war they began building 48cc auxilliary bicycle engines which became better known as VAP, often ABG-VAP.
---
ACS Siccardi
---
Albatros
Manufactured by Jean Lacroix, rue de la Jomayère St Etienne. Bicycles were built 1952-55.
Source: httpcyclomotosloire.e-monsite.com
There was a much earlier marque with this name - see Disambiguation
---
Albert-Jean
Albert-Benoît Jean is regarded as the father of the French tricar.
Presented at L'Exposition Universelle of 1900, his machine was a tricycle with a De Dion engine mounted forward of the front axle.
Offices: 5, Place Pigalle à Paris IXe
Workshops: 84 rue des Martyrs, Paris.
Jean & Cie was disolved in November of 1902, but production continued. In August 1904 a new company, Édouard Cheilus & Cie, was established at the same address.
A motorcycle classified 11th appeared at the Criterium of Motorcycles 1901, riden by Echenoy.
Bourdache p429, lestricars.es.tl *
---
Alfred Faure
Faure was well-known cyclist who rode for Automoto. He established his own brand in 1922, building lightweights including BMA 100cc machines which he himself raced. Manufacture possibly ceased in 1925.
The address of the firm in 1923 was 11 rue du 11 Novembre, St Etienne, and in 1929 he had premises at 65 rue Chauzy, Reims.
Source: Motos dans la Loire
---
Alleluia
Re-branded version of the German N.S.U., ca 1914, the same year a cycle of this brand won Le Tour. Mopeds of this name were produced in the 1950s.
Bourdache (pp400, 429), encycloduvelo.fr
---
Alpha
1983-1990
Jacques Coll, originally from Perpignan, built trials machines using modified Honda engines and later 250cc two-strokes of his own design. The Micra Trial 252 was presented at the 1987 Paris Salon. The 72 x 58.8 mm six-speed two-stroke was destined for water-cooling, but the venture failed in 1990 or 91.
Sources: wikipedia.nl, François-Marie Dumas
---
Alter
1955-56
Built 49cc mopeds using a variety of engines.
Sources: Tragatsch p73
---
Alpa Picquenot
Ateliers A. Picquenot et Fils
40-44 rue Leledia
Cherbourg (Manche)
Built lightweights of 50cc and 80cc in 1956 only. They also built two-stroke engines:
Type T49 49.7cc, two-speed
Type W80 80.7cc, two-speed
Sources: wikipedia.nl, Cycle Memory
---
Amstoutz
1900. Engineer and motorcycle engine manufacturer in Besançon who built Mirus and A.Z.
Motorcycles may also have been produced under the Amstoutz brand.
Mirus bicycle auxiliary engines mounted on the front wheel were built from 1902, and conventional engines were supplied to Andru in 1904, Pannetton in 1906, and also to Aiglon.
A Mirus is in the collection of Maurice Chapleur
Sources: Bourdache (pp 224, 280, 302.), OTTW
---
André
7, rue Lafouge, Gentilly, Seine
La Moto Biplace - two-seater two-stroke motocyclette with gearbox. 1925 advert.
1923 Modele G. 175cc two-stroke. 1923 Advertisement.
---
Andru
10 Rue de St Quentin, Paris
1903. Motorcycles with Mirus air-cooled engines. (Bourdache says also water-cooled, but 1904 catalogue shows only air-cooled.)
Four models were offered in 1904 with 2½ and 2¾ engines.
Bourdache p429
---
Anzani
Anzani (FR)
---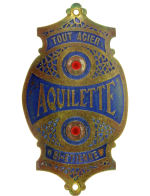 Aquila
Founded in 1900 by Claude Meunier at 38 Rue Balay in Saint Etienne. From c.1927 to 1930 they built 175cc two-stroke motorcycles.
In the 1950s their address was 34 Bis Jules Janin, Saint-Etienne where the firm built bicycles and a variety of mopeds using Mistral, ABG VAP, Lavalette, Comet and Himo engines, some of 98 and 110cc but the great majority of 48cc. In 1955/56 they offered six cyclomoteurs under the name Aquilette. Aquila was bought by Ballis in 1953 and the address became that of the Ballis offices at 3 Rue Palissy. Ballis continued to market the Aquila motorcycles until 1962, the last model being the 48cc Alpino SS.

Sources: encycloduvelo.fr, Motos dans la Loire
Other marques with this name.
---
Aquilon
Two machines of this brand participated in the Grand Prix of Paris in 1909, ridden by Mouton and Johnson
Bourdache p327
---
Arcoma
Arcoma during the 70s held around 30% of the market for microcars. The 1975 Mini Comtesse could be driven sans permis, was rather unstable with a single front wheel aided by a pair of training wheels.
The Mini Comtesse Break was introduced in 1978 with four wheels and even more outlandish styling than its predecessor. Arcoma production continued until about 1984.
Source: Bruce Weiner Microcar Museum
---
Ardex
Manufactured by Marcel Tamine at 54 Rue Saint-Germain, Nanterre, 1934~1939
Built bespoke tricars and cyclecars using engines of up to 500cc. Production resumed post-war using SABB 100cc and 125cc two-strokes, and vinyl-covered plywood bodies.
Sources: OTTW, Bruce Weiner Microcar Museum
---
Arola
Manufactured by Daniel Manon of Lyon from 1976 to 1983, when the firm was renamed to Aixxam.
The Type 11 was a three-wheeler powered by a Sachs engine. Later models included 4-wheelers with Motobecane 50cc engines and a BCB 125cc was fitted to the Type 18.
Associated with the names Minoto, Veloto and Bel-Motors.
Source: Bruce Weiner Microcar Museum
---
---
AS
ca. 1926. This was a rebadged Ravat 175 B1 sold by Alphonse Sutter of Chatellerault, a Triumph dealer.
---
Athena
Dérozier participated in the 1905 Tour de France on an Athéna motorcycle.
Bourdache p430
---
Audax
Established in Rouen, Lenefait et Cie produced motorcycles identical to Lamaudière-Labre from c.1899 to 1904.
1904 models were advertised with 3½ and 4½ cv IOE engines and "Fourche Elastique sur demand, Supplément 50f".
They then built cyclecars from 1912 until 1914.
---
Audouard
Founded c.1911 by Jean Antoine Audouard and Antoine Pierre Marie Garcin, the firm manufactured cycles and motorcycles. Address was 26 rue du Grand Gonnet, St Etienne.
Source: Motos dans la Loire
---
Aureole
L. Bouchez, 7 Boulevard Victor-Hugo, 7 Saint-Oen (Seine)
ca early 1930s, 350cc & 500cc JAP SV and OHV singles, 750cc JAP V-twin
Source: period advertising
---
Aurore
79 Boulevard Haussmann Paris
In 1898, H. Deckert and Cie sold De Dion powered tricycles and automobiles named Aurore.
Bourdache p430
---
Autobiroue
Built by Robert Ligier of Puycasquier in the 1950s, the first prototype of 1954 had a roof, later versions being open with a fairing screen, and utilising Lambretta components.
autobiroue.over-blog.com
---
Autocyclette
Yves Guédon of 15 Rue du Louvre, Paris, built a chain-driven petrol-engined bicyclette in 1899
Bourdache p430
---
Automotette
Manufactured 1898-1899 by Compagnie Française des Cycles Automobiles in Paris, these were belt-driven tricycles similar to those of Leon Bollee. The machine was also sold in England by a firm based in Holland Park, London.
Source: OTTW
---
Aviator
Motorcycles built by Friès and Germain, 1906, at 52 bld de Strasbourg, Vincennes
Bourdache p430
---
Aya Components
Established c.1920 by Mj Paya at 27 Rue Denfer Rochereaux in St Etienne
Built brake hubs, tanks and frames which were supplied to Automoto, Dollar, Favor, Gnome & Rhone, La Française, Magnat debon, New map, Radior, Ravat, Rhony'x, Rochester, Styl'son, Terrot and others.
The company folded in the early 1930s as a result of the financial crisis.
Source: Motos dans la Loire
---
AZ
Engines manufactured by Emile Amstoutz 1900-1908, these were suitable for mounting on the front wheel of a bicycle. A partnership was established with Louis Ravel 1906. They were used by Cottereau and probably others.
Source: OTTW
---
Rarer French Marques

---
Sources