Motocyclettes fabriquées en France (B)
Notes on some of the rarer French marques
The machines, their designers and their history.
For a more complete listing visit the French Index.
There is also a page on obscure French motorcycle brands.
---
Babymoto
---
BAC
Manufactured by Louis Bac, an aviation engineer with experience at Peugeot.
These were 2400cc V-twin bicycle pacers built from 1925 to 1939. Arthur Pasquier had a hand in the construction and design, and later they were sold under the Meyer brand as Meyer-Bac in the years 1932-1938. (aka Meier-Bac).
Source: wikipedia.nl
---
Bailleau
Motorcycle exhibited at the Salon des Tuileries in 1899
Bourdache p430
---
BAGYS
Bayon and Gyss, 3, cité Magenta, Paris.
Motorcycle with a 1½ HP Bahon engine, built 1903
---
Bahon
Motorcycle exhibited at the Salon in 1902; supplied engines to Bagys.
Bourdache p146
---
Bainchet
Motorcycle exhibited at the Salon in 1902
Bourdache p146
---
Ballis 1952-1962
---
---
Barigo
---
Barré
Built by G.Barré, 79 Deux-Sèvres Niort
The firm dates from 1888 and produced automobiles, motorcycles and cycles. It was acquired by Guiller Frères in 1927.
OTTW states that they built tricycles 1898-1908, and that the firm merged with Lamberton in 1923, building automobiles thenceforward.
Sources: Bourdache, forum.tontonvelo.com, OTTW
---
Barrellier 1919
---
---
Baud
Établissements Baud in Doubs, Franche-Comté 1950-1960
The company built mopeds which were also marketed under the brand names Betty, Elfil, Luxia and Jurasport.
Source: The Moped Archive (globalnet.co.uk)
---
Baudoin et Cie
Established in 1899 at 19 rue Fontainebleau, Saint Etienne, the company made spokes for wheels fitted to motorcycles, cycles and automobiles.
Source: Motos dans la Loire
---
Bauchet
Motorcycle exhibited at the Salon in 1902
Bourdache p430
---
Baudier Tricycle presented at the Salon des Tuileries, 1899
Bourdache p430
---
Bayle-Michon
Bayle and Michon formed a partnership in 1925 and produced motorcycles fitted with Givaudan and Moser engines. The firm was based in the Loire district.
Source: Motos dans la Loire
---
Bazile
Located in Montbrison, Loire, during the 1950s the firm sold mopeds sourced from Automoto, VBF and possibly others under their own name. In 1958 Bazile was an agent for Manurhin and Peugeot.
Source: Motos dans la Loire
---
B.C.A.



28 rue des tanneries, Roanne, and 85 rue Emile Zola, Reims
Sold motorcycles under the brands Parfait, BCA and Mylor in the 1930s and 1940s. Their BCA 100 c.1930 is believed to be a rebadged Ravat.
Source: Motos dans la Loire
---
Bellamy
Motocyclette presented at the salon in 1902, clutch and chain transmission
Bourdache p146
---
Belledonne
These were mopeds marketed by Ets Mathon of 16 rue de Paris, Grenoble in 1958 and were built by Mercier.
Source: Motos dans la Loire
---
Benitaco
These were 50cc racing machines with Kreidler engines, built from at least 1974. A Benitaco ridden by Pascal Kambourian scored 4 wins in French 50cc races in 1982.
Sources: racingmemo.free.fr, et al.
---
Benoît Faure
A well-known cyclist active in the 20s and 30s, Faure established a factory at 45 Rue Paillons in Saint-Etienne and produced mopeds and velomoteurs from 1951 to 1956. Despite the firm's short lifespan it produced around a dozen different models powered by engines from Comet, Myster, Mistral, Himo, Villiers and Le Poulain of up to 100cc.
A fire at the factory caused considerable damage, and possibly as a result some of the production then took place at the Bonnefond establishment.
Benoît Faure died in 1980.
Source: Motos dans la Loire
---
Beringer
Gilbert and Véronique Beringer formed the Beringer Company in 1985. The firm manufactured motorcycle wheels, forks and sidecars. Post-2000, they produced products for Formula One racers, sport aviation, and sailplanes (gliders) among others.
Source: beringer-aero.com
---
Bernasse
Place de la République Toucy - Yonne
V-twins and single-cylinder motocyclettes built by Maximilien Bernasse, c1906-1907, using engines from Deckert of Paris, among others. An example which was part of the Guélon Collection is dated c.1906 has a single cylinder engine mounted low in the frame in front of the pedal crank, and is fitted with a Hygina central spring fork. The Bernasse factory still exists and is in use for the restoration and display of Citroen DS automobiles.
Sources: Bourdache p430; Guélon Collection.
---
Bernet
Built at 4 Rue Thiers, Choisy-Le-Roi near Paris, 1952-1954, these were lightweights powered by 48cc Cucciolo and other engines.
The Cucciolo engines were supplied under licence from Rocher.
Source: cyclovap.fr
---
Berthenod et Guigard
Founded in 1904, the firm had addresses at 35 rue Balay and 42 rue Prefecture in Saint Etienne
They built components for cycles and automobiles
Source: Motos dans la Loire
---
Bertaut
The firm offered two 50cc two-stroke mopeds in 1963, the Centurion and the Jupiter.
Source: OTTW
---
Berthier
In 1899 he built an petrol-engined bicyclette with large rear wheel, a small front wheel and a strongly triangulated frame.
Bourdache p430
---
Betty see Baud
---
BGA
Founded in 1900 as a manufacturer of firearms and bicycles, some five decades later the firm entered the motorcycle trade with mopeds using Junior and Solano engines, built at 64 Rue Antoine Durafour, Saint-Etienne in 1953 and '54.
Source: OTTW
---
Bichrone 1902-1907
---
Bidalot
A famous name in the history of French motorcycling, Jean Bidalot of Urrugne began building motorcycles in 1967. These early efforts were very fast 50cc racing machines. He went on to become head designer at Pernod which ran his creations in the 125 and 250 GPs, winning six titles. In 1983 he moved to MBK and is probably best known for the Magnum XR engines. Having contracted a debilitating disease he returned to his origins where he developed a line in go-faster gear for competition motorcycles, a business continued by his sons.
Source: OTTW
Birma
Lightweights built in Lyon 1949 to 1959 using 98cc Aubier & Dunne engines.
Source: OTTW
---
Bisson-Berger
Two-wheel engine for tricycles - ran to the coast of Chanteloup in 1898
Bourdache p430
---
BJS
Motorcycles manufactured by M. Bogey based in Grenelle, Paris, from c1926 to 1935. B.J.S. are thought to have used frames built by Gam of St Etienne.
Bogey, of 57 Boulevard de Grenelle, Paris, also advertised a 3CV two-stroke with the name Motorbony-x.
Sources: OTTW, period advertising, et al.
---
B.M.F.
Bourgeois Marechal France was a motorcycle component manufacturer which also built complete motorcycles in the 1920s. Dates are unknown, and the factory was apparently destroyed during the second war.
Source: La Moto Francaise
---
BMP
A Paris-based automobile company established in 1911 which built motorcycles in the early 1930s using JAP and Rudge Python engines.
Source: OTTW
---
Boccardo
1987-1989
Louis Boccardo, with Dominique Favario and Thierry Grange, was one of the designers of the BFG. He left that company to build the MF, and later built the Boccardo, of which 5 copies were produced.
Sources: bfg.asso.fr
---
Boillod
Exhibited at the Paris Salon, 1900.
"Same transmission on the Boillod, but the engine, a two-cylinder, is placed behind the saddle of the pilot." The engine was mounted upside down.
Bourdache p112
---
Boissette
303 rue du faubourg Saint Antoine, Paris
Motocyclettes, 1904~1906
Jules Beau made a photograph titled "M. Boissette sur Boissette - 1904" showing a solo machine towing a two-wheeled chair carrying a woman.
Bourdache p431
---
Boivin
35 Citée des fleurs, Paris
Established 1896, built a motorcycle, and then in 1902 a driving wheel adaptable on all bicycles. Patented.
Bourdache pp 56, 146.
---
Bolide
87 Avenue de la Grande Armée, Paris
1899-1910. Established by Leon Lefebvre, the company had factories in Pantin which built automobiles and motorcycle engines. One source says they built motorcycles of 1½ hp but others are not sure this is so. A motorcycle of inderminate brand with a Bolide engine dated c.1900 was auctioned with the Guélon Collection
Bourdache p320
---
Bon Avion
Established in 1840 as an arms manufacturer at 8 Place Villeboeuf à St Etienne by M. Bonnavion, construction of motorcycles began in 1927 with flat-tank chain-drive singles using engines from Brouiller, LMP, Zurcher and others in capacities ranging from 175cc to 500cc. It seems likely that motorcycle production ceased in 1929. Bicycle production continued until at least 1951.
Models:
1927 Brouiller 175, Zurcher 250 4T OHV, LMP 350cc, Chaise 500cc
1928 Brouiller 175, Zurcher 250 4T OHV, LMP 350cc, Chaise 500cc
1929 Brouiller 175, Zurcher 250 4T OHV, LMP 350cc, Chaise 500cc
N.B. Some models require verification.
Motos dans la Loire
---
Bonhomme
Motorcycle ridden by Ricard in 1903
Bourdache p146

---
---
Bonnefis
Audax 4½ hp engine, 1905 version of the Lamaudière.
Bourdache p431
---
Bonnefond
Founded in 1912 at 32 Rue de Champagne, Saint-Etienne, construction of mopeds began in 1949. Some of these were supplied, it appears, to Benoit Faure after that firm's factory was damaged by fire. During the 1950s the firm produced mopeds powered by Mistral and Himo engines. It ceased manufacture in 1958 but continued with bicycles until 1976, when the firm was bought by Mécacycles.
Moto Revue 16th Feb 1957 lists the company as building 4,000 cyclomoteurs from 1954 to 1956. Peak production was in 1957 with 1881 units leaving the factory.
Source: Motos dans la Loire
---
Bonnet (1906)
53 rue du Bois, Levallois Perret
1906, motocyclettes
Bourdache p431
---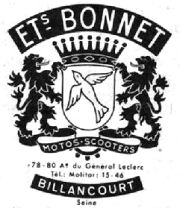 Bonnet (1953)
Scooter built in 1953, Ets Bonnet, 78-80 Ave du Général-Leclerc, Billancourt, Seine.
---
Bonnet & Guyonnet
Bonnet & Guyonnet built motocyclettes at 54, Rue d'Hautpoul, Paris, 1907~1910.
M. Canonne had also been involved with the firm, it appears, and left on Christmas Day in 1910. The firm at that time were still building motorcycles and used the Phebus brand. An advertisement appeared in September 1918 "Automobilia" for Phebus motorcycles. They also built the Daring motorcycle.
The firm still existed in 1926 but did not appear to be building motorcycles.
babethhistoires.centerblog.net, Bourdache p435
---
Bonnet-Jumel
1903, Motocyclettes et tricars.
58, rue Claude-Villefaux, Paris, and 183 bis, rue du Faubourg Poissonniere, Paris
Bourdache p431
---
Bordes
Motorcycle exhibited in December 1901
Bourdache p431
---
Boudiot
In 1904 the rider Victor Boudiot rode a machine of this name with an engine of his own construction in the Paris-Bordeaux-Paris event.
Bourdache
p431
---
Bouilly
Motorised bicycle built in Chartres, 1899. The company closed the same year.
Bourdache pp 68, 69
---
Bourcard
Built in 1903 by J.J. Bourcard in Colmar, Alsace on the German Border
The machine consisted of two motorcycles side by side - one bike has the rider, and the other the engine in order to isolate the rider from vibration.
Bourdache p431
---
Bourdiaux
Vertical in-line twin with common combustion chamber, one valve each for inlet and exhaust, built for racing 1900-1901. Used by Demeester.
Bourdache p136
---
---
Bourgoin
Tricycle with De Dion-Bouton Engine of 1899.
Bourdache p431
---
Boveil
Established as Boveil and Bory in 1904, later that year the name changed to Boveil-Dorier.
The company produced motorcycles powered by Givaudan engines from 1904 at 3 rue Bourgneuf in Saint Etienne.
Torpille motorcycles were built until 1907 when the company closed.
Source: Motos dans la Loire
---
Braud
In 1924 built a motorcycle powered by a Massardier 1¼ h.p. engine.
Source: Motos dans la Loire
---
Breuil
35 avenue de la Grande Armée, Paris
Motocyclettes, 1902, powered by Astral engines.
Bourdache pp 431, 146, 320.
---
Breton
---
Brierre
239 Boulevard Pereire, Paris
Established in 1898, E.J. Brierre, Perrenoud and Gansewinkel built trimoteurs, quatris and automobiles with petrol engines. In 1901 Brierre took over the distribution of the Cottereau brand for the greater Paris area, and built cars of that name under licence. Automobile production ended in 1903.
There is some doubt about the production of tricycles, with some sources indicating that only 4-wheelers were built.
Bourdache p432; de.wikipedia.org.
---
Briest
109 rue de Rennes, Nantes
The Briest brothers ran a motor bicycle in the 1895 Paris-Bordeaux-Paris.
Bourdache p44
---
Brissard Fils
11 rue du Colonel Oudot, Paris
Engine used in the contest of the Locomotion Automobile in 1899. It is not clear whether the engines were used in motorcycles.
Bourdache p432
---
Brissonnet
Also named "P.B.", these microcars were manufactured by Pierre Brissonnet, 22ter, Bd Général-Leclerc (Pont de Neuilly)
Brissonnet also designed Mors Speed scooters.
---
Brooklyn
Moto Revue N°523 of 18th March 1933 has an article on the Brooklyn 250 cc SV JAP
La Moto Francaise
---
Brousset
Light motorcycle engine presented at the 1902 Salon
Bourdache p432
---
---
Bruneau
---
Brunet
27 to 31 rue des Archives, Paris
Albert Brunet built cycles and motorcycles exhibited at the 1908 Paris Salon. A later advertisement gave the dates 1909-1911 for cycles and motocyclettes Etoile, mentioning La "Moto-Becane".
Bourdache p432, Zhumoriste.
---
Brunner Tricycle
Louis Brunner, 94, rue Gabriel Peri, Columbes (Seine) - constructed ca.1948~1950
Type D had a 125cc twostroke engine. Type B had a twin-cylinder 99cc engine.
A Brunner tricar was photographed by Robert Doisneau. Ce-dessus et a droite: Porte d'Orleans, 1953
Sources:
La Moto Francaise
, contemporary literature.
---
Buard 1907
Moto à vapeur (steam-powered) motorcycle photographed by FM Dumas at Musées de Châtellerault.
Designed by Paul Buard in the workshop of Leon Serpollet, Paris 1905. It did not enter commercial production and was one of the last steam motorcycles built.
---
Bugatti
The Bugatti Motor company was established in 1909 in Molsheim, France.
Etore Bugatti, famed for his sports and racing cars, built bicycles as early as 1913. He also built a limited number of T.72 bicycle attachment engines, the likes of which had never been seen before. They were tiny OHV engines, the smallest being 12.66 cc. The last of about seven built was created in France in 1944.
After the war the factory re-opened in Bordeaux, and their first machine was an aluminium-bodied three-wheeler named the OTI, powered by a 125cc engine. Only one was built.
Bugatti began his career with the La Stucchi & C. motorcycle firm.
Sources: bugattirevue.com; 3wheelers.com.
---
Burton
Built in the 1950s using AMC 4T engines. Primitive telescopic forks, plunger rear.
ID plate reads Burton, Type BGL, Serie 54.
La Moto Francaise
---
Butler Trimoteurs
In 1899 Portéous Butler established a workshop France to build tricycles of English manufacture with Automoto engines. Because of their colours, his version was named (or nicknamed?) Rouge et Noir
Bourdache p9, p13.
There are several Butler marques so confusion is possible - see Disambiguation
---
Sources