Motocyclettes fabriquées en France (D)
Notes on some of the rarer French marques
This page lists brands for which we currently have only an historical precis. There is also a page on really obscure French brands.
For a more complete listing visit the French Index.
---
Dainty
Owned by Ravat, the brand was established in 1922 in Saint Etienne and built bicycles, sewing machines and, in the 1950s, mopeds powered by Vap 4 engines.
Source: Motos dans la Loire
---
Dalifol 1894
---
Damas
10 rue Barbès, Levallois - Perret (Seine)
Around 1899 these motorcycles and tricycles were built fitted with Le Sphinx engines. A motorcycle rescued from a scrapyard in 1972 was part of the Guélon Collection
Bourdache p434
---
Daring
Flat-tank two-stroke. Appears to be late 1920s. Built by Bonnet-Guyonnet.
---
Darmont cyclecars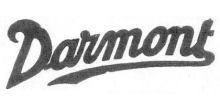 Darmont 1927 750cc - 7 Cv - Supersport 3 wheels, 2 gears, no reverse gear, built under license to Morgan.
1st place 1934 Bol d'Or

---
Darracq
---
David
1905. Tricar with Quentin (J.Quentin) engine and Bozier gearbox.
Bourdache p434
---
Davy
49cc mopeds built at the Peugeot factory in the 1950s. It is not clear whether the brand was owned by Peugeot.
"Nouvelle Bicyclette a Moteur Davy. Fabrication des Cycles Peugeot. Beaulieu - Valentigney (Doubs)"
---
Dazeur
The firm manufactured components such as brakes, pedals and wheel rims in the 1950s. Their address was the same as that of Samir, at 10 rue Emile Zola, St Etienne. Samir made Samimox wheels which were fitted to Flandria.
Source: Motos dans la Loire
---
Deauville
---
Debeaune
85 rue de Bourgogne, Lyon
These machines were re-badged Italian Della Ferrera machines sold around 1913.
Bourdache pp 335, 343, 346, 349, 356, 369, 385, 398-400.
---
Debaralle
Became the Aiglon marque.
Bourdache p146, p429
---
Decolon Motorcycles
1948 model has AMC 4T 108cc engine, girder fork and rigid rear.
La Moto Francaise
---
Degré
In his workshop at No. 1 Avenue du Roule, Neuilly, M. Degré built a Minerva-powered 233cc motorcycle which he presented at the London show of 1902. The marque existed until at least 1906, but at that stage was producing front suspension, not complete motorcycles. An example of the machine dated c.1903 was part of the Guélon Collection.
Sources: Guélon Collection
---
Delaplace
Manufactured by Delaplace Ets
The Horsy scooter appeared at the 1952 Salon powered by a 85cc Le Poulain engine. It did not enter production.
Source: Amis Terriens
---
DeLaurier and Morin
The First Electric Motor Cycle
A patent application was filed on 5 June 1869 by Emile Delaurier and Jules Morin in Paris for an electric vélocipède.
Although the patent does not include a drawing of the machine, DeLaurier and Morin are very explicit about the operation of their tricycle and the method of proposed construction.
The author goes on to say, "are the first in the world of the Automobile to claim in their patent the dynamic braking and the recovery of kinetic energy in descents to recharge the batteries... Let's not forget we are in 1869 and today's hybrid and electric automobiles and motorcycles use these two technologies."
The design was the result of some 20 years of research and experimentation. In 1848 Emile Delaurier patented an engine which relied on the expansion of gases and in 1854 an electric battery. He worked with the Comte de la Valette on a free electicity system from 1855 to 1858 (as did Tesla some decades later). In the 1860s he developed several electric generator engines, and then in 1869 invented another electric battery.
Source: Didier Mahistre
Delieutraz
Motorcycle involved in the 1903 M.C.F. competition.
Bourdache p403
---
Deleau
Motorcycle exhibited at the Paris Salon of 1898 (15/26 December)
Bourdache p434
---
Demaria
Petrol-engined bicycle cited by the magazine Touring Club de France, 1902
Bourdache p434
---
DEM (D.E.M.)
Manufactured motorcycles 1926~27 through to 1933~34, and possibly as late as 1946. Models included 100 and 175cc Aubier&Dunne powered machines along with Chaise 250 and 350cc motorcycles.
The tank logo would often be a fairly large D.E.M.
It is possible D.E.M and Ets Demade are related.
La Moto Francaise
---
Demade
H & G Demade Frères built motorcycles in Bruay sur Escaut, some models using Moser engines. An ID plate gives Type D12, year 1934. The machine is a dual-exhaust OHV with chain drive, large external flywheel, rigid rear end and lights. It appears very similar to a Motosacoche of the same period, and it is likely a re-badged machine.
It is possible D.E.M and Ets Demade are related.
La Moto Francaise
, forum-auto.com
---
Derby
4 avenue Carnot, Paris
Motorcycle classified 8th of the criterium of the motorcycles the 24 of October of 1901, ridden by De Ridder.
Bourdache p434
---
Desgrouas
Machine exhibited at the 1902 Salon.
Bourdache p146
---
Devinant
3 and 5 Rue Jouvenet, Paris, 1906.
Motos and Tricars with integral suspension.
See also Mauxion & Devinant 1903, same address.
Bourdache p434
---
Diane
Manufactured by Ets Smagghe of Seclin (near Lille) in 1954.
Established as a bicycle manufacturer in 1896, Smagghe built mopeds named Diane with Le Poulain engines.
---
Didier Jillet
1975~1979
The DJ 1200 was an unusual motorcycle with hub-centre steering, powered by a Peugeot 204 1130cc inline four. The endurance racer failed to qualify for the Bol d'Or.
Sources: appeldephare.com, Moto Revue No. 2452, March 6, 1980
---
Diem
Ets Diem, 28-30 rue de Borrégo, Paris 20
Built 33cc and 48cc cycle attachment engines 1948-54. These were fitted to the Dupont invalid carriage, among others.
Source: La Moto Francaise
---
Diva
Jules Zimmermann et Cie
10 rue Emile Allez, Paris
Motos, 1903
Bourdache p434
---
---
Donjon
Participated in an event at the 1904 La Provence Sportive
Bourdache p434
---
Duchemin
Motorised bicycle displayed at the 1900 exhibition in Vincennes
Bourdache p434
---
Dumont
Tricycle exhibited at the Salon des Tuileries in 1899
Bourdache p434
---
Dupont
Dupont Voiture a Moteur, Hautefeuille, Paris (VI)
48cc engine by Diem. Invalid carriage, mid 1930s, and probably later.
Source: Period advertising
---
Dupressoir
Manufactured a De Dion engined motorcycle in Maubeuge (North), exhibited at the 2nd Salon (10/25 December 1901)
Bourdache p434
---
Durand
1920~1923
Ets. Motorcycles Durand of Abbeville fitted Zürcher sidevalve and OHV engines to frames of their own manufacture.
Sources: Tragatsch p123, wikipedia.nl
---
Duravia
Manufactured by Charles Dupont in Lille, 1950-1957
Name derived from DURal AVIAtion, as the frame is made from aluminium alloy.
They used Myster engines and no doubt others. One model was all but identical to the 1946 Meca-Dural built by Mercier. In 1957 they formed an association with Lucer of Hazebrouck which later merged with Alcyon.

Sources: cyclocahine.motards.net
---
Durey
1900
82 rue d'Hauteville, Paris ( 1907)
Motorized bicycle named La Parfaite with engines above the pedals in 1900.
Bourdache pp 69, 84, 86, 98.
---
Dutemple
Motocyclette of 1903
Bourdache p434
---
Duten Engines
56 rue des Arts in Levallois-Perret (Seine)
Built in the 1920s, they were best known for their "rotary-valve" 175cc and 250cc 2-strokes which were fitted to many marques such as Dé-Dé, Rochester, G.D, Propul-Cycle, DS-Malterre, Vog and Charles Gerald.
Crankcase induction was via a hole in the crankshaft in the main bearing area. These were relatively complex engines and probably more expensive than the competitors.
---
Dutheil-Chalmers et Cie
Took part in the M.C.F. concours d'endurance of 1903. A patent for a motorcycle was taken in 1901 by the same company.
Bourdache p434
---
Sources
If you have a query or information about these French motocyclettes please contact us