Motocyclettes fabriquées en France (LA-LY)
Notes on some of the rarer French marques
This page lists brands for which we currently have only an historical precis. There is also a page on really obscure French brands.
For a more complete listing visit the French Index.
---
Lacroix & Delaville
The firm was established by Joseph Lacroix and financier De Laville in Agen in 1896 and produced tricycles until 1914*. Commonly known as "La Nef", it was powered by a De Dion-Bouton engine and proved popular with those who travelled frequently, doctors in particular. It is believed that over 200 of these were built before the first war, using more powerful engines as they became available, some of them water-cooled.
All had wooden chassis, and few have survived.
N.B. Sources vary on production dates.
Sources: louwmanmuseum.nl, et al.
---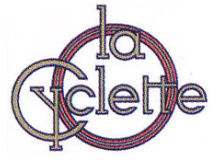 La Cyclette
1921~1923, possibly somewhat earlier.
The La Cyclette engine was mounted high above the pedal crank, the slim fuel tank slung under the bicycle's top tube. It had belt drive to the rear wheel from the engine and conventional chain drive for the pedals. They were sold as complete motorcycles and as engine kits, and were popular in competition events.
Addresses given in advertising are 22 Blde de Grenelle, Paris, and 1 rue d'Issy Billancourt (Seine).
The Chapleur Collection has a beautifully preserved 1922 model.
Paris Salon, 1922

La Cyclette. - 51x45 mm., two-stroke, embodying a countershaft and clutch.

La Cyclette. - La Cyclette unit. Gentleman's model: ordinary cycle frame with spring forks, final drive by belt. Lady's model : frame designed to take unit. A third model more on motor cycle lines with curved top tube, extra tank rail.
Sources:
La Moto Francaise
, oldbike.eu
---
La Fauvette
Came tenth in Chateau-Thierry race of 1904, ridden by Panzani.
Bourdache p 434
---
Laforge & Palmentier
35 avenue e Wagram, Paris
In 1903 the factory in Alfortville built a 2 h.p. motorcycle with pedals attached to the frame by studs connecting housing and cylinders.
Bourdache p146
---
La Foudre
Translating as "Lightning", the 1903 model pictured runs a Buchet single of 350cc.
A similar machine competed in the 1902 Château-Thierry and, against over sixty other machines, in the Championnat du Monde des Motocyclettes of 1904 which was won by the four cylinder Adolphe Clément.
Bourdache p209
---
La Guerrière
1903
39 rue Pierre Joigneaux, Asnières (seine)
J. Jaujard, manufacturer of motorcycles with a 278cc 2 ¼hp engine of his own construction.
Bourdache p436
---
La Lorraine
Built motorcycles between 1922 and 1925 using 98cc to 248cc engines of their own construction.
Source: Wikipedia NL
---
La Louve
42 rue du Louvre, Paris
A.Louveau built motorcycles with 2½ and 3hp engines in 1904
Bourdache p438
---
La Miotte
43, Rue de Danjoutin Belfort. Advertised mopeds powered by La Poulaine in the 1950s. The firm is believed to have also built bicycles.
There is very little information available.
Source: guy.meiller.free.fr
---
La Parfaite
1900. Petrol-engined bicycle by Durey
Bourdache p109, p440
---
La Perle
Maurice Guyot of 21 Rue Clément Forissier in St Etienne built mopeds from 1948 to 1957 using Vap and Itom engines.
Guyot had long been a cycle manufacturer and constructed Hosanna (1927) and Corail (1930) bicycles.
N.B. The name La Perle was also used by Bailleul in 1905, and by a Belgian company in 1956.
Sources: Motos dans la Loire, tontonvelo.com
---
La Préféré
1 et 3 Bld de Ménilmontant, Paris
1913-1914
Matthäus Graf Thun successor to E.Decosse - Motorcycles with sidecar.
In 1925 Thun established the MT marque in Austria.
Bourdache p438
---
Labinal
Engines manufactured in the 1920s by Les Établissements Labinal, 28 rue Arago, Saint-Ouen (Seine-Saint-Denis)
The firm built the Micromoteur 63cc bicycle auxilliary engine (similar to the Cyclotracteur), the Microrameur boat engine and others.
Sources: OTTW, Cyclememory.org
---
Lacombe
Manufactured by Ets Lacombe, 5 rue Sébastien Gryphe, Lyon, Rhône
1948 - 1954
The tiny scooter first appeared at the 1948 Salon with a model name of FL22. Powered by a 49cc P.P. Roussey two-stroke, in 1949 it was also know as the Comindus.
Source: Amis Terriens, Tous les scooters du monde
---
Lafour & Nougier
Manufactured in Nîmes from 1927 to 1936, these motorcycles had engines from Aubier Dunne, Chaise, Train and Stainless, along with imported Villiers and JAP motors. Capacities ranged from 98cc to 490cc.
Source: Wikipedia NL
N.B. Nougier of St. Andiol and this firm were located only 50km apart, active around the same years.
---
Lamblin
Crankcase transmission motorcycle described in Locomotion No. 15 (1910). Two-speed planetary gear change in the rear hub, with a leather clutch cone.
Bourdache pp329, 342
---
---
---
Lapierre
Gaston Lapierre established his business in 1946 in Dijon to manufacture bicycles, and in the 1950s also built mopeds. His bicycles also appeared under the Orligné marque, and it is believed that the mopeds did too.
The firm became part of the Dutch Accell Group, and continued to build bicycles in Dijon into the 21st century.
Sources: Wikipedia NL, encycloduvelo.fr
---
Lapize
Manufactured in Neuilly-sur-Seine, 1930 - 1937, the motorcycles had Aubier-Dunne, LMP, JAP and other brands of 2T and 4T engines of 98cc to 498cc. The company was owned by Alcyon.
Source: Wikipedia NL
---
Lardennais
Built a 4-stroke motorcycle circa 1903
Bourdache p438
---
Latscha
Built light motorcycles from 1948 to 1953 using Aubier & Dunne 98cc and 123cc engines. They possibly also used larger JAP engines.
Sources: Tragatsch p190, Wikipedia NL
---
Large
1903
Moto which competed in the Paris-Madrid of 1903, ridden by M Large.
Bourdache p172
---
Lédonien
An established cycle firm in Lons-le-Saunier, they built mopeds named Debello, Clipper, Clarus and Triomphus
Source: Moped Archive (globalnet.co.uk)
---
Le Greves
Established by professional cyclist René Le Grevès at St Nicolas de Redon (Loire), the bicycle firm was associated with the Mercier group and produced lightweights in the 1950s.

Source: Motos dans la Loire
---
L'Elégante
ca. 1904
Under the name of L'Elégante, a 250cc (70x70mm) Monarque engine was sold by Ets J.B. Mercier, 6, rue St-Ferdinand, Paris. An automobile manufacturer, it is not clear whether motorcycles were also produced.
Bourdache p200
---
Lepoix
---
Le Sauvage
190 rue de Charonne, Paris
Built motorcycles of 65cc, 125cc and 175cc 1956-1958
La Moto Francaise
---
Lefol
Manufactured 1954 by Lefol & Cie, Courbevoie, Seine. Jacques Lefol produced car and bicycle accessories from the 1930s.
The Scoot-Air appeared at the Salon of 1954 powered by a two-speed 98cc Comet engine. It may also have been marketed briefly as the Aero-Scoot.
Source: Amis Terriens, Wikipedia NL
---
Lehaitre
Moto Chenilles (single track motorcycle)
M. Lehaitre created his moto chenille (single track motorcycle) around 1936, powered by a Chaise 500 engine. At least two versions were built, both with outrigger wheels, but on one they could be concealed. It was offered to the French army, who rejected it, and was also displayed at the Foire de Paris.
Source: Bourdache (zhumoriste), et al.
---
Leloir
H. Leloir, 16 Rue Fremicourt, Paris
175cc twostroke, ca 1922~1927
La Moto Leloir, 3e Annee de Fabrication. Cliche Salon Octobre 1924
Built 247cc two-strokes similar to the Evans, and a 174cc two-stroke boxer twin.
Sources: Period advertising, Wikipedia NL.
---
Lepoureau
Based in Issy les Moulineaux, Paris, the firm built a motorcycle with a De Dion engine and transmission by chain. They took part in the Paris-Bordeaux-Paris in 1904
Bourdache p438
---
Lesprillier
1900. Factory and offices at 22 avenue d'Italie, Paris
Built a 1¾ hp detachable engine and a 2½ hp motor bicycle.
Bourdache p146
---
Letang
One of the entries in Paris-Bordeaux-Paris in 1895
In 1901, Letang, Herbin And Bordes patented a detachable motor for bicycles
Bourdache pp 43, 44
---
Lepape
28 rue Demours, Paris
1903. Inventor of the 2-stroke engine "Bichrone"
Bourdache writes, "such as Lepape who built a two-stroke piston-pump (deux-temps à piston-pompe) ancestor, a system that was to make the German racing machine famous on the eve of the Second World War."
Bourdache pp 163, 438
---
Levassor & De Boisse
---
Liaudois
1923-1927
Ets. Liaudois, Paris, built lightweights using Train engines of 98cc to 173cc
Source: Tragatsch p221
---
Libertas
7 rue Mousset Robert, and 149-151 rue Michel Bizot, Paris
Built 1¼ hp and 2¼ hp petroleum bicycles ca 1902. The smaller engine had a water-cooled cylinder head.
Bourdache p438
---
L'Idole Tricycle
De Dion motor tricycle which participated in la cote de Chanteloup of 1898.
Bourdache p438
---
Lobin
Bicyclette with Grillon engine housed in the frame built 1902. Chain drive with friction clutch.
Bourdache p438
---
Lombard
Ets Cochot 45 rue de Tanger, Paris
Tricycles et voiturettes displayed at the 1898 salon
Bourdache pp 396, 400
---
Loriot
Manufactured 1927-1930 using mainly JAP engines and Bredier & Charon gearboxes. There was also apparently a shaft-drive model.
Source: Wikipedia NL
---
Lotz-Huzelstein
44 rue du Louvre, Paris
Motorized bicycle, 1896
Huzelstein could be the German mechanic who presented the Hildebrand and Wolfmuller in France and bought the company after the bankruptcy of Duncan and Suberbie
Bourdache p46
---
Louis Pitard
7, Rue Saint-Martin, Paris (advertising). Also listed as 38 rue du Temple, Paris.
Also referenced as Pitard. and L.Pitard
Louis Pitard began building bicycles shortly after WWI. He built Cucciolo 48cc mopeds under licence from Rocher in the 1940s and 50s, and a bicycle engine mounted in a trailer behind the cycle powered by a VAP engine.
Sources: OTTW, encycloduvelo.fr
---
Louis Vineis
rue Monteil, St Etienne
Louis Vineis ran a heavy vehicle workshop on rue Coty in Méons, St Etienne.
The Moto 250 was first registerd in March of 1947 and is rather similar to the Lutece in concept. A shaft drive single cylinder two-stroke with square-section steel frame, it has primitive front suspension, rigid rear end and far from adequate brakes. The carburettor is on the right and the exhaust port on the left. To suggest it is unattractive would be a kindness - it is likely winner of the "bog ugly" award. Thankfully only one was built.
Sources: Motos dans la Loire, La Moto Francaise
---
---
Loyal
Built a tricar in 1897 with a 2-stroke engine of unusual design which operated like a 4-stroke with automatic valve on intake and exhaust.
Bourdache p438
---
Lumen
---
Lutetia
Motorcycle engines and bicycle attachment engines manufactured by Marcel Echard of 31, Bd de Courbevoie in Neuilly-Sur-Seine.
Lutetia 250cc engines were fitted to Austral PC models in 1928
There was also a Lutetia bicycle built by André Godmard based in Paris.
A gentleman by the name of Echard features on a photograph from the BNF captioned "Echard sur Echard, Paris-Madrid 1903".
An account of that race says, "a motorcyclist named Maille, who mounted Echard's machine and took it first for the latter..."
Sources: lesmotosaustral.fr, louisrenault.com et al
---
Lux
Manufactured by Ets Jussy Dombret (founded 1888), a bicycle firm in St Etienne. The first motorcycle is believed to have been constructed in 1898, and in 1905 they were building motorcycles, bicycles and automobiles. The firm is credited with being the first in France to present a Motosacoche.
Sources: Motos dans la Loire; Bourdache p110.
---
Luxia
Manufactured by Établissements Baud of Doubs (Franche-Comté), 1950~1968
The firm built mopeds under the names Betty, Elfil and Jurasport, as well as Luxia.
Source: OTTW
---
Lyjack
Manufactured by Eugène Brossard at 48 rue Denis Papin, Blois
Named by the founders for their daughers Lyliane et Jacqueline, the cycle firm had been operating for decades. In the late 40s or early 1950s they built cyclomoteurs.
Source: tontonvelo
---
Sources