Motocyclettes fabriquées en France (S)
Notes on some of the rarer French marques
This page lists brands for which we currently have only an historical precis.
For a more complete listing visit the French Index.
There is also a page on really obscure French brands.
---
Sachs Nauder
These were off-road machines built by Nauder, the French importer of Sachs, from c.1981 to 1986.
The logo looks like "VSN", but is in fact a stylised triangle followed by SN. Models included SN 250GS 1981, Sachs Nauder 125 MX 1982 and SN 250 GSB 1986. They had dual rear shocks possibly by Fournales. Late models had disc brakes.
Sources: forum posts, period advertising.
---
Sadem
Ets. Sadem of Bois-Colombes built 98cc lightweight motorcycles from 1951 to 1954
Source: Wikipedia NL
---
Salmson
Manufactured by Ets Jeanne & Philippe, 196-198 bd Voltaire, Paris
In the 1950s built mopeds fitted with Le Poulain, Junior and VAP 55 engines.
They marketed the Ydral-powered Cote d'Azur from Mercier under the Salmson marque.
Salmson also built La France bicycles, unrelated to the motorcycles of that name.
Sources: Motos dans la Loire, et al.
---
Salvator
1901
Bicyclette with Gillet engine and pedals. The same firm produced the Saltor.
Moteur GILLET å partir de 2.500 fr., les plus parfaits et les mieux équipés. Toujours des vélos SALVATOR et SALTOR á la portée de toutes les bourses.
(GILLET engine from 2,500 fr., the most perfect and the best equipped. Always SALVATOR and SALTOR bikes are within reach of all budgets.)
Bourdache p112, 113.
---
Sambiase
Built in Marseille by the Sambiase brothers from 1985, these were high-performance machines using alloy frames and Kawasaki engines. They were associated with the Pernod racers.
Source: OTTW
---
Sanchis
Manufactured by Enrique Sanchis, Courbevoie-Hauts de Seine, 1905 to 1912
Presented at the Paris Salon of 1906, the Sanchis Triauto was a tadpole-syle tricycle powered by a 4.5 hp engine concealed beneath the armchair-like single seat. He later built voiturettes.
The Sanchis was marketed in Great Britain by Leon Pierron as the Mass.
Sources: 3-wheelers.com, automania.be, svvs.org, et al.
---
Sanchoc
Motos Sanchoc of Paris built motorcycles using two-stroke engines of 98cc to 248cc and sidevalves of 345cc from 1922 to 1924.
Sources: Wikipedia NL, archives-moto.jlbweb.fr.
---
Sandford
Stuart Malcolm Sandford built three-wheel cyclecars in Paris which were somewhat similar to the Morgan. Production began in 1922 and continued until 1936.
They were very successful in competition, and beat most of the four-wheelers of the time. Models included the the Sport, the Super Sport and a supercharged sportster, along with the Tourisme and the Economy FT5. All were powered by four-cylinder water-ccoled Ruby engines of 900 to 1100cc. Four-wheeled "Quad" models were also produced, one of which is in the National Auto Museum in Mulhouse.
Sources: 3-wheelers.com, et al.
---
Sanucta
Also known as Sanne, these were built by Manzat (P.-de-D.) in the 1930s.
---
Sartorette
Jean Sartori, a former cyclist, opened a bicycle shop in Meaux after the war and soon began fitting Le Poulain engines to quite attractive cyclomoteurs which proved very competitive in local racing. It appears that these machines were supplied to other manufacturers and sold under their own labels. Le Poulaine closed in 1956, and production of the Sartorette ceased around the same time.
Source: moto-scooter-annee50-60.over-blog
---
Sautel et Séchaud
Tricycle built in Gentilly Valle del Marne from 1902 to 1904, it had a 3.5hp engine mounted vertically behind the seats with belt drive to the rear wheel. The two-speed gearbox was controlled by moving the steering column to the front or rear.
Sources: OTTW, 3wheelers.com
---
Le Sauvage
E. Sauvage built bicycles and motorcycles at Fives in Lille.
At the 1958 Paris Salon they displayed a dozen 50cc and 65cc machines. They may also have produced a model with a Comet 100cc engine, and some used SER engines.
Possibly related: "In the 1950s and 1960s, Lejeune cycles bought a small manufacturer, J. Beck of rue Réaumur in Paris, whose brand was called Sauvage. The machines are marketed under the name Sauvage-Lejeune."
---
Savard
Two-wheel-drive motorcycle built by the the Savard twins Frank and Patrick from 1987 with financial support from the French government for their Pro Top company. The Savard machines competed in beach races and supermotard, placing well. Driven by chain, the front wheel drive only engaged when the rear wheel lost traction. The name changed to Savage in 1990, but vanished the following year.
Engines employed included Honda CR500, Husky 510 and Yamaha TT600.
Source: Wikipedia NL
---
Savariaux
Possibly associated with La Tortue
Bourdache p146
---
Saving
1906. Brand with the same construction as Alcyon using Zedel engines renamed Kleder in the catalogue. It appears that these were in fact older model Alcyon machines.
Bourdache pp279, 378
---
Savoye et Cie
Established in 1905 at Saint-Chamond (Loire), the firm used the Keller Dorian engine in 1908. It is not clear whether they used their own name as the brand, but they were certainly marketed as Pernot
---
Sbarro
Manufactured by ESPERA Sbarro in Montbéliard, France, less than 20km from the Swiss border.
Franco Sbarro, from southern Italy, is famed for his exotic sports cars. His first love was motorcycles, and in 1989 he built a quite remarkable machine.
Source: moto-collection.org, e-sbarro.fr
---
Schlidge
Caption to image of Columbia engine: "For 230 F (mufflers included), Ets Schildge provides this 1 1/2 HP Columbia engine that fits all bicycles."
It is unclear whether Schlidge produced complete machines.
Bourdache p271
---
Schneider
1902. Motorcycle engine placed along the rear wheel - gear transmission
Schneider built his own carburettors.
Bourdache p149
---
Scoto 1949-1950
---
Scooter-Valise FR
Manufactured by Ets Francois in 1952, it was powered by a 72cc Sotecma engine and weighed a mere 27 kg.
See also F.R.
Source: Tous les scooters du monde
---
S.C.L.
Société Anonyme Nouvelles des Constructions de la Loire
Rue Parmentier, St Etienne
Similar catalogue to that of Automoto circa 1913
Bourdache p441
---
Scotta
A motorcycle/scooter hybrid with scooter wheels powered by a 125cc JLO engine, built 1952 to 1953.
Source: Wikipedia NL
---
---
Selection
Manufactured by Selection Cycles of Paris, an upmarket bicycle manufacturer, the cyclomotors (the term "moped" was not yet in common use) were powered by Le Poulain two-stroke engines.
Five of these were found in a Paris warehouse in 2006, brand new, in storage since a paris shop had taken delivery of them in 1952 shortly before closing down.
Gallery: Selection
Source: buyvintage.com
---
SEPT
33, Champs-Elysees, Paris (8)
An advertisment dated 1923 advertises engines of 125cc and 175cc using aluminium pistons, with an image of a sidevalve engine.
---
SER
Louis Serouge, 1955-58
Ets Louis Serouge, 138 rue Aristide Briand, Levallois (Seine)
Built a variety of 49cc and 65cc engines of their own design, and also engines built under licence to Itom based on the Itom Tourist. The engine was used by other makes including the Lapébie built by Mercier.
SER possibly built complete mopeds.
Sources: La Moto Francaise, autocycle.org.uk, Moto revue 25th June 1955 (advert).
---
Serin
Manufactured in 1899 by Pierre Serin, 79, rue de Paris, Saint-Ouen (Seine)
The tricycle had a single wheel at the rear powered by a 4CV four-stroke engine and a very large external flywheel. The front wheels pivoted automotive-style and were steered via a straight lever or optionally a handlebar. There are two brakes, one at the front, the other at the rear. It had two speeds and neutral, could achieve 30 km/h, and was priced at 3500 francs.
Source: lestricars.es.tl
---
Serpollet
In 1889, Armand Peugeot, who believed in the future of the motor vehicle, built a steam tricycle which was in fact a modified Serpollet. In the fourth machine, he changed from steam to to the Daimler engine.
Bourdache pp 131, 165.
---
Serrus
Address: 14, rue du Général Haxo, Epinal (Lorraine)
Established 1922 or earlier, in 1926 advertised that they manufactured Cycles and Motocyclettes. The firm was still operating in 1947, and was probably still producing bicycles in 1951.
---
S.E.T.A.M.
ca. 1950
Built the 49cc Baby Star, a bicycle attachment engine which drove the front wheel.
It was also sold in Germany. The name Mepps is mentioned, and the design was apparently owned by Stellwagen. There appears to be some connection with Lavalette as a detailed description of the Baby Star is available in a document with their logo.
Sources: Moped SE, cyclememory.org.
---
Seurat
Marcel Seurat built a high performance motorcycle using a pair of OSSA 250cc engines on a common crankcase. Only two were built, of which one survives. The names OSSA Yankee and Jacky Doubre are closely associated with the marque.
See also BPS, Royal Moto (1970s) and SPQ
Source: OTTW
---
Sewa see Jeunet
---
S.I.A.
La Société Industrielle d'Albert
27, Avenue de la Grande-Armée, Paris
Many bicycle and motorcycle brands are associated with the Albert concern. Before the Great War these included Hurtu, Rochet, Hippolyte Petit, Georges Richard (Trèfle), Max Richard (Ajax), Henri Pagis (Régina), Excelsior, Roland, Viator, Cycles Pensée, Cycles Francia, Bischoff et Cie, Paul Bruneau et Cie, and Tours.
Motocyclettes Austral explains the relationship between them in considerable detail.
---
S.I.C. 1921-1925
---
SICAM
.
---
Side-Bike
Established in France in 1987, from 1992 to 1998, they built a "leaner" sidecar named the Toro which could be attached to the Yamaha TDM 850, the Super Ténéré and the XT600.
They also developed the Comète suitable for attachment to the FJ1100 and FJ1200, and this was followed by the SuperComet for the GTS1000.
Sources: François-Marie Dumas, rebigil.pagesperso-orange.fr, club-sidebike.forumactif.org
---
SIF
Manufactured by Établissements F. Simon of Agen using De Boxon engines, the mopeds were marketed under a number of brand names including Elite, Esper, Mondia, Prester, Semper and Sport.
Notes.
1. Esper is a brand associated with another manufacturer (Moreau), as is Prester. This information needs verification.
2. An advertisement for F. Simon & S.I.F. gives the address as 154 Avenue Pasteur, Troyes.
Source: OTTW
---
Simonet

Simonet - Ch. Simonet, Cycles & Autos, rue Juge 23, Paris. c.1903. These are possibly rebadged Valter machines. Charles-François Simonet had a bicycle workshop in rue Juge (Paris XV). His brother Alexandre, also a keen cyclist, had a workshop nearby.

Source: lestricars.es.tl
---
Siphax
Manufactured by Atéliers de Mécanique Siphax in Paris from 1951 to 1956, these were lightweight sport roadsters with 98cc AMC engines.
Source: Wikipedia NL
---
Smart
Motorcycles manufactured by Les Atéliers de Sedan of 55-57, Quai de la Tournelle, Paris, from 1922 to 1927, using 2hp two-stroke engines possibly of their own manufacture. They claimed to build 100 machines per day.
N.B. There was also a Smart built in Austria, see Smart (AT)
Sources: period literature, et al.
---
Societe Mecanique
Societe Anonyme Mecanique et Moteurs
This firm are showing two motor bicycles - one air cooled and one water cooled, fitted in the usual vertical position in a loop frame passing right under the crank chamber. The water-cooled pattern has the combustion head and cylinder cast in one piece; and the radiator, semi-circular in shape, with the usual fins, is placed in front of the steering socket, where it should prove the most effective. The engines appear to be well-finished productions, the air-cooled one being fitted with the latest pattern Longuemare carburetter, while the water-cooled one is supplied with an F.N. (Stand 50a.)
Stanley Show, The Motor Cycle, Nov 25th 1903
---
S.O.C.O.M.I.A.
67 Rue Lamartine, Drancy (Seine)
In 1951 they built 60cc and 72cc machines
La Moto Francaise.
---
Socvel
Manufactured by Henry Lanoy at 6 Place Jacquart, Saint-Étienne, 1951~1954
The Sterva prototype was introduced in July 1951 with a 98cc 4-speed engine and later that year at the Paris Salon the firm presented the Stefa. The Stefa II ran a 125cc 4-speed Ydral and also used 125cc four-stroke engines from AMC, and two-strokes from Aubier & Dunne and Sachs.
The scooters had 10 inch wheels, weighed no more than 75kg and had a top speed exceeding 60 km/h.
Lanoy was also the builder of HL and Tractavant. His interest in scooters began in 1938 when he saw a prototype built by New-Map. He was also the author of a number of books on aviation and electronics including L'encyclopédie de l'électricité automobile.
Sources: OTTW, Amis Terriens
---
Solano (Engines)
R.Poisson, 6 rue Chartran, Neuilly (seine)
Built engines in 1953-54 of types S1 and S2, 49.9 and 49.8 cc. The engine was used by BGA of Saint-Etienne in those years.
Source: La Moto Francaise
---
Soltner
Victor Soltner of Pfastatt in Alsace began building his own motorcycle in the late 1930s. The machine has a 250cc two-stroke HO twin with separate gearbox. It had telescopic forks and a rigid rear end, and chain drive to the rear wheel. The machine was completed and made roadworthy in 1952, and was restored in recent times.
Victor was the mechanic for the Mulhouse motoball club. He built the flat-twin engine using 125cc Peugeot pistons, and everything else - crankshaft, conrods, casings - he made himself. He patented the design in 1951 and registered it in 1952.
Source: lalsace.fr
---
Soncin
68 rue Caumartin, Paris
Emel, Cuzon et Cie in 1900, and later Soncin, Gregoire et Cie
Louis Soncin built engines some of which were very large and powerful in the day. A racing machine with a 500cc Soncin was part of the Guélon Collection.
In October 1902 Soncin withdrew from the company leaving the rights to Pierre Joseph Grégoire.
In 1905 , the company developed a twin-cylinder 8/10 HP engine, and began car racing. In 1906, the Poissy factory expanded, and in 1907 the company transferred its head office to Levallois - Perret , then to Neuilly-sur-Seine, with production remaining in Poissy.
A Soncin engine powered a motorcycle built by the Chase Brothers in 1903.
Sources: Bourdache (pp 88, 96); Guélon Collection; wikipedia.org.
---
SOTECMA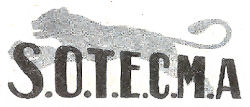 Société Technique et de Construction de Moteurs Auxiliaires
67 rue Lamartine, Drancy (seine)
Engines built from 1951-58, they were two-strokes of 48cc, 125cc (4speed) and 175cc (4speed).
These were used by Solyto and Scooter-Valise, among others.
Source: La Moto Francaise
---
Souriau
Manufactured by A. Souriau et Cie of Montoire-sur-le-Loir, 1912 to 1914.
The company built Delta style motor-tricycles (Dreiräder). The front wheel was driven by a 625cc engine which was mounted behind it. Another version had a four cylinder engine of 1465cc.
The firm also marketed vehicles under the "Obus" marque, 1907 to 1908.
Sources: 3-wheelers.com, Wikipedia DE, et al
---
Souvairan
Displayed at the Salon of 1902
Bourdache p146
---
Spada
An open frame miniature, resembling the Skootamota, but with its power unit immediately in front of the rear wheel. This is a side-by-side twin two-stroke, embodying reduction gear and driving the small rear wheel by chain. The cylinder dimensions are 44x49 mm.
Paris Salon, 1922
---
Sparting 1930s~1950s
---
Spécial-Monneret
---
Sphinx Engines 1899
---
Sphinx Cyclecars
F. Terrier of Courbevoie, Seine built cyclecars between 1912 and 1925.
Sphinx Automobiles Usines Perfecto 1920-1925
Sphinx-Globe Automobilettes of 1913 had J.A.P. twins and Anzani single-cylinder engines.
Sources: de.wikipedia.org/wiki/Sphinx_Automobiles, allcarindex.com
---
Sphinx 1930s
Vélomoteurs SPHINX 139, Rue du Chateau - PARIS (14•)
(and possibly 69 rue de Vanves Paris 13.)
Advertised as having "Moteurs 4 temps culbutés GEM et tous moteurs sur demande, AUBIER.DUNNE, JAP, ROB, etc." Another advert shows a model fitted with "ROB moteurs".
These publications are undated, but appear to be mid to late 1930s. One source gives dates of 1933 to 1939.
Sources: moto-collection.org, 30kmh.forumactif.com, et al.
---
Star-Fling
Models ST125 & ST175, circa 1955, AMC engines.
The S.T. 175 Sport was quite striking, with extensive contoured bodywork and deeply flared mudguards. It had a dual seat, rear swinging arm and telescopic front suspension.
---
Starnord
Dangre Frères
49 , La Briquette, Valenciennes (Nord)
Established as a bicycle firm shortly before the war, from 1953-1957 built 100, 125 and 170cc two-strokes. A moped with a VAP engine was also produced, and a 100cc model named the SR5 Motostar with legshields and footboards.
La Moto Francaise
---
Stimula 1902-1914
---
Stop, Stoppa
---
Strock
20 bld du Port Amiens
Cycles and Motorcycles. 1903
Bourdache p441
---
Sublime
Construction of these 350cc parralel twins commenced in 1954.
Source: Wikipedia NL
---
Succès
Built motorcycles in 1904 with P.A.L. engines of 2½ hp or 3 hp
Bourdache p441
---
Superior
Thimonier et Cie, producer of sewing machines in Lyon. Marketed the Deronziere under their own label c1910
---
Supplexa
Manufactured by Ets. Motos Supplexa, Courbevoie, Seine, 1922 - 1932
One of their models was a 996 cc V-twin with an extended frame and disc wheels. Other models had 346 and 490cc JAP engines.

Supplexa-Jap. On conventional British lines, with sloping top tube and embodying English components, such as Jap engine and Albion gear box, 26x3in. tyres.
Paris Salon, 1922
Sources:
Wikipedia NL
, The Motor Cycle
---
Suquet
Manufactured by Ets. Suquet Frères of Courbevoie, 1929 - 1934.
Built lightweight motorcycles using 98 and 124 cc Aubier & Dunne engines. It is possible they also built engines - see S.I.C.
Source: Wikipedia NL
---
Suzy
Manufactured by Motos Suzy of Levallois, 1932 - 1933, these were motorcycles with 498cc OHC Chaise engines.
Source: Wikipedia NL
---
---
Suddard
Documented in 1903
Bourdache p441
---
Sylvania
S.C.M.S.
77 Av A-Briand, Cachan (Seine)
Built 98cc and 175cc two-strokes in 1955.
La Moto Francaise
---
Rarer French Marques