Meyra Microcars and Invalid Carriages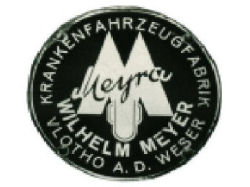 A Brief History of the Marque
Manufactured: 1936 - present
Wilhelm Meyer, Vlotho ad Weser
Wilhelm Meyer built invalid carriages ("Krankenfahrstühle") for disabled war veterans. In addition to electric machines, there was a variety of quite attractive tricycles powered by two-stroke engines of 50cc to 250cc, mostly by JLO and Fichtel & Sachs, at least one model with a Küchen engine (probably a four-stroke), and one source mentions DKW.
With two wheels at the front, the Meyra was produced as both an invalid car and a cheap two-seater microcar. The machines had final drive to the rear wheel by chain.
Microcar description, two seater
Hydraulic brakes on all wheels
Electric starter
Interior heating ducted from engine in the manner of VW and some light aircraft
Final drive by fully enclosed chain
Rack and pinion steering
Engine access via a hinged rear panel secured with snap fasteners
Cabin access via a single door on the right hand side
There was also a 4 seater of which but a few were built, and a 2 door sports machine which was driven by Meyer's wife. Two of these were built.
Meyra Microcar models 1952-1956:
Model 48/50
Model 53
Model 55 1950-1952, wooden body
Model 55 Zweisitzer
Model Model 200 1953-1955 four-seater
Model 200-2
Model 201
None of the 200/201 models have survived, sadly. They were quite lovely.
Meyra microcars are displayed in museums in St. Ingbert, Saarland and in Brisbane Queensland. An invalid carriage at the Miami Auto Museum, and the Eppelheim collection in Germany has several examples.
Notes:
Egon Brutsch is credited as consultant during the design phase of the microcars, according to JF. No evidence has been found to substantiate this claim.
Sources: Factory Literature, mo-ped.se, carsablanca.de, vehikelsammlung.de, JF, correspondence.
---
2016-01-23
Nuphar Kuiper <noofmail at yahoo.com>
meyra type 56
Hi there, I'm restoring a Meyra type 56 at the moment, and the thing is, that except for a certain brochure on your site, I was unable to find any information about this exact model... All I find on the web are models which "look like" but are not the same... what else, the certain model I have has a 147cc ILO engine, where as on the brochure it's said to have had a 125cc ILO engine or a 150cc Sachs engine...
In the 50's, 40 units of this kind were sent from Germany to Israel as a gesture of goodwill, whereas about 2-3 of them remained...
If there's any way you can help me get more info about this model (pictures, drawings, literature, anything) I would be mostly grateful!!
Thanks in advance (and by the way you've got an awesome site!!)
Nuphar Kuiper - Kuiper Customs
---

Thu Mar 15 2012
zaekamoto at abv.bg
meyra/wilhem no
ih in bulgeria
Ed: Engine appears to be a Sachs of around 50cc. Mfg early postwar, possibly as late as 1954 but more likely c1947

If you have a query or information about Meyra vehicles please contact us