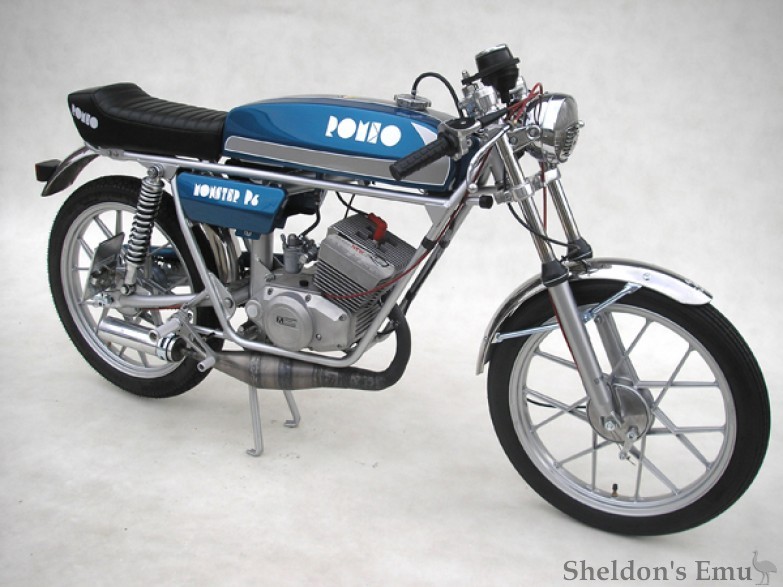 Romeo Motorcycles

A Brief History of the Marque
41100 Modena (Italia) Via Dei Tornitori 11 (1975)
Made in Italy from 1969 to 1975, these attractive little machines were fitted with Minarelli engines.
The Modena business was founded in 1961 by Eduardo Po 1, and an encouraging arrangement was struck with Vittorio Minarelli who provided engines which could be paid for after the sale of the completed machines, along with a sales and delivery network allowing much broader market penetration. The 1961 Romeo models were the Italia, Superturismo, and Zeta. These attractive, well-engineered machines achieved almost instant success and 1962 saw the range expanded with the addition of the Sprint Sport, Sprint Supersport and Sprint Veloce models. These names were strongly reminiscent of the Alfa Romeo Giulietta Sprint which had acquired immense prestige in the Italian motoring world.
With the economy booming and along with it moped sales, the aid from Minarelli was considerable - Minarelli dealers were encouraged to take the Romeo machines on consignment.
In 1968 the firm's first cross-style moped arrived. The Romeo Fujihama was greeted by its intended audience of 14-year-olds with considerable enthusiasm, and although not made in large numbers it set the stage for future models of this nature.
In early 1971 the Monster with double cradle frame was released, in touring, sports and cross versions - the latter named Scorpion - available with Minnarelli P4 and P6 engines. These proved very popular indeed and the the factory was literally run off its feet keeping up with orders.
The company was renamed Motron 2 in 1976 and for a time very similar models appeared under both marques, distinquishable only by the paint scheme and the decals. Motron ceased production in 2000.
Romeo models include:
Romeo Superturismo
Romeo Italia
Romeo Zeta
Romeo Sprint Sport
Romeo Sprint Superport
Romeo Fujihama
Romeo Bibo
Romeo Pony
Romeo Paco
Romeo Pedrito
Romeo Monster
Romeo Scorpion
Romeo Tentation
Romeo Pioneer
Romeo Primeiro
Notes
1. Several sources mention that the firm was founded by "Fratelli Po". The brothers Edoardo and Ercole Po began their workshop around 1959, but Edoardo Po began the company on his own. For reasons unclear, the company was named Romeo dei F.lli Po (F.lli = Bros).
2. The sons of Edoardo Po, Ermanno and Adriano, had joined the company in the mid 70s and wished to modernise the name. The initial plan was to rename the company Motrom (Motori Romero), but as that was confusingly similar to Motom, a Milanese motorcycle firm which had recently ceased production, the name Motron was adopted.
Sources: motoclubstoricoconti.it, Henshaw, Bretti Brothers, et al
---
19092020
davidsmithkeitley at hotmail.co.uk
Romeo scorpion 1974
Need left side panel
David
Shropshire.uk
---
01-Jul-2020
tim at tcostello.co.uk (bounced)
Romeo
I trying to find out the year and model
Tim Costello
Coventry uk
Engine and frame numbers, along with a photograph of the ID plate, may help identify the model.
Romeo-Costello-UK.jpg posted to Comments.
---
14-Nov-2018
chafersteve at gmail.com
romeo 50cc
Hi
I am looking at buying one of these small mopeds, with a 50cc engine. Can l still get parts for these?
Steve Chafer
Portsmouth
The massive flockup that is Brexit brought about, as evidence suggests, by Russian interference, will probably make sourcing the already rare spares for these models increasingly difficult.
Try this page: Moped Resources.
---
Sun Jul 27 2014
parriman at hotmail.com
Romeo Picciotto mini automatic
Hi. I would like all information possible of this model. Motor, etc...
Spain
---
Tue Jun 25 2013
palygano<at>outlook.com
how rare and info req'd
romeo monster p6
Hi. I have one of these. How rare is it in the uk and how can I get info? thanks, Grahame.
Liecester UK

---
Tue Jan 19 2010
info at dorizadot com
romeo?
minarelli minarelli
I have a moped with pedals with a Minarelli motor on it.Research says its a ROMEO and that the motor of Mnarelli and Morini are identical.
Is this true?
I am looking for a whole engine to buy as mine is stuck.Can you help?
Greece

No, Minarelli & Morini are different companies, the engines are not the same. Ed.
---
Sat Oct 27 2007
stumitton at blueyonder.co.uk
romeo motorcycles
Having just come across a full page advert for the range in an old copy of Motorcycle Sport from the 1970;s looked on the internet. If anyone wants a copy of the advert I would be only too please to email them a copy
sheffield UK
...............
Mon Oct 29 2007
romeo advert
Hi there attached I hope is the page advert from the motorcycle sport dated august 1975. If it is not attached send me an address and I will forward a good copy
sheffield
A larger version of the image above (2.5mb jpg) is available on request.
---
Thu Aug 23 2007
atkosta at yahoodot com
romeo primeiro
motori minarelli romeo with type primeiro
please sent me informations and original photos for this motorcycle. I have this moto and i need informations about spare parts for engine and exaust system
Athens Greece
---
Fri Sep 08 2006
a.moroni at meras.it
ROMEO
Hallo Jhon,
this is picture some production of manifactory ROMEO.
Born to Fratelli PO Modena 1961; 1976 New Factory is Motron s.r.l.
ITALY
---
Tue Aug 29 2006
leonnaus at home.nl
romeo sprint
sprint
who have technical information ,
does some one now the year
meijel (holland

...someone may be able to identify the year model if you supply the engine and frame numbers. Ed.
---
Sun Mar 19 2006
john-h-keefe at yahoodot com
pictures of a Romeo 50 cc ANY
I have what I think is a Romeo. and would like to clean it up. I find mention of the brand but in 10 years I have never found a photo
jacksonville, Arkansas, UAS
Tue Mar 21 2006
john-h-keefe at yahoodot com
pictures of a Romeo 50 cc ANY
Romeo
I have a motorbike that I believe to be a Romeo, it has Minarelli
engine on it. I was hoping that in your arcives you might have either some pictures of a complete Romeo motorbike or know where I could find a service manuel for the bike or the motor. The Romeo was only made between 1969 and 1975 (Pre computer). I have been looking for a photo for about 10 years and haven't found one. if it is easier for you to reply in Italian that's fine. I can read it just don't write well in it. I do have a photo that I took. I'll send one. Let me know if you want me to send others.
Thanks for any help you can provide.
John
Little Rock AR

Can you tell me what's written on the brass plate on the rhs of the engine please John?
The plate says Motori Minarelli. I'm not sure if that means that the Romeos came with a minareli motor or that it really is not a Romeo. That is half of the reason that I've been trying to find a pic for years. John
Minarelli engines are fitted standard to the Romeo, John. Parts for those engines are reasonably easy to find.
If I get the numbers off the motor, do you know who I could talk to about a manual? I don't think it has the right plug. The last time I started it it was good till I tried to give it gas. John
If you have a query or information about Romeo motorcycles please contact us