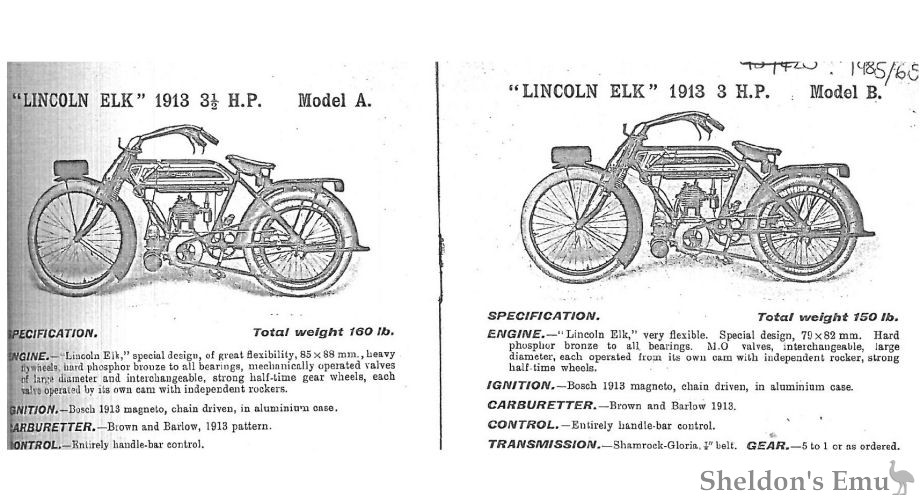 "LINCOLN ELK" 1913 3 1/2 H.P. Model B
SPECIFICATION. Total weight 150 lb.
ENGINE. "Lincoln Elk," very flexible. Special design, 79x82 mm. Hard phosphor bronze to all bearings. M.O valves, interchangeable, large diameter, each operated from its own cam with independent rocker, strong half-time whools.
IGNITION. - Bosch 1913 magneto, chain driven, in aluminium case.
CARBURETTER. - Brown and Barlow 1913.
CONTROL. - Entirely handle-bar control.
TRANSMISSION. - Shamrock-Gloria. 7/8" belt. GEAR - 5 to 1 or as ordered.
FRAME. - Strong graceful design, Druid spring forks, wheelbase 63". Special cradle and bracket in which engine is carried by four bolts only. Height to top of saddle 30".
BRAKES. - Bowden front rim brake with lever on handlebar, aud belt rim brake operated by simple pedal on footrests.
WHEELS. - 26" with 2" Palmer motor-cycle tyres.
TANK.- Petrol tank holds 11/4 gallons (this model runs 80 to 120 miles to the gallon), lubricating capacity for 400 miles, fed by force pump in tank.
SADDLE. - Brooks "B 130," large size, very comfortable, with buffer springs.
STAND. - Swing, easily let down, very sleady.
FOOTRESTS. - Special, with comfortable rubber pads.
CARRIER.- Special tubular, and toolbag.
Price (as per above specification) £31 10s.
Enamelled Brown, 10s extra.
" LINCOLN ELK"
Countershaft, 2-speed gear and free engine, £8 extra.
Free engine, clutch (not variable pulley) £2 10s extra.
Variable pulley, 10s extra.

If you have further information or a query related to this page, please contact us