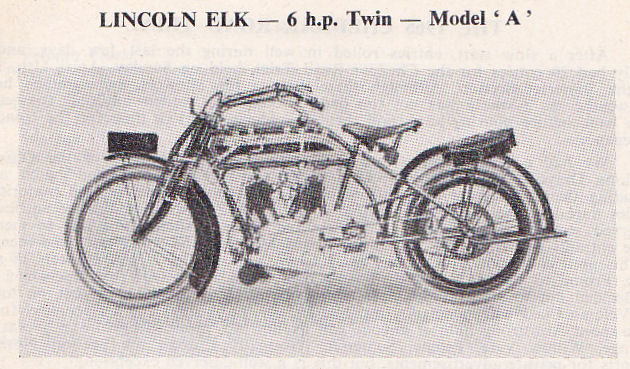 LINCOLN ELK — Model 'A' 6 h.p. Twin
Above we print an actual maker's picture of the 1915 Model. Manufactured by J. Kirby of Broadgate, Lincoln, the machine is identical with the 1915 Model, and its specification reads:
Engine— 76 x 85 mm., 770 c.c. heavy flywheels, phosphor bronze bearings, large diameter interchangeable valves, strong half-time gear wheels.

Transmission— Combination by chain from engine to countershaft, then by 1 in. belt to high gear, and by chain to low gear.

Ignition— Magnet chain driven in aluminium case.

Carburettor— Brown and Barlow. Handlebar control.

Frame— Strong, with Druid spring folks. Wheelbase 55 in. Engine carried by four cradle plates. Height to saddletop, 30 ins.

Brakes— Bowden front rim and pedal operated belt rim brake.

Wheels— 26 in. carrying 2½ in. heavy Palmer tyres.

Tank— Two gallons capacity petrol (maker says that the machine ran 60 to 70 miles to the gallon), lubrication capacity for 200 miles, fed by automatic drip feed.

Saddle— Brooks B170.

Footboards— Polished aluminium.

Nett price with two-speed gear—£55.

Nett price without two-speed gear—£47.

And could be obtained enamelled brown—10/- extra. (Total weight—265 lbs.).
---
As the maker remarked: "After making bicycles for over 20 years, I was asked to make motorcycles of the same reliability and good quality. (The first Lincoln Elk appeared in the Autumn of 1902) and every machine I have since sold was made entirely, engine included, in my works at Broadgate. My machines are ridden by pure amateurs in reliability trials and on each and every occasion they proved their reliability. A large proportion of my customers are commercial travellers and other business men who want to ' get there '. While no motorcycle is cheaper, none are better made. All my workmen are skilled mechanics, there being no boy labour. I make everything but such things as tyres, magneto and carburettor, and every machine is specially tested on the road, and on the trying hills around Lincoln." And he ends his ditty with the words "Do not always be taking the engine to pieces— let well alone."
---
Also listed for 1915 were the following models — Model B, 4½ h.p. at £46; Model C, 3½ h.p. at £35; Model D, 3 h.p. at £31.10.0; Model E, 2¾h.p. at £28 and a very sporty-looking 2½ h.p. two-stroke done as a single speed at £25, and as a two-speed at £31. The latter weighed 130 lbs. and was a new one to the range.
J.C.K.
Source unknown. Cutting posted to Early Motorcycle Literature by Keith Hodgson.
If you have further information or a query related to this page, please contact us
---