Omega Motorcycles by W. J. Green and Co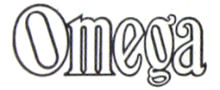 Omega motorcycles were produced from 1914 to 1927, by the works of W. J. Green and Co, at Croft Road, Coventry.
1914 The first machine appeared as a 3hp 344cc two-stroke model, with a two-speed Toroga gearbox, chain-cum-belt drive, chain-driven U.H. magneto, petroil lubrication and Druid forks.
Omega 1914 Models
Post-War. The model was soon joined by others but the firm concentrated on a 292cc sv JAP-engined lightweight in three forms of transmission choice.
Omega 1919 Models
1921 After a move to larger premises allowed an increase in production, a 545cc sv Blackburne was added.
1922 An all-weather machine was offered, as a 348cc two-stroke with widely splayed duplex tube frame and new spring forks of low unsprung weight. The engine of that model was also available in a machine with a more conventional outline, as were other lightweights of various engine capacity of sv V-twin JAP engines, and single speed or Sturmey-Archer geared drives.
Omega 1922 Models
1923 The only JAP to be continued was the 293cc model, along with the 348cc two-stroke - both in various forms. These were then joined by a 170cc two-stroke miniature with forward-sloping engine in a loop frame and with two speeds.
1924 The range expanded with the addition of Blackburne and Barr and Stroud sports models, plus a Ladies' Model variant of the 170cc miniature.
1925 All except a 248cc Blackburne went forward into that year, and sv and ohv JAP models were added.
1926 The preferred engine had become the JAP, and the 348cc two-stroke and Barr and Stroud models were dropped. A natty little three-wheeler was introduced, with two front and one rear wheel, and was available in either sports or family versions. It was heavily promoted and may well have put a financial strain on the company.
1927 A 677cc sv V-twin was re-introduced. All the JAP-engined singles, the 170cc miniature and the four-strokes ran on. The latter were quite chunky in appearance, in short wheel- base frames with internal expanding-drum brakes. It was the firm's final year, then they totally withdrew from the market.
Sources: Graces Guide, Motorpaul NL, The Motor Cycle

If you have further information or a query related to this page, please contact us