Ossa Road Trail Models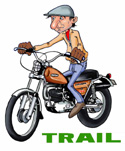 Ossa Trail
Ossa Trail: Pocos modelos dedicó Ossa al Trail, tan solo las "Explorer" derivadas de las "MAR" y las "Tuyo" que en realidad eran TR80 adaptadas, únicas representantes en este segmento.
---
Ossa dedicated only three models to the Road Trail sector; 250cc and 350cc versions of the "Explorer", derived from the "MAR", and the "TuYo" which was an adaptation of the TR80.
Models: Explorer 250 | Explorer 350 | TUYO 350
---
---
Explorer 250
Explorer 250
En 1972 Ossa presenta en el Salón de Paris la que seria la alternativa a las Bultaco Alpina o Montesa Cota-T, la Explorer. De estética muy agradable, y derivada de la 250 Trial Mike Andrews Replica, se diferenciaba en los colores de deposito y tapas laterales que eran de un marrón-dorado, cilindro modificado para hacerla mas fácil de conducir, distintas relaciones, asiento de dos plazas, no sufriría ningún cambio a lo largo de su vida, salvo la aparición en el 73 del modelo 350, que aparte del aumento de potencia solo cambiaba en sus colores, rojo burdeos y dorado, como los de la gama desert.
---
In 1972 Ossa presented at the Paris Motor Show what would be the alternative to the Bultaco Alpina or Montesa Cota-T, the Explorer. Very nice looking, and derived from the 250 Mick Andrews Replica, it differed in the colours of the tank and side covers which were metalic brown, modified cylinder to make it easier to drive, different ratios and two-seater seat. It would not undergo any change throughout its life, except for the appearance in 1973 of the 350 model, which, apart from the increase in power, only changed in its colours, burgundy red and gold, like those of the desert range..
---
---
Explorer 350
Explorer 350
Poco después del lanzamiento de la 250, Ossa saca la versión de mayor cilindrada. A parte del aumento en el cubicaje del motor, pocos son los cambios realizados, un color rojo burdeos para fibras y deposito y un cuenta kilómetros de mayor dimensión anclado ahora en la parte superior de la barra de la horquilla, como en algunos modelos de enduro.
---
Shortly after the launch of the 250, Ossa brings out the larger displacement version. Apart from the increase in the displacement of the engine, few changes have been made, a burgundy red colour for fibers and tank and a larger odometer now anchored in the upper part of the fork leg, as in some enduro models.
---
---
TuYo 350
TuYo 350
Segundo y ultimo modelo trail de la marca del trébol de cuatro hojas, que saldría al mercado en el verano del 82, con la denominación de "Tu y Yo", un nombre poco comercial en mi opinión, que intentaba mostrar que era una moto para andar con compañía. En definitiva estaba basada en la triunfadora TR-80 de trial, en la que solo la diferenciaba prácticamente cuestiones estéticas, como asiento de dos plazas (con funda aprovechada de su antecesora "Explorer" cambiado el anclaje al bastidor.), trasportín trasero con barras de refuerzo en el bastidor, nuevas aletas, sistema de alumbrado y un estético azul metalizado. Se hicieron dos versiones de este modelo con cilindradas diferentes en 250 y 350, con la diferencia estética que la dos y medio montaba porta faros Acerbis blanco y su hermana mayor faro redondo de Ossa con rejilla de protección.
---
Second and last trail model of the four-leaf clover brand, which would go on the market in the summer of 1982, with the name TuYo (You and Me) demonstrating the social aspect of the machine. Based on the successful TR-80 trials, it differed somewhat; a dual seat with cover adapted from its predecessor "Explorer", a rear carrier with reinforced frame, new cylinder fins, lighting system and a metallic blue colour scheme. Two versions of this model were produced with different displacements of 250 and 350cc, with the the 250 mounting a white Acerbis headlight nacelle and its older sibling sporting an Ossa round headlight with protection grille.
---
---
Source: Motocra
---