Ossa Road Models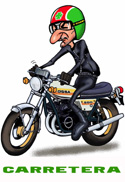 Ossa Carretera: del ciclomotor a la Yankee 500 c.c. con motor bicilindrico de dos tiempos. Pasando por varias generaciones de modelos, las 125 A, B y C, las 160, 175, Turismo, Copa ...
---
Ossa Carretera: from the moped to the Yankee 500 c.c. with a two-stroke twin-cylinder engine. Going through several generations of models, the 125 A, B and C, the 160, 175, Turismo, Copa...
Models: Motopedal 50 | Ossita 50 | Motopedal 50 D | 125A "La palillos" | 125 B 2ª serie | 150 B Comercial | 125 C2 | 160 1ª serie | 160 T | 250 T "Pepsi" | Copa 250 79 | 250 F3 | 250 Sport | 250 TE
---
---
Motopedal 50 c.c.
Motopedal 50 c.c.
Segunda serie de la denominada 50 A, muy similar al modelo anterior pero con una renovada horquilla de chapa. Se produjeron cerca de 5.000 unidades de este modelo, fruto una buena campaña de publicidad que haría la marca después de cosechar triunfos importantes en competición, como por ejemplo el de Vicente Fe en la prueba de velocidad de circuito urbano en la II Carrera de Velomotores organizada por el M.C: Granollers.
---
The second series of the 50 A was very similar to the previous model, with revamped forks in pressed metal. Nearly 5,000 units of this Motopedal model were produced, the result of a good advertising campaign that the company instigated after reaping important victories in competition, such as that of Vicente Fe in the urban circuit speed test in the II Velomotor Race organized by the M.C: Granollers.
---
---
Ossita 50
Ossita 50
Una moto pensada para llevar un motor Sach que al final por problemas de acuerdos con la marca alemana, saldría con motor Ducati Mototrans de tres velocidades, que aunque no alcanzaba las prestaciones del motor alemán, estaba muy por encima del propulsor inicial Ossa de dos velocidades.
En cuanto a la estética, muy sencilla a la vez que agradable eligiendo Ossa los colores rojo para la horquilla, tijas, guardabarros y caja de herramientas y gris plata para el resto de la motocicleta. Durante los años que estuvo en producción, del 68 al 73 se fabricaron 6.000 unidades aproximadamente.
---
A motorcycle designed to have a Sachs engine that in the end, due to problems with the agreements with the German brand, would come out with a three-speed Ducati Mototrans engine, which, although it did not reach the performance of the German engine, was well above the initial two-speed Ossa propeller .
The machine's appearance is quite simple, and pleasant at the same time, Ossa choosing the colours red for the fork, triple clamps, guards and tool box and silver grey for the rest of the motorcycle. During the years that it was in production, from 68 to 73, approximately 6,000 units were manufactured.
---
---
Motopedal 50 D
Motopedal 50 D
Evolución clara del modelo Motopedal 50 C, lo mas destacable son los cambios estéticos, pintándola en blanco marfil para el conjunto de chasis y rojo granate para deposito, tapa de la caja de herramientas y guardacadena. Cabe destacar también el importante cambio en la suspensión delantera, pasando ahora a ser telescópica y de la marca Telesco. Se estima que fueron fabricadas 5.000 unidades desde los años 1963 a 1968.
---
Clear evolution of the Motopedal 50 C model, the most notable are the changes in appearance, now painted ivory white for the chassis and garnet red for the tank, toolbox cover and chain guard. It is also worth mentioning the important change in the front suspension, now telescopic and of the Telesco brand. It is estimated that 5,000 units were manufactured from 1963 to 1968.
---
---
125 A, "la palillos"
The second series of the model
---
---
125 B (2nd series)
125 B (2ª serie)
A finales del 56 y aprovechando el Trofeo José Mª Valón se presenta la que seria la sustituta de la 125 A, el modelo "B".
Excepto el motor, que aunque tiene cambios internos para un mayor rendimiento, se parte de la misma base, prácticamente el resto de la moto es nuevo. Bastidor monoviga totalmente renovado, suspensiones delanteras y traseras nuevas y mas resistentes, cómodo asiento biplaza, deposito de mayor capacidad y escape diferente. En cuanto a la estética, la moto va completamente pintada en negro con filetes dorados, utilizando el rojo como segundo color en el deposito.
En el año 58 se actualiza la versión sacando la segunda serie con algunas mejoras, siendo las mas importantes el tapón de gasolina roscado y de plástico, faro con velocímetro integrado, aumento en el piloto trasero de la marca "Gemo" y desaparición de los fuelles de la horquilla.
Por ultimo destacar que la impecable restauración del modelo protagonista de nuestra pagina, corre a cargo de Vitale Maquinas.
---
At the end of 1956 and taking advantage of the José Mª Valón Trophy, the one that would be the substitute for the 125 A, the "B" model, was presented.
Except for the engine, which although it has internal changes for greater performance, is based on the same base, practically the rest of the bike is new. Completely renewed monobeam frame, new and more resistant front and rear suspensions, comfortable two-seater seat, larger capacity tank and different exhaust. In terms of looks, the bike is completely painted in black with gold fillets, using red as the second colour on the tank.
In 1958 the version was updated, taking out the second series with some improvements, the most important being the threaded and plastic gas cap, headlight with integrated speedometer, increase in the rear light of the "Gemo" brand and disappearance of the bellows. of the fork.
Finally, note that the impeccable restoration of the protagonist model of our page, is carried out by Vitale Maquinas.
---
---
125 C2
125 C2
Este modelo estuvo en el mercado de 1961 hasta el 63 y con ella finalizan los modelos de asfalto en esta cilindrada. En realidad no es mas que una adaptación del modelo denominado con "C" que cambia el color de deposito y caja de herramientas a rojo e incorpora un compartimiento para el filtro del aire. El asiento se rediseña para que sea mas anatómico y el piloto trasero vuelve a ser el Gemo grande.
---
This model was on the market from 1961 to 63 and with it the road models in this displacement end. In reality, it is nothing more than an adaptation of the model called "C" that changes the colour of the tank and toolbox to red and incorporates a compartment for the air filter. The seat is redesigned to be more anatomical and the taillight is once again the big Gemo.
---
---
150 Comercial
Based on the 125B, the Comercial was an important model with about twenty thousand units manufactured...
---
---
160 First series
160 Primera serie
Es en 1963 cuando OSSA renueva toda su gama. A la presentación del nuevo "Motopedal 50 D" se añade el lanzamiento de la nueva 160. Este modelo pintado en crema y rojo, provisto de cubrecadenas y un amplio carenado tapando la parte central del chasis, faro de grandes dimensiones y llantas de 17", le conferían un aspecto de solidez al conjunto.
---
It is in 1963 when OSSA renews its entire range. To the presentation of the new "Motopedal 50 D" is added the launch of the new 160. This model painted in cream and red, equipped with chain guards and a wide fairing covering the central part of the chassis, large headlight and 17" wheels , conferred an aspect of solidity to the whole.
---
---
160T
160 T
En 1964 se presenta en la Feria Oficial e Internacional de muestras de Barcelona, la que seria la segunda serie de este modelo, la 160 T (turismo). Con idénticas prestaciones mecánicas pero grandes diferencias estéticas y de equipamiento. Su color es negro por completo a excepción de dos tonalidades de gris en el deposito y tapas laterales, asiento también bicolor, piloto trasero de la marca "Gemo" y cambios también para el guardabarros delantero y cubrecadena.
La ventas en sus seis años de producción hablan por si solas, 14.000 unidades se estiman que fueron vendidas, que dejan fuera de toda duda el éxito comercial del modelo.
---
In 1964 it was presented at the Feria Oficial e Internacional de muestras de Barcelona (Barcelona Motor Show), which would be the second series of this model, the 160 T (tourism). With identical mechanical features but considerable differences in equipment and appearance. Its colour is completely black except for two shades of grey on the tank and side covers, also two-tone seat, "Gemo" brand tail light and changes also for the front guard and chain guard.
The sales in its six years of production speak for themselves, 14,000 units are estimated to have been sold, which leaves no doubt about the commercial success of the model.
---
---
250T
Starting from the newly developed enduro frames, this revamp of the road model begins...
---
---
Copa 250 79
Copa 250 79
Ossa presenta este modelo en el Salón de Barcelona de 1979. A primera vista destaca en su motor el cilindro de cuatro aletas y cuatro transfers heredado del Cross, que permite el uso de mezcla al 3,5 por ciento, toda una novedad teniendo en cuenta que lo normal en los motores Ossa era usar 5 %. Las tapas y deposito son iguales a modelos anteriores pero ahora van pintada en su totalidad de rojo con calcas en blanco de grandes dimensiones. Se incorporan además llantas de cinco palos y frenos de disco para las ruedas delantera y trasera.
---
Ossa presented this model at the Barcelona Motor Show in 1979. At first glance, the four-fin, four-transfer cylinder inherited from the Cross stands out in its engine, which allows the use of a 3.5 percent mixture, a novelty considering that the normal thing in Ossa engines was to use 5%. The covers and tank are the same as previous models but now they are fully painted red with large white decals. Five-spoke wheels and disc brakes for the front and rear wheels are also incorporated.
---
---
Ossa 250 F3
Ossa 250 F3
Una moto pensada para la competición que se presenta en 1981 aprovechando las "Motociclismo Series" en las que Ossa quería participar. No era de extrañar su velocidad punta, capaz de alcanzar 150 kms por hora gracias a la combinación de sus componentes, carburador Amal de 34 mm, cilindro y tubarro retocado, semimanillares bajados, cúpula de carenado rebajada, asiento deportivo con colin, llantas Akront de 18 pulgadas y neumáticos Michelin PZ-2
---
A motorcycle designed for competition that was presented in 1981 taking advantage of the "Motociclismo Series" in which Ossa wanted to participate. Its top speed was not surprising, capable of reaching 150 km per hour thanks to the combination of its components, 34 mm Amal carburetor, retouched cylinder and tube xxx, lowered handlebars, lowered fairing dome xxx, sports seat with tail, Akront wheels from 18 inches and Michelin PZ-2 tires
---
---
Ossa 250 Sport
Ossa 250 Sport
Segunda versión del modelo puesta en venta a primeros de 1972, con un atractivo diseño deportivo influido sin duda por la renovación del deposito. Su motor entregaba una potencia de 32 CV gracias entre otras cosas a la renovación de su cilindro, con una compresión de 12'5 a 1 y un pistón de nuevo diseño. Para el resto de componentes eran muchos los aprovechados de modelos anteriores, teniendo como cambio mas importante la mejora del sistema eléctrico que ofrecía mas luz y luz de freno para el delantero.
---
Second version of the model put on sale at the beginning of 1972, with an attractive sporty design undoubtedly influenced by the renovation of the tank. Its engine delivered a power of 32 hp thanks, among other things, to the renewal of its cylinder, with a compression ratio of 12.5 to 1 and a new piston design. For the rest of the components, many were taken advantage of from previous models, with the most important change being the improvement of the electrical system that offered more light and brake light for the front.
---
---
Ossa 250 TE
Ossa 250 TE
La 250 TE era una moto ciudadana pensada como una alternativa económica para el mercado de la época, como las propias siglas de su nombre indican (Turismo Económica). Evolución clara de las 250 Turismo anteriores con pequeñas mejoras estéticas, como el faro cuadrado, velocímetro, asiento y fibras, cambiando incluso el color saliendo en versiones azul y rojo.
---
---
---
The 250 TE was a commuter motorcycle designed as an economic alternative for the market of the time, as the initials of its name indicate (Turismo Económica). Clear evolution of the previous 250 Turismo with small aesthetic improvements, such as the square headlight, speedometer, seat and fibreglass bodywork, and a change of colour to red and blue.
---
---
Source: Motocra
---