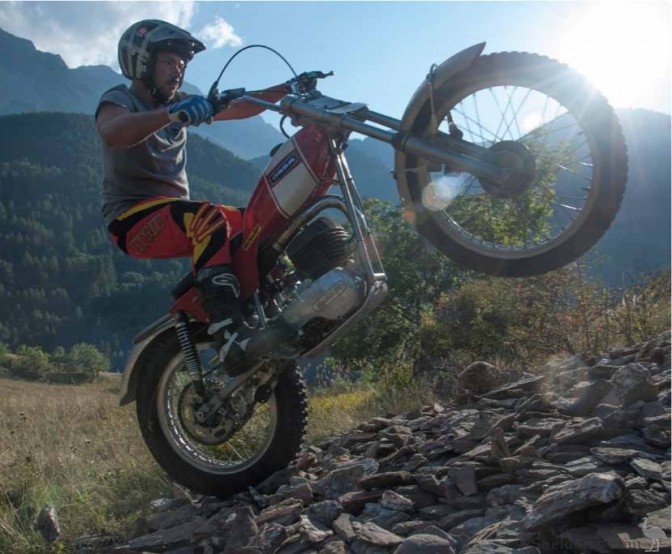 Ossa Mick Andrews Prototype 1971
This Ossa was owned by an important collector who has almost all models of this Spanish marque.
I have admired it along with other Ossas: Enduro, 4-speed trial, 4-speed MAR, 5-speed MAR, To-Yu, ROJA... as I said all models of offroad Ossas, and in addition also almost all models of Montesas, Bultacos etc... this one had been in his garage for years...
He had brought her home from Great Britain, and has done some work to put her in perfect condition, repainting her completely, fitting a new carburettor etc.
One day during a visit, together with my good friend Pippo Bartorilla (a trials bike "guru"), he mentioned that he planned to reduce his motorcycle collection and asked me, "Do you want to buy the Ossa MAR prototype?"
I couldn't believe what I was hearing - I really loved this bike! We started the engine and it ran like a watch (thanks in large part to the brand new IRZ carburettor, something almost impossible to find) and at this point I couldn't resist despite the high asking price. I had just sold one of my bikes, I was concerned that he might change his mind, and... mechanically perfect, a real jewel, very rare, quite some some mystery and history in its story, not to mention the value of an excellent rewstoration by an experert in the field - THE expert, probably...
I practically ran home, found the cash, returned and settled on a final price and the bike was mine, all mine...
That year I rode her in Motocavalcata Ossa, held at Campo Canavese and organised by another friend, Nino Dughera.
I have presented it much as its designer Mick Andrews did, and I rode it happy as boy! I felt as if I'd ridden her it years - as if it had been built for me. Mick was a great trials bikes designer!
Later I used the machine France at a trial at Mt Ventoux, and then she rested in my garage together with other my jewels.
Last time she was ridden was by Justyn Norek Junior (a much better rider then I), who put her through a rigorous test at Puy.
Now she is waiting for other rides, but there is never enough time. Years go by... sometimes I think I should sell her, but then I have second thoughts becouse I like her too much... Or at least I will not fall in love with another bike.
The motorcycle has a 250cc engine and drum brakes as large as the first 4-speed, but has a 5-speed gearbox. It was painted in green similar to the 4-speed Ossa Plonker, and Mick has cut off part of frame tubes below the engine and substituted them with an aluminium sump guard, so we can see how he has developed it for production MAR. Carburettor is IRZ, and fuel tank is integral with the seat base, clearly inspired by Montesa.
The silencer is of American origin - the first MAR prototype was presented in the USA and was in blue and white colours... Mick liked very much to change the colours of his prototypes.
Rear swing arm is rather short and it contribules to the exceptional manouvrability of this bike.
REALLY an excellent combination of innovative features for its time that in Mick's talented hands brought him victory in the Scottish.
As told by Carlo Ramella
This is an edited version of the story whihc Justyn Norek contributed, in English. If possible the original Italian version will also be posted.
Carlo refers to Mick Andrews as "Mike" in the original.
---
OSSA MAR 250 Mick Andrews prototype
Justyn Norek Jnr.
When I received a call from my friend Carlo Ramella with an invitation to test ride a very rare Ossa Mick Andrews prototype replica I was really in seventh heaven because after having done tests of Sammy Miller's legendary Ariel 500 GON786 and the Suzuki T120 of Peter Gaunt, each so very different to each other, here was a chance to try another landmark machine, this time designed by British trials champion Mick Andrews - the man who really put the sport on the map for a great many riders beyond Europe's borders.
The test location was Puy, a course with which I am very familiar and where I've done several other tests, making the comparison with other machines more balanced.
After the usual warm-up and some adjustment to riding position and controls we (that's me and my machine) tackled the first of the sections, short but with very steep drop. The motorcycle was quite stable and easy to control, with powerful brakes. This was followed by a rocky stream somewhat similar sections frequently encountered in the Scottish.
Cleaning rocks and small boulders was rather easy thanks to a responsive engine always ready to lift the front wheel over obstacles. Another characteristic was the sense of the machine's light weight due to both its actual low mass and the low centre of gravity. In fact Mick Andrews has even cut off frame tubes which run under the engine and substituted these with an aluminium plate which allowed a lower engine position in the frame without sacrificing ground clearence. The sump guard protects the engine cases and contributes to the rigidity as it is a stressed member.
Riding bike uphill was always great fun, with the front wheel always in airborne due to the combination of strong torque and a relatively short wheelbase which also offers excellent manouvrability.
later, over a very good meal prepared by our friend Carlo and good Piedmontese red we chatted late about trials today and yesterday.
I've decided that I don't want this bike - I need this bike!
Thank you Carlo, and thank you too Mr Andrews, for such great machine.
Justyn Jnr
Some editing has been employed on Justyn's article. Ed.