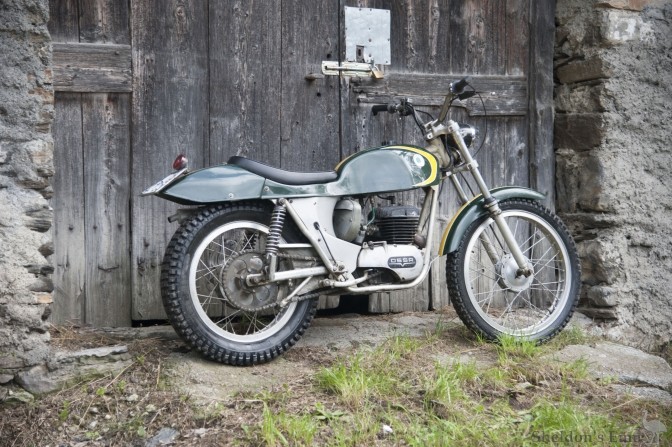 Ossa Plonker 1970
Story of an Ossa Plonker as told by Carlo Ramella.
The Ossa Plonker, the very first of Ossa's long line of trial motorcycles, was at one time my most desirable mount. The subject of this test was previously owned by a certain Mr Zuanelli, an active trials competitor in the early seventies.
He had sold this machine to my good friend Andrea Merlone's father, who used it for many years.
In 2012 I saw an advertisement for an Ossa Plonker and immediately arranged meeting to see the bike. It was sitting in a farm shed which gave me a sense of discovery... and then I met the owner, none other than the father of my friend!
He told me that bike was unused for several years... it was in good, original condition, and was exactly the type of motorcycle that I was searching for, but with one minor glitch. Unfortunately it had no valid documents. Not an insurmountable problem, however.
We prepared it for starting, checked the fuel level in tank and carburettor feed, released the decompressor - and after just four kicks, away it went, despite the petrol having sat in the tank for eons and probably had an octane rating of 50.
Incredible Ossa Engineering
The Ossa ran perfectly from the word go, and even the lights worked.
I rode this bike many times in competition and on mountain trails, and even with a passenger as she has long seat. Some other feisty lass grabbed my attention and Miss Ossa sat, sad and forlorn, in the shed for some time.
Not long after my friend Justyn Norek Jnr did a test at the Puy trials track of the Plonker for "Classic Trial Magazine" I sold her to a well-known collector in Turin with whom a new love affair began.
Some editing has been employed on Justyn's article. Ed.
Ossa Plonker Trial Riding Impression
By Justyn Norek Jnr,
We came to PUY early Sunday morning having been invited by our good friend Carlo Ramella to test one of his numerous trials bikes, This time its turn of the Ossa Plonker, the machine from which Mick Andrews developed his famous MAR which won so many trials. It will be a very interesting test for me as I own a Whitlock framed MAR 250.
My first impression - is it trials bike or an enduro? It looks very nice, but its styling is very much like an enduro model with its rather large tank, a seat long and wide by trials standards, and a huge plastic rear mudguard.
Mick Andrews, Dave Thorpe and Bill Wilkinson rode such a bike for 6 Days in the Scottish so it can't be bad. After the usual warm-up swung my leg over the quite high seat of into the first section which has a sharp drop at the entry point - and what a nice surprise, the bike is very stable and handles very well.
I was soon very much at home on it, riding up and down a gurgling stream strewn with of rocks, with the engine always ready to help me lift the front end over the occasional boulder and rocky ledge. However, I had some difficulty with tight turns and felt in those situations that the bulky and high seat/tank combination must be comfortable for casual use but not really suitable for serious trials work. Later I read in one of the OSSA books that its wheelbase was an inch shorter than the MAR so perhaps it was related to the ergonomics of tank/seat area. Also, I am not very tall.[1]
I was more than happy with the engine's torque and power which allowed me to lift the front wheel with ease and tackle even the trickiest of climbs.
Altogether a surprisingly good machine, which the genius of Mick Andrews transformed into a world beater.
Notes. 1. Mick Andrews was of average height, around 5' 10".