Rumi Junior 1955-1959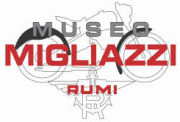 Da oggi vogliamo farvi conoscere meglio la collezione Migliazzi in esposizione nel nostro museo, iniziando nel pubblicare per prima la storia della moto con cui Gianni Migliazzi (raccoglitore e restauratore della collezione che porta il suo nome) ha partecipato a diverse edizioni della Rievocazione Storica del Motogiro d'Italia e della gara Gran Fondo Milano-Taranto.
JUNIOR (1955 - 1959)
Nel 1955 prese corpo il progetto di produrre una motoleggera per partecipare alle gare di III' categoria. L'ingegner Bruno Guidorossi, che nel 1953 sostituí l'ingegner Luigi Salmaggi alla direzione tecnica della Rumi, disegnò la Junior. Partendo dal modello Bicarburatore, moto che aveva dato parecchie soddisfazioni in fatto di potenza e affidabilità, si apportarono modifiche nel telaio e nelle sospensioni. Venne pertanto studiato un nuovo telaio in tubi leggeri di vario diametro a culla aperta e doppia triangolazione, forcellone oscillante posteriore e forcella tipo Earles anteriore.
Al rifacimento della ciclistica e quindi della linea, contribuí con il suo senso estetico il titolare Donnino Rumi, il serbatoio (capacità di 18 litri) per esempio fu opera sua ed è un gran bel pezzo. Presentata quasi contemporaneamente al Salone di Torino e alla Fiera Campionaria di Milano nella primavera del 1955, la Junior svettava su tutte le altre 125 italiane, che non erano poche, almeno una ventina, tutte monocilindriche due tempi, firmate da aziende prestigiose, da Benelli a Parilla, da MotoBi a Maserati. Nel corso degli anni vennero apportate alcune migliorie ma restò di fatto invariata fino al 1959 quando venne sostituita dalla Gentleman. Trattandosi di una moto "corsaiola" e avendo un prezzo per l'epoca elevato non fu prodotta in grande serie (solo 300 esemplari). Spiccata personalità e scarico melodioso furono i suoi punti di forza che la resero allora tanto di moda, filante e aggressiva, specialmente nella versione Earles, la Junior piaceva al primo sguardo, metteva la voglia irresistibile di possederla. Le Junior furono esportate soprattutto in Francia, Svezia, Austria, Inghilterra, Olanda ma anche in America Nord e Sud, in Africa e persino in Giappone, in Italia venivano commercializzate da 25 agenzie. Un retroscena interessante che sintetizza la grandezza della Junior: all'inizio degli anni Sessanta, quando la sua produzione era già terminata, la Piaggio la scelse come miglior esempio da studiare in vista della produzione di una motoleggera, proposito a cui poi rinunciò.
SCHEDA TECNICA
Marca Moto: MOTO RUMI
Modello: JUNIOR EARLES ESPORTAZIONE
Nazione: Italia
Tipologia: Corsa
Anno: 1957
Tipo di motore: Bicilindrico a 2 tempi Cilindrata; 124,6 cc
Potenza: 9 CV
Velocità massima: 115 Km/h.
Colore: Rosso con disegno nero sul serbatoio e filetti argento.
Prezzo di listino: Lire 275.000
---
Rumi Junior (1955-1959)
In 1953 Bruno Guidorossi took over from Luigi Salmaggi as technical manager at Rumi, and it was he who designed the Junior.
A new triangulated open-cradle frame was created using lightweight tubing of different diameters, and fitted with swingarm rear suspension and Earles front forks. Styled by Donnino Rumi, the 18 litre tank is thing of beauty, modestly hidden by the tank's chest padding (a standard feature for this model). Presented at the Turin Show and the trade fair in Milan in the spring of 1955, the Junior stood out from the score or more of two-stroke singles displayed by well-known manufacturers including Benelli, Parilla, Motobi and Maserati.
In the following years the Junior had minor enhancements but was basically unchanged until replaced by the Gentleman in 1959 after a model run of some 300 units - it was a specialist "Corsaiola" with a high price tag.
With its strong personality and melodious exhaust is was a very fashionable machine particularly in the Earles forks version, and the Junior sparked a glint in many a young rider's eye. It was exported to France, Sweden, Austria, England, Holland, North and South America, Africa and even Japan. In Italy a dealer network of agencies had been established.
Specifications
Model: Junior Earles Export
Country: Italy
Category: Competition
Year: 1957
Engine Type: Two-stroke Twin
Capacity: 124.6 cc
Power: 9 HP
Maximum Speed: 115 km/h.
Colour: Red with black paint on the tank and dashes of silver.
List Price: 275.000 lire
---