1927 Zenith Motorcycle - Stolen & Recovered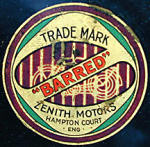 Sat Oct 01 2005
fsmith at kanokla.net
Motorcycle theft recovery
The 1927 Zenith motorcycle you have on your website was stolen from me 21 months ago. It was recovered on Wednesday evening and the thief was also arrested for possession of 3 ounces of methamphetamine for sale. It would be helpful for me and the prosecution of the case in order to find the identity of Rick Turner's crime partners, if you would maintain the picture from ms-montie on your website for a while. Have you any other correspondence from this woman who calls herself "Kelcee Kelly?" That also might be very helpful to me.

Thanks for your help.
Frank Smith
Bluff City, KS USA
---
October 2005
Stolen Zenith
Got this back!The guy who stole them was a parolee, so they didn't need a warrant. When the sheriff grabbed the bike, they also found he had 3 ounces of methamphetamine bagged for sale ($12,000 worth) and $18,000 worth of weed.
Frank
---
Hi again,
....
The Zenith is missing the ammeter, a lever on the left side handlebar, the footpegs including the bar that goes between them. I might be able to recover that latter. The headlight was damaged while stolen. I'm not sure if it had the original lens or not. The tank was a bit dented (I suspect they loosened the handlebars to allow it to be loaded into a van, and bashed the tank with the dropped bar fastening hardware), the paint scraped, the muffler tab damaged. The pulley and belt that drive the generator are gone, as is the belt guard, if it came with one. I need to find good pictures of other Zeniths of the period. There are supposed to be two nuts on either side of the kneepads, and one is missing from each. I wonder also if there are supposed to be plugs of some sort covering the two nuts holding each kneepad?Otherwise is came back in pretty good shape, except the tires are all weather checked now. I suspect it sat outside in the hot desert sun for much if not all of the time it was in the possession of the thief.
Do you know of anyone with one of these models?I found a picture maybe 18 months ago of a very nice restoration that showed at a French rally, I think, but can't find it anymore on the web. A guy in Oregon has a site that used a picture of one found in an old issue of Old Bikes or something, as wallpaper on his site. He doesn't have the original any more and because it's wallpaper, it's not clear. The Zenith has Druid forks.
Thanks much,
Frank Smith
---
Man's quest nets stolen motorcycle
Bike valued at $20,000 found safe after former Kern resident finds it on Web
site
By DAVID BURGER, Californian staff writer
e-mail: dburger at bakersfield dot com
Posted: Tuesday October 11th, 2005, 10:50 PM
Last Updated: Tuesday October 11th, 2005, 11:27 PM
It's a story of Zen and the Art of Motorcycle Recovery.
Frank Smith, 66, a former Kern County resident who still owns a house in Ridgecrest, learned the value of patience and determination two weeks ago when he found his stolen motorcycle after an almost two-year search.
Smith's prized 1927 Zenith motorcycle was stolen from his Ridgecrest house, which he was renting out to a tenant, shor tly after New Year's Day in 2004.
After almost 22 months searching all over the world for his rare bike, Smith tracked it down.
He found it in Ridgecrest, and kickstarted the Kern County Sheriff's Department into getting his ride back.
When the bike was first stolen, Smith said he kicked himself for not insuring it appropriately.
Partially retired from journalism, Smith used tricks of his trade to find his prized motorcycle despite living most of the year in Kansas.
Smith went to the Internet. He followed leads all over the world, scoured Web sites for information on the bike, and even traveled through the nation acting on tips. At one point, he considered a trip to the Netherlands after he saw a similar Zenith posted on a Dutch Web site.
Smith was never deterred, and finally caught a break.
On a British Web site, a seller by the name of "Ms. Montie" advertised a 1927 Zenith for sale with pictures posted on the Web site.
Smith recognized it as his.
"I set up a sting operation," Smith said. He used the pseudonym "Gene Debs," a reference to Eugene Debs, an American socialist in the early 20th century who once ran for president from a jail cell.
Smith started a conversation with "Ms. Montie," who said a friend of hers named Rick Turner was storing the motorcycle in Ridgecrest. And yes, the motorcycle was still for sale.
While still carrying on the ruse, Smith contacted the Ridgecrest substation of the Kern County Sheriff's Department and talked to Senior Deputy Josh Nance.
Nance acted quickly. He e-mailed Smith to "not have any further phone contact with these people without recording the conversation. ... I would like to do this as soon as possible so they don't sell the bike to someone else."
"The case was already inactive," Nance said. "We didn't have any leads."
Smith called Turner and agreed to pay $8,000 for the motorcycle. Immediately, he started driving from Kansas to Ridgecrest.
A few hours before a scheduled rendezvous with Turner on Sept. 28, Nance and other deputies arrived where Turner said the motorcycle was being stored. The motorcycle, as well as $12,000 worth of methamphetamine and $18,000 worth of marijuana, was found, and Turner, 52, was booked into Kern County Jail on suspicion of possession of stolen property, marijuana and methamphetamine, Nance said.
Turner, still in custody, pleaded not guilty to all charges Sept. 30. After a pre-preliminary hearing Tuesday, he is due back in Superior Court Oct. 18.
Smith is now back in Kansas with his motorcycle. Despite being 66 and "feeling like 100," Smith said the suspect was lucky the deputies got to the suspect before he did.
Now that doesn't sound very Zen.
---
Published with kind permission of the author, David Burger.
First published in The Bakersfield Californian
---
---
Theft victim turns sleuth- Man tracks down suspects, recovers his property
Ridgecrest (California) Daily Independent
http://www.ridgecrestca.com/articles/2005/10/05/directories/news/ news01.txt
By Staff reporter
Lucinda Sue Crosby
lcrosby at ridgecrestca.com
On Wednesday afternoon, September 29, Kern County Sheriffs raided a house. The officers were responding to a tip they'd receivedregarding the possible location of a classic 1927 Zenithmotorcycle that had originally been reported stolen in January 2004.
Authorities say Ricky Turner, 52, was arrested on the scene and has since been arraigned on charges of possession of stolenproperty and possession of controlled substances with intent to sell.
According to County Senior Deputy Josh Nance, one of the main reasons the case was solved was that "the owner had already done a lot of leg work."
Frank Smith was the doggedly determined sleuth who spent almost two years tracking the machine via the Internet.
"I'd been tracking my motorcycle for 21 months," Smith said, "but had only got close in the last few weeks, thanks to a tip from a friend in Inyokern and Web sites in England and Holland that mentioned the bike."
According to Smith, he used a pseudonym to communicate with the thieves because "Rick Turner's confederates remain at large and I also didn't want him to recognize my name as a victim."
Smith was doubtful the black Zenith could have been "unloaded overseas" because "customs would require proof of ownership", but after speaking to a local couple who'd been recently informed that their trailer had been recovered - "most likely from the same gang," which officials confirmed, Smith decided he'd been luckier than he had at first thought "to get my Zenith back."
"Anyway, the man who purchased the stolen trailer has recently started proceedings to get it back. He must be out of his mind. The trailer had clearly been repainted and had the oldidentification sticker scraped off and a new one put in its place. I can't believe the DMV was stupid enough to issue a title and registration for this poorly executed fraud."
This was not Smith's first extensive investigation.
Deputy Nance called Smith "a fine investigator."
In return, Smith has high praise for Deputy Nance.
"There were a string of robberies - seeming to be committed by members of the same gang. But the police didn't seem to be putting the similarities together. They hadn't even noticed the location of a crime epicenter once all the theft locations were plotted on a map," Smith said. "However, Senior Deputy Nance listened, paid attention to what I had to say and actually did something about it. I really appreciate his attitude."
---
Published with kind permission of the author, Lucinda Sue Crosby.
First published in The Ridgecrest Daily Independent
---
More on Zenith Motorcycles
Stolen Classic Motorcycles
---