Aiglon Motorcycles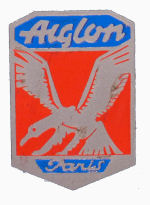 A Brief History of the Marque
France 1902-1955
According to Tragatsch, Minerva, Mirus, Peugeot, AMC, FMC, Zurcher and others supplied engines for many years to Aiglon. Debarelle's last models had 123cc and 174cc ohv AMC engines and FMC-built 248cc two strokes.
Early models had Mirus engines, from 1902 to at least 1905 when they adopted the Longuemare carburettor. 1906 saw the introduction of a 4 hp V-twin with a Grouvelle carburretor.
Aiglon A545 500cc
At the 1933 Paris Salon Peugeot launched the 495cc Model 515 which proved very successful, gaining three world speed records in 1934. This machine was marketed under four banners: Automoto A 58, Peugeot P 515, Griffon G545 and Aiglon A545
Production Years: 1935-1948
Specification:
495 cc (81 x 96 mm) - 22 hp at 5000 rpm - OHV - Forced Lubrication - Magneto Ignition - multidisc clutch - unit-constuction engine block with 4-speed gearbox, foot actuated - parallelogram forks - drum brakes 200 mm - Tyres 19" - weight 155 kg - top speed 125 km/h.
Aiglon had a close association with FMC (France Motor Cycles).
Sources: Tragatsch, JLB Creations
---
dubateaux at hotmail.fr
Aiglon motorcycle
Aiglon Unknown
Hello!
I have a very old motorcycle in my shed, it is an Aiglon motorcycle, but i don't know anything about it... Would you have any information about the model, making year, engine power, etc.? Thanks a lot!
Paris
---
Fri Jul 01 2016
hello at bicycleinfo.co.uk
Aiglon bicycle
Hello,
I was wondering if you could help me. We have just been contacted to buy an Aiglon bicycle. We are a bike shop that specialises in vintage bikes but I have never come across this brand before. I have searched for hours online and can't seem to get anywhere other than the posters. Any info would be hugely appreciated. I understand this is a motorbike site but I thought you might have knowledge of the company.
Thanks so much in advance,
Meg
Hastings

---
---
If you have a query about Aiglon motorcycles, or wish to share information about these classic French machines, please
contact us
---