Moto Rumi Models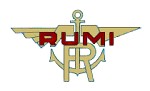 Rumi Turismo (1950-1956)
The prototype Turismo was built in 1949 and was the first design to leave the factory's assembly line. It was presented at the trade fair in Milan in April 1950, and then at the Bergamo moto and bicycle exhibition. Designed by the Pietro Vassena, already famous for having, in March 1948, taken his his midget submarine C3 to a world record depth of 412 metres in Lake Como.
Vassena also designed the engine used in the Amisa
The motorcycle was aesthetically very captivating and the two-stroke twin was devoid of vibration; however, the first series had a problematical ignition, and the gear-change was nicknamed "grattone".
The exhaust note and the general aesthetics charmed all who saw it. Deliveries to the public began in April, and in October a modified version with new colours arrived. The following month a new model was introduced, and by the end of December more than 1000 units had been sold. In 1953 a Lusso joined the Turismo.
The Turismo could be supplied with a die-cast aluminium sidecar from Durapid, of Rome.
Specifications
Moto Rumi Turismo Series 1, 1950
Country: Italy
Typology: Turismo
Year: 1950
Engine Type: 2-Stroke Parallel Twin
Engine Capacity: 124.68 cc
Power: 6 HP
Gearbox: 3 speed
Maximum Speed: 90 km/h
Color: Silver with chrome tank and red trim
List Price: 198.000 lire
---
Rumi Turismo 1st Series, 1951
Specifications
Brand: Moto Rumi
Model: Turismo 1st Series
Country: Italy
Category: Turismo
Year: 1951
Engine Type: Two-stroke Twin
Capacity: 124.68 cc
Power: 6 HP
Gearbox: 3 speed
Maximum Speed: 90 km/h
Colour: Red
List Price: 198.000 lire
---
Rumi Sport 1st Series, 1952
Specifications
Brand: Moto Rumi
Model: 125 Sport 1st Series
Country: Italy
Category: Sports
Year: 1952
Engine Type: Two-stroke Twin
Engine Capacity: 124,68 cc
Power: 7 HP
Gearbox: 4 speed
Maximum Speed: 100 km/h
Colour: Silver with red tank
List Price: 235.000 lire
---
Sport (1950-1958)
The Sport was without a doubt the most representative model and the most successful production Rumi, surpassed only by the prestigious Junior. Production began at the end of 1950 and the machine was presented to the public at the 1951 trade fair in Milan. The unusual lines, elegant livery and delicious sound charmed a whole generation. The engine appeared greatly improved and was equipped deflector pistons, patented by the company, subsequently fitted to all of the Rumi twostroke models. Improvements in subsequent years included better rear suspension. Production ceased in 1958.
The respected journal Parisian Motorcycle Revue wrote: "La RUMI Sport? Tout simplement là meilleure 125 ayons essayèe" (Quite simply the best 125 we've ridden).
Specifications
Brand: Moto Rumi
Model: 125 Super Sport
Country: Italy
Category: Sports
Year: 1955/1956
Engine Type: Two-stroke Twin
Engine Capacity: 124.68 cc
Power: 7 HP
Gearbox: 4 speed
Maximum Speed: 100 km/h
Colour Schemes: Rumi grey with black band on the tank, and red with black band on the tank
List Price: 235.000 lire
Note: This bike has an 18 litre tank, available as an option to the standard 13 litre tank.
---
Rumi Junior (1955-1959)
Bruno Guidorossi, the engineer who in 1953 replaced Luigi Salmaggi overseeing the technical management of Rumi, designed the Junior.
A new triangulated open cradle frame was created using lightweight tubing of different diameters, and fitted with swingarm rear suspension and Earles front forks. Styled by Donnino Rumi, the 18 litre tank is a lovely piece (the full beauty of which is obscured in this example due the paintwork protection). Submitted at the Turin Show and the trade fair in Milan in the spring of 1955, the Junior stood out from the score or more of two-stroke singles displayed by well-known manufacturers including Benelli, Parilla, Motobi and Maserati.
In following years the model had minor enhancements but was basically unchanged until replaced by the Gentleman in 1959 after a model run of some 300 units - it was a specialist "Corsaiola" with a high price tag.
With its strong personality and melodious exhaust is was a very fashionable machine particularly in the Earles forks version, and the Junior sparked a glint in many a rider's eye. It was exported to France, Sweden, Austria, England, Holland, North and South America, Africa and even Japan. In Italy a dealer network of agencies had been established.
Specifications
Brand: Moto Rumi
Model: Junior Earles Export
Country: Italy
Category: race
Year: 1957
Engine Type: Two-stroke Twin
Capacity: 124.6 cc
Power: 9 HP
Maximum Speed: 115 km/h.
Colour: Red with black paint on the tank and dashes of silver.
List Price: 275.000 lire
---
Rumi Formichino 125cc (1956-1962)
"Moto Rumi's Formichino scooter is perhaps the one motorscooter respected by motorcyclists - probably because it can melt the paint off many 250cc motorcycles of the era with its amazing horizontal two-cylinder two-stroke 125cc engine."
Dregni & Dregni, Illustrated Motorscooter Buyer's Guide.
6.5hp @ 6,500rpm. Two cylinder 2-stroke. 75kph top speed. Most of the body parts are made from cast aluminium.
The Formichino models included Normale, Sport and ST-EC (Economical). The Formichino Lusso had a dual seat, pillion footpegs and chrome trim. Options included 3.50 x 10 in tyres.
Formichino Bol d'Or
Formidable
The ultimate development of the Formichino was the Bol d'Or, named for the victories achieved in the 24 hour races.
In standard trim the Bol d'Or could do the better part of 120 km/h, and with a bit of tweaking which included fitting a pair 22mm Dell'Ortos in place of the standard 18mm units the teeny scoot could chortle along at over 140 km/h.
Scoiattolo
(1951 - 1957)
The concept was a utilitarian motorcycle, a cross between the motorbike and scooter, offering excellent weather protection and comfort for rider and passenger. The beautifully crafted bodywork covered all mechanical parts and protected the rider from the elements while the 14" wheels contributed to the fine handling. Using the same engine as the Sport and Turismo but with modified crankcases to allow mounting on the metal bodyork.
In 1953 the machine was improved aesthetically by fitting instrumentation within the headlight cowl and handling was further enhance with the adoption of telescopic forks. Or should have been - apparently not a success.
There was also an electric start version. On a 125. In 1953.
Specifications
ENGINE: 2-stroke parallel twin, horizontal cylinders.
DISPLACEMENT: 124.68 cc
BORE AND STROKE: 42x45 mm
COMPRESSION RATIO: 6.5: 1
MAXIMUM SPEED: 4800 rev / min.
MAXIMUM POWER: 6 hp
CYLINDER AND HEADS: Cast iron barrels, aluminium cylinder heads.
CARBURETTOR: Dell'Orto UA 15 S
ELECTRICS: Flywheel magneto, Nasetti 6V 30W
CLUTCH: multiple discs in oil bath
GEARBOX: Unit construction 3 speed, later 4-speed constant mesh
TRANSMISSION
Primary gearing, secondary chain
FRAME: Monocoque pressed steel
LENGTH: 1200 mm
FRONT SUSPENSION: Telescopic fork with guides and springs at the top
REAR SUSPENSION: Swingarm with hydraulic shock absorber
TYRES: 3.25 x 14" front and rear
BRAKES: Expanding 130 mm alloy brake shoes
Lights: CEV 105 and rear CEV
INSTRUMENTS: Early models had no instruments, later a 100 km/h VDO speedometer was fitted
TANK CAPACITY: 6 litres, good for @ 180 Km
DRY WEIGHT: 105 Kg
TOP SPEED: 80 Km / h
FUEL CONSUMPTION: 1 liter / 35 Km (avg)
COLOURS: Rumi grey or blue
Regolarita (1952 - 1954)
Series 1 & 2
In 1952 Rumi built machines specifically designed for time trials - the ISDT and other - and based the enduro-style machines on the Sport. Using the Gobbetto frame, which was considered stronger than the standard production models, the bikes had features required of long-distance off-road competition - QD wheels, telescopic forks, good low-speed engine performance and many more details. These machines were purpose built in very limited quantities, available only to factory riders. The 1953 model had a new engine, and of course many changes were made as suggested by both riders and engineers.
The Regolarita achieved both national and international success.
Rumi Gobbetto 1951-1955
The Gobbetto (Little Hunchback) was revealed at the 1951 Salone del Ciclo e del Motociclo in Milan. These factory racers won the 1954 Italian Championship held at Autodromo Nazionale di Monza and are otherwise notable for the large number of decibels emitted from its very brief exhausts.
Series One 1951-1952 (two versions), series two 1953-1955.
The Gobbetto road racers are the most collectible of all Rumis.
Specifications
Model: Gobbetto SS52
Country: Italy
Category: Competizione
Year: 1951-1955
Engine Type: Two-stroke horizontal twin
Induction: 2 x 23mm Del'Orto carburetors
Capacity: 124.6cc, 42 x 45mm
Power: 13hp at 8300rpm
Transmission: 5 speed, chain drive
Maximum Speed: 115 km/h.
Suspension: Earles forks, plunger rear
Brakes: front drum dual brakeplates, rear drum
Wheels: 2.00 x 18 front, 2.50 x 17 rear
Colour: Red tank, black frame (yellow examples exist)
Production figures: approx 40 (one source says 60)
Bicarburatore (1953 - 1956)
This model achieved quite a reputation in racing circles, and was campaigned by factory riders and privateers in the grueling Milano-Taranto and the Motogiri. It was known by several names but there were basically only two versions, one with 18mm Dellortos and the other sporting 22mm throats. In 1955 the cast iron barrels were replaced with K.S. alloy cylinders from the German Kolbenschmidt firm .
---
Other Rumi models include the Diana (1955 - 1958), Junior Gentleman 125cc (1959 - 1962) and the GT Granturismo 200cc (1953 - 1956).
There were a number of specials and prototypes including a V4, and very late in the piece the factory revealed a series of V-twin four-stroke models which, sadly, did not enter production.
Rumi also built a motocarro from 1950 to 1956.
The Diana was also briefly listed as the Puma, in 125 and 175cc versions.
Go-kart engines were built by Stefano Rumi and supplied to Ital-Kart of Brescia from 1960 to 1966.
Rumi purchased some 2000 OCMA-Devil machines after that company's liquidation sale and sold them in Argentina rebadged as Rumi.
---