Moto Rumi Motorcycles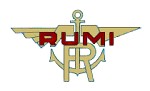 Manufactured in Italy 1949-1969
The Rumi company was founded in the early years of the 20th century in Bergamo, Italy by Gabrielle Rumi. His son Donnino was responsible for the brilliant post-war scooters and motorcycles.
In the early years the company built textile machinery, and during WWII produced armaments and miniature submarines.
See also: Rumi Models
---
14-Dec-2019
bicyclemark at hotmail.com
RUMI (bicycle)
Are you aware if Rumi ever made bicycles. Or if they had a branch in France that made bicycles. I have a RUMI 60 Special bicycle that came to California by way of a soldier returning home from Vietnam. The bicycle has a metal plate attached to one of its tubes with an address of a business in Vietnam, but is clearly French made. Italy and France are next to each other, so I do see a possibility that the two are related.
Mark Perkins
Nice, Lake Co., California
There is no evidence to suggest that Rumi built bicycles nor that they had a branch in France.
---
Mon Apr 09 2012
grahambruce<at>hotmail.co.uk
rumi
is the Rumi still available in Glasgow
plymouth
---
Sat Dec 31 2011
jurong<at>hotmail.co.uk
Moto Rumi Tipo Sport
Hi All
I have had this in my garage for 14 years now and it is time to sell it, this has done very low milage, the previous owner used it to run down to the shops for his messages, it's all original, this is your perfect retoration project, this will start if i add some fuel, anyone interested contact me at the email provided
Glasgopw Scotland
.......
Cant remember the year it still has original plate so we could tell from that.
I am open to offers, she is looking for a good home, obviously best price takes her, she has been looked after for 14 years, by myself covered in WD40 every month also engine turned over regularly, i have never driven her in all that time, runner boards rusty as usual, seat needs recovering, handle bars have been crudly modified, hand levers etc will need re-chroming, tyres still intact also spare,also has original paint, is Yellow and White, it is a bit fluffy if you know what i mean after all these years, this will run if i add fuel.
Rumi Is located In Milngavie Near Glasgow
---
Sun Jun 07 2009
d.morgant at laposte.net
location
1960? rumi scooter
je cherche un scooter Rumi en location à Nice 06 France
nice
---
Thu Apr 09 2009
ledagc at yahoo dot com
1961 RUMI motorcart unique jewel!!!
Rumi 1961
My cousin found in his father´s farm garage a rare specimen!! A 1961 Rumi three-wheel motorcycle with a cart (250 cc), that his father told him it was used in the Second World War to tranport goods, armament and people . It is in very good condition, except for the dirt and the passing of years without using it... The amazing feature is that it has a floor gearshift, 4th gear and reverse gear!!! it is worth seeing....
Anyone has an idea of where to look for information on this bike???
I am planning to sell it...any idea how much it could be worth??
Thanks very much!!!!
Leda
Argentina
---
Wed Jan 28 2009
ghabib at mweb.co.za
Rumi Formichino
Hi I am not sure if you have any spares for the Formichino I have 2 bikes and would like to try get them both back on the road if you do please let me know what you got
Johannesburg
---
Fri Oct 24 2008
genefosterzx10 at msn dot com
rumi motorcycle
125 twin
need to know how to seterate crankshaft
denver, colo.
---
Tue Apr 15 2008
cschembri at martechonline dot com
rumi junior/sport
same as an rumi's junior, preferred
hi marcello- you may have spoken with my wife cynthia- i've got one of eduardo's bikes. looking for more information as well as looking to purchase another RUMI- let's get in touch.
best regards,
chad
816.674.7632
---
Thank you to have published my motorcycles for the sale. I send him more data:
Rumi Formichino Scooter 125 year 1955, to 90% of complete, to restore in u$s 1350 (dollars) each one.
Rumi 200 working, original in u$s 4500 (dollars).
Rumi 125 year 1961 Bicarburatore, working, original, in u$s 2500 (dollars).
In these days I send him more data of other motorcycles. That you have a good day. Marcelo from Argentina.


See also Classic Bike Collection Argentina
---
Tue Jan 22 2008
slah-skander at yahoo.fr
looking for scoiattolo
rumi scoiattolo
please send me informations about buying scoiattolo
---
Thu Jan 11 2007
hechtner.h at gmx.de
Rumi Formichino Scooter
125ccm oder?
ich würde 1 scooter zum restaurieren kaufen was ist der Preiß? Danke
Stuttgart
Translation: I will 1 more scooter to restore to buy which is the price? Thanks
---
Tue Mar 14 2006
magdalenaricci at yahoo.com.ar
manual rumi 160 de 1961
necesito el manual de la rumi 160 de 1961
argentina
---
March 30th 2005
Le Scooter magazine featuring Rumi Formichino on cover at Ebay.it
Vendor's Description:1 revue LE SCOOTER N° 39 juillet 1955, il y a 80 pages, cela parle du scooter Rumi Formichino, fabriqué à Bergamo en Italie, description du moteur, bloc à 4 vitesses, les essais, les régimes moteurs, etc, avec photos noires et blanches, il parle aussi du : Le Contessa TWN, d'une remorque pour le camping olitub décapotable, de la Pub diverses sur huile, etc, plaisir en Auvergne, Cela parle aussi du rallye en scooter S.C.I.F. organisé par le Figaro, les organisateurs de Gymkhana en scooter etc.