Cylindrée : 200
Production : 1906 - 1909
Catégorie : (R) Racing
Buchet 1 200 cm3 bicylindre de course - 1906
Les monstres de la belle époque
Elie Victor Buchet commence è fabriquer des moteurs en 1899. Il est aussi l'un des plus célèbres pionniers du sport motocycliste. En 1900, il équipe le tricycle de Victor Rigal d'un étonnant bicylindre de 8 ch vertical face è la route avec une distribution è soupapes opposées (échappement culbuté, admission automatique), que tous les constructeurs copieront.
Data courtesy moto-collection
Photograph by Dreer Francis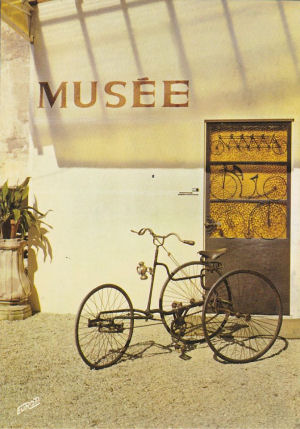 Collection de Maurice Chapleur
Of the 230 machines in the collection some sixty motorcycles date from before 1914. It is the most important collection known in the world of these two- and three-wheeled pioneers. The Chapleur collection also contains many items related to the practice and maintenance of such vehicles. More information...