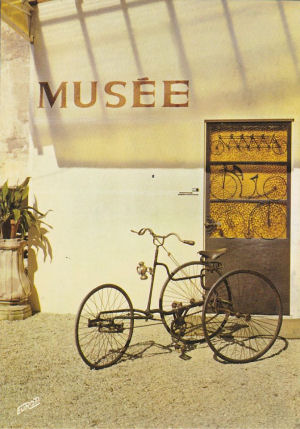 Collection de Maurice Chapleur
Of the 230 machines in the collection some sixty motorcycles date from before 1914. It is the most important collection known in the world of these two- and three-wheeled pioneers. The Chapleur collection also contains many items related to the practice and maintenance of such vehicles. More information...
De Dion Bouton 1895 Tricycle, Made in France
Cylindrée : 400
Modèle : Tricycle
Production : 1895 - 1900
185 cm3 Tricycle - 1899
L'automobile du jeune homme et du célibataire
Au début de la moto fut le tricycle-: les premiers pilotes, fortunés autant que téméraires, sur des balbutiantes "bicyclettes è moteur" ont bien du mal è maîtriser l'équilibre tout autant que la marche de leur Dalifol, Hildebrand & Wolfmuller et autres Werner. Les trois roues assurent la stabilité, un argument de taille-!
Data courtesy moto-collection
Courtesy
Collection de Maurice Chapleur
De Dion Bouton Tricycles