Vu les cadences de production, il est vrai que ce n'est pas tout a fait le meme modèle que celui présenté ci dessus par FMD.
Seen rates of production, it is true that this is not quite the same model as the one shown above by FMD.
Venu de chez Antoine, l'ingénieur Paul Kelecom rejoint FN en 1905, et il y entreprend d'améliorer la quatre cylindres dessinée par Clarus. Dès 1906, la cylindrée passe de 362 cm3 (45 x 57 mm) è 412 cm3 (48 x 57) et la lubrification est améliorée. Cela lui permet d'afficher quelques prétentions sportives puisqu'en 1908, une FN-4 termine troisième de sa catégorie au Tourist Trophy. La cylindrée atteint 493 cm3 en 1910 et, dans sa pleine maturité, la FN-4 est fournie è l'armée belge et bientot è l'armée russe.
More information: moto-collection
Courtesy Collection de Maurice Chapleur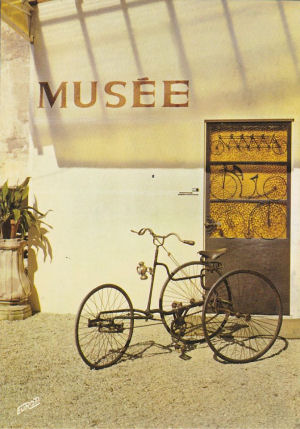 Collection de Maurice Chapleur
Of the 230 machines in the collection some sixty motorcycles date from before 1914. It is the most important collection known in the world of these two- and three-wheeled pioneers. The Chapleur collection also contains many items related to the practice and maintenance of such vehicles. More information...