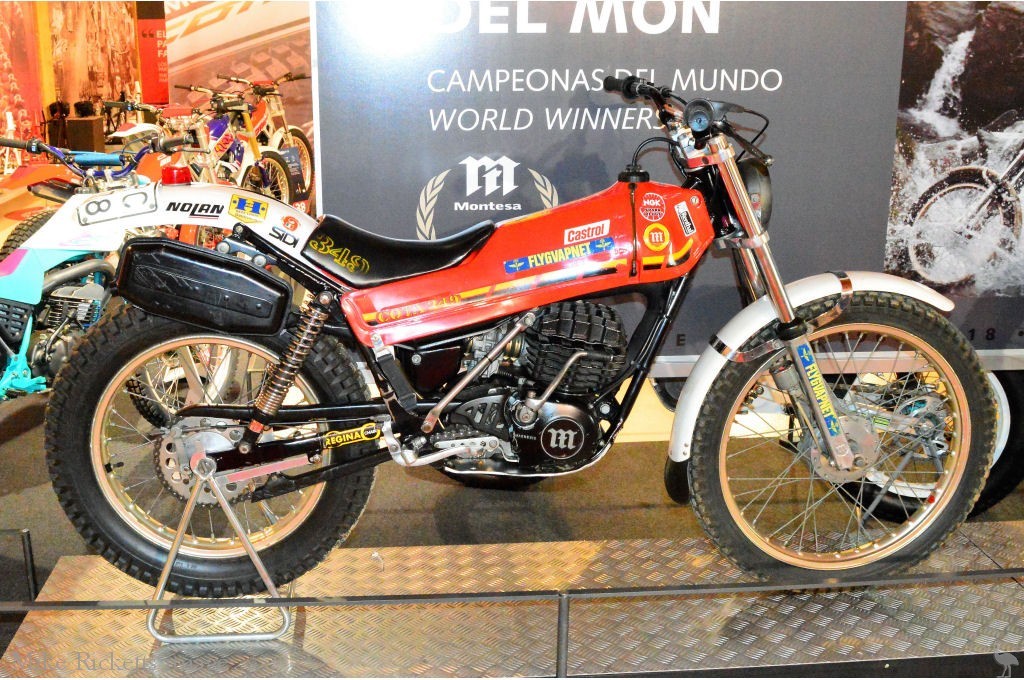 Montesa 1980 Cota 349cc Series 1
Exhibit #24 at the Montesa Cota 50th Anniversary Exhibition, Barcelona Moto Museum.
Model history:
This model appeared in 1979, replacing the Cota 348, with an increase in displacement to 349.6 c.c. and was the largest trials motorcycle manufactured by Montesa throughout its history. It featured a new engine with a five-port cylinder, smaller magnesium side covers, double cradle chassis open under the crankcase and screwed to an aluminum plate, open frame at the rear, new enduro-type silencer, engraved emblem on the seat, Petrol level check embedded in the tank. With this motorcycle, ridden by Ulf Karlson, Montesa won the World Trial Championship for the first time in 1980.
Specifications
- Displacement: 349.6 cc (83.4 x 64mm)

- Power: 20.5 hp @ 5500 rpm

- Compression Ratio: 8.5 to 1

- Gearbox: 5 speed

- Tyres: Front 2.25 x 21 Rear 4.00 x 18

- Rims: Front WM1 1.6in Rear WM2 1.85in

- Brakes: 110mm drum front and rear

- Fuel Tank capacity: 5.5 litres

- Wheelbase: 1350 mm
Cota 349 Ulf Karlson 1980 (High resolution)
Historia del modelo:
Este modelo aparece en 1979 para sustituir a la Cota 348, con un aumento de cilindrada hasta los 349,6 c.c. (moto de trial con mayor cilindrada de las fabricadas por Montesa en toda su historia). Como novedades aporta un nuevo motor con tapas laterales de magnesio de tamaño más reducido, chasis de doble cuna abierta bajo el carter y atornillado a una placa de aluminio, bastidor abierto en la parte trasera, nuevo silencioso tipo enduro, emblema grabado en el asiento, macarrón de comprobación de nivel de gasolina incrustado en el depósito. Con esta moto pilotada por Ulf Karlson, Montesa consigue en 1980, por primera vez el campeonato del mundo de trial.
Ficha Técnica

Motor:

2 Tiempos

Carrera y diámetro:

83,4 x 64

Cubicaje:

349,6 c.c.

Relación de compresión:

8,5 a 1

Potencia:

20,5 CV a 5.500 r.p.m.

Carburador:

Amal 2627

Cambio 6 velocidades

3,000 / 2,410 / 1,730 / 1,277 / 0,863 / 0,600

Embrague:

Multidisco en baño de aceite

Frenos:

110 mm. / 110 mm.

Ruedas:

2,25x21 / 4.00x18

Capacidad de deposito:

5 litros

Peso:

94 Kg.

Velocidad máxima:

105 km/h
---
Sources: Motocra Archive, Mike Ricketts, Barcelona Motorcycle Museum.