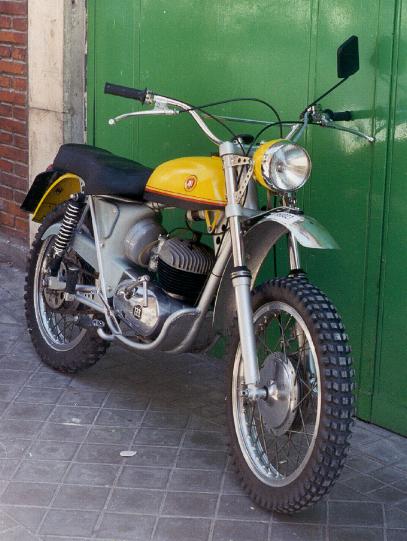 Montesa Texas 175cc
Desde mi adolescencia tuve inquietud por un modelo de Montesa. Me refiero a la Texas 175. Desde principios de los años setenta quedé enganchado a esta versión de Impala de Todo Terreno. Años después me inicié en el mundo del Motocross durante seis años estuve participando en pruebas por casi toda España, y durante este periplo siempre estuvo en mi mente la búsqueda de esta motocicleta.
Siendo afortunado poseedor de varias Montesas, por fin en el Otoño del 97 localicé la que adjunto en fotos. Como en muchos otros casos llevaba arrinconada unos 18 años. El anterior propietario la adquirió a cambio de una escopeta de caza y pronto descubrió que esta moto no se adaptaba a su afición y optó por abandonarla a su suerte en el sótano de su casa de campo. Una vez adquirida procedí a analizar su restauración; su estado era relativamente lamentable, tenia el chárter rajado, suspensiones reventadas, amén de otros detalles frecuentes como corrosión, etc..
Una vez finalizada su reconstrucción he podido comprobar que la moto es mejor de lo que imaginaba hace años atrás. Tiene potencia, bajos, confort y es muy fácil de pilotar.
Además esta unidad, fue la ganadora en la ultima concentración MotoCRA, de motos clásicas de campo, del trofeo a la moto mas antigua que participó en la concentración, y fue una de las mas votadas por el publico, en el trofeo a la mejor moto T.T.
---
Since my adolescence I had concern for a model of Montesa. I mean the Texas 175. Since the early seventies I was hooked on this Impala version of Off-Road. Years later I started In the world of Motocross for six years I was participating in tests throughout almost all of Spain, and during this journey the search for this motorcycle was always on my mind.
Being the lucky owner of several Montesas, finally in the Autumn of 97 I located one of them. the one I attached in photos. As in many other cases, she had been cornered for about 18 years. The previous owner acquired it. in exchange for a hunting shotgun and soon discovered that this bike was not suited to his hobby and opted for it. for abandoning her to her fate in the basement of his country house. Once acquired I proceeded to to analyze its restoration; its condition was relatively unfortunate, it had a cracked charter, blown suspensions, in addition to other frequent details such as corrosion, etc.
Once its reconstruction has been completed, I have been able to verify that the motorcycle is better than I imagined years ago. It has power, low, comfort and is very easy to pilot.
In addition, this unit was the winner in the last MotoCRA concentration, of classic field motorcycles, of the trophy for the oldest motorcycle that participated in the concentration, and was one of the most voted by the public, in the trophy for the best motorcycle. T.T.
CARACTERÍSTICAS TÉCNICAS: (ES/EN)
174,77cms.cúbicos(60,9X60)
15,5Cv.con una compresión de 12/1Carburador Amal389-B-30
Encendido Motoplat 628MO-539.
Cambio de 4 velocidades
Frenos: Tambor doble leva del.de 180 y tambor tras.de 180
Neumaticos:2,75X19 y 3,00X19
Capacidad depósito: 9 litros
Velocidad máxima:105 Kms.hora
Bastidor 12-M
Unidades producidas:186
Source Motocra Archive
---