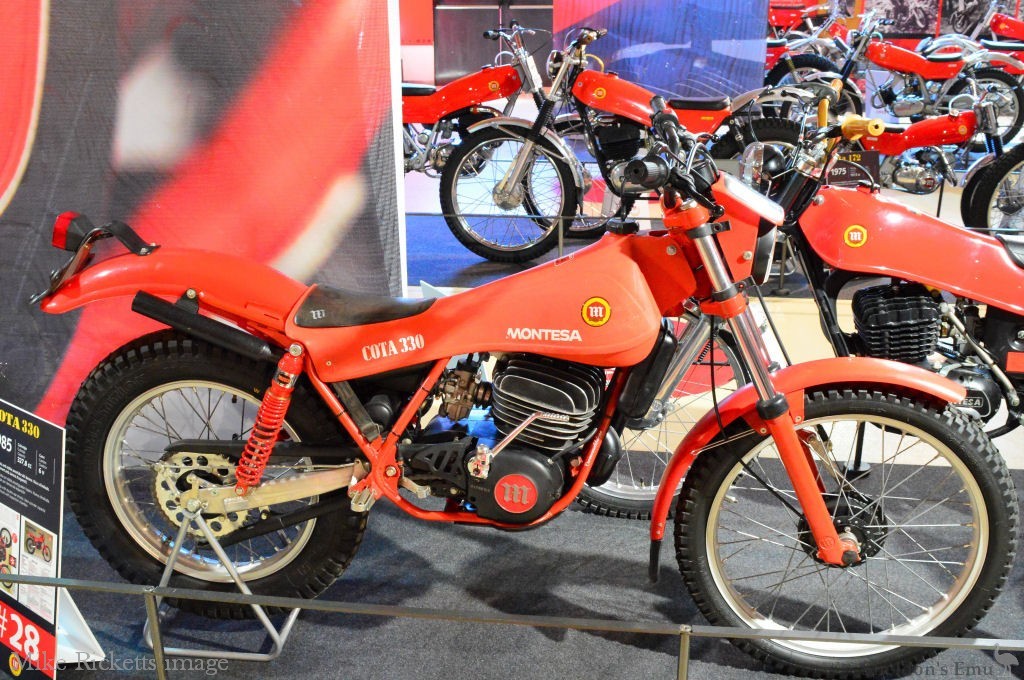 Montesa Cota 330 1985
The Montesa Cota 330 was created as the successor to the Cota 350. It retained the features of earlier models, with an air-cooled engine, drum brakes and dual rear shock absorbers.
Unveiled in 1984, it entered the market the following year, as did its much more modern counterpart, the Cota 304 with disc brakes and monoshock rear end.
The Cota 330 remained in production for just one year, and was replaced by the successor to the 304, the 1986 Cota 335 which had an even shorter run as Honda took over the company later the same year.
The Cota 330 was similar in most respects to earlier models, with a monocoque tank-seat, air-cooled two-stroke engine with 6-speed gearbox, double-cradle frame, drum brakes and conventional suspension front and rear.
Visual differences included red Telesco rear shocks and red mudguards, and it had a new frame which sported an alloy swinging arm.
Cota 330 327,8 cc
La última Cota con doble amortiguador trasero. Nueva cilindrada, nuevo escape con cámara de expansión.
Ficha Tecnica

Motor
Monocilindrico / dos tiempos / refrigerado por aire.
Cilindrada
327,8 c.c.
Diámetro / Carrera
83,4 x 60 mm.
Compresión
9,4:1.

Carburador

Amal L-2627 27mm.
Encendido
Por volante magnético Motoplat V.M.
Carburante
Mezcla de gasolina super con aceite sintético 2T al 3% o mineral al 4%.
Velocidades:
6
Transmisión primaria
Por engranajes helicoidales.
Transmisión secundaria
Por cadena.
Embrague
Discos múltiples en baño de aceite.
Bastidor simple
Doble cuna abierta, con protector de motor en plástico.
Suspensión delantera
Horquilla telescópica Montesa.
Suspensión trasera
Basculante de aluminio + Amortiguadores hidráulicos Betor.
Frenos
Tambor de 125 m.m. delante y 110 m.m. detrás.
Ruedas
Ant. 2,75" x 21", post. 4,00" x 18"
Peso
93 Kg.
Depósito
5,5 Litros.
---
Sources: Motocra Archive, ca.wikipedia.org, Bassella Museum Barcelona.
---