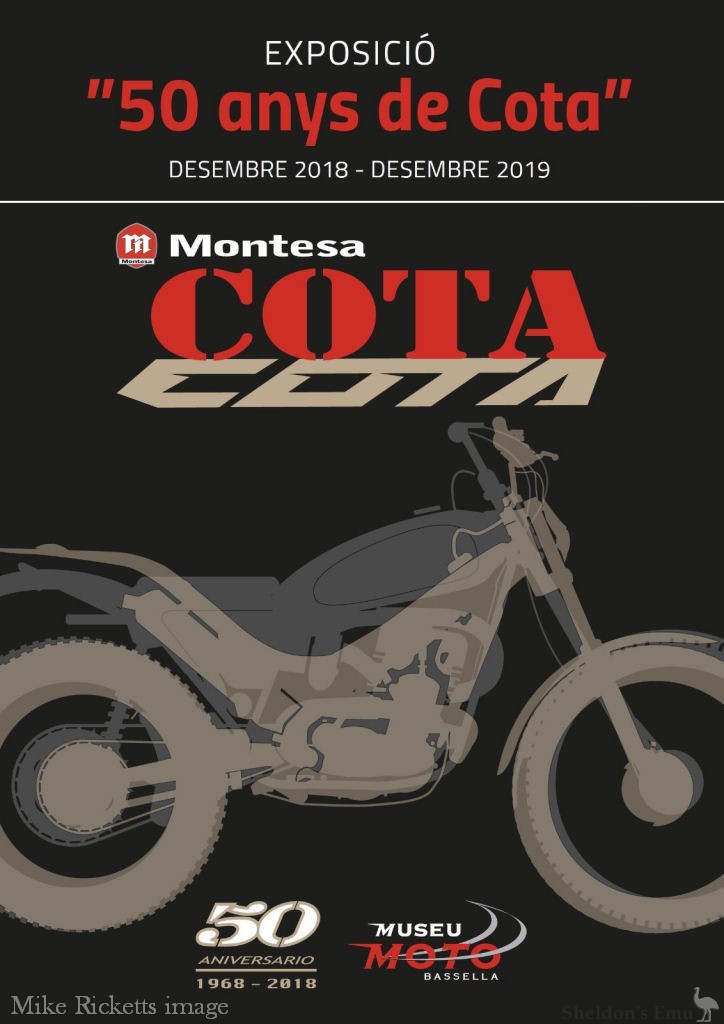 Montesa Cota 1968-2018
The First Fifty Years
#E0
Montesa Trial 250 1967
250 Trial 247,69 cc
Primer experimento de Montesa en el trial previo a la Cota. Directamente derivado de la Impala de carretera. Solo se fabricaron 44 unidades.
Montesa's first experiment in the trials sector, prior to the Cota. Directly derived from the Montesa Impala road bike, only 44 copies were manufactured.
---
---
---
---
#1
Cota 247 - 247,69 cc
The first in a long saga, this model was designed from the ground up specifically for observed trials. Innovative design is demonstrated with the one-piece tank and seat assembly. The first 500 units may be identified by the use of an IRZ carburretor with a long inlet manifold, and rear mudguard is held in place by a clamp.
---
---
#E1
Montesa Cota TT 247cc c.1968
Cota TT 247,69 cc
A little-known model of which perhaps only ten units were built. The qualities of the Cota were adapted for enduro racing, with a larger seat and different bodywork.
---
---
#2
Montesa Cota 247 1968
From production number 501 the IRZ carburetor was replaced by an Amal with a shorter inlet manifold, while the rear mudguard is secured by means of plates welded to the frame.
---
---
#3
Montesa Cota 247 1969
The 180mm drum brakes from the Impala road model are replaced by 110mm ID hubs.
---
---
#4
Montesa Cota 25 1971
A children's model replica of the Cota 247, with single-speed gearbox and centrifugal clutch. Quite a commercial success.
---
---
#5
Montesa Cota 247 1970
New short series of the 247, the engine was unchanged but the frame was painted silver.
---
---
#6
Montesa Cota 247 1971
New version of the 247, with much modified engine, reinforced gearbox and more compact crankcases.
---
---
#7
Montesa Cota 74 1972
The Cota family now reaches the teenage public, with a completely different engine and frame.
---
---
#8
Montesa Cota 49 1972
The success of the Cota 25 inspires the creation of the Cota 49, so that children can take the logical next step in motorcycling as they grow.
---
---
#9
Montesa Cota 25A 1972
New version of the children's Cota 25, with narrower body and cylinder with curled (wiggly) fins.
---
---
#10
Montesa Cota 247 1972
The second major change to the Cota 247, with a much more stylish tank/saddle assembly and stronger connecting rod.
---
---
#11
Montesa Cota 123 1972
Second version of the Cota 74 and 123, with revised engine, longer exhaust with the outlet on the left side and frame now painted black.
---
---
#12
Montesa Cota 25-C 1974
For youngsters who want to improve their riding even more, Montesa offers the Cota 25 with a three-speed gearbox.
---
---
#13
Montesa Cota 247 1974
New evolution of the 247, with improved suspension, black frame and incorporation of the rear silencer.
---
---
#14
Cota 247 Ulf Karlson 1975
Newly designed crankcases are more compact, clutch cam on top of the engine, foot controls tucked in and graphics dedicated to the factory rider Ulf Karlson.
---
---
#15
Montesa Cota 172 1975
With racing in mind, the 172 is an attempt to combine the performance of the 247 with the lightness and agility of the 123.
---
---
#16
Montesa Cota 247 C 1978
Model mainly aimed at export, with a smaller capacity engine and a new, more compact body with different design.
---
---
#17 1976
Montesa Cota 348 1976
Completely new model. Larger capacity engine, double cradle frame, six-speed gearbox and new bodywork.
---
---
#18
Montesa Cota 25 C 1978
Last version of the children's Cota, with new design of the right engine cover and new graphics.
---
---
#19
Montesa Cota 349 1979
The largest cylinder capacity Cota ever manufactured. Newly designed engine which includes for the first time magnesium engine covers and a petrol tank with visible fuel level.
---
---
#20
---
---
#21
Cota 200 173,7 cc
La misma filosofía de la Cota 172, pero con un motor de mayor cilindrada.
The same spirit of the Cota 172, but with a larger engine.
---
---
#22
Cota 25C (blanca) – 1980
Las motos infantiles seguían la misma tendencia estética que las grandes, incluyendo también el color blanco.
The children's motorcycles followed the same asthetic trend as the larger machines, including also the white colour scheme.
---
---
#23
Cota 248 239,3 cc
Nueva evolución de la legendaria Cota 247, incluyendo todos los avances técnicos de la Cota 349.
New evolution of the legendary Cota 247, including all the technical enhancements of the Cota 349.
---
---
#24
Ulf Karlsson's 1980 Cota 349cc
---
---
#25
Montesa Cota 350 1983
Cota 350 349,6 cc
Regreso al color rojo, con mejoras en el motor.
Back to the red, engine improvements.
---
---
#26
Montesa Cota 242 1984
Return to the medium displacement, with an engine derived from the Cota 200. Double open cradle frame and aluminum swingarm. Low boy exhaust.
---
---
---
#27
Montesa Cota 242 1985
Now painted red with a plastic tank, larger aluminium swingarm and new rear suspension units.
---
---
#28
---
---
#29 1986
Montesa Cota 304 1986
Cota 304 237,5 cc
Primera Cota con monoamortiguador trasero y freno de disco delantero.
First Cota with rear monoshock and front disc brake.
---
---
#30
Montesa Cota 125 1986
Cota 125 123,7 cc
Versión de la 304 dirigida a los pilotos de 16 años.
Version of the 304 aimed at 16-year-old riders.
---
---
#31
Montesa Cota 335 1986
Disc brakes on both wheels and tubeless tyre rims. Shorter frame and increased ground clearance.
---
---
#32
Montesa Cota 307 1987
Evolution of the 335, with a completely new narrower engine, and with better performance at low rpm. For the first time, the cylinder has a nikasil liner.
---
---
#33
Montesa Cota 309 1988
New displacement and completely different bodywork, with the rear guard integral with the seatbase.
---
---
---
#35
Montesa Cota 310 1990
Cota 310
Cambios en la decoración, en que se sustituye el amarillo por el blanco.
Changes in the appearance, with yellow replaced by white.
---
---
#36
Montesa Cota 311 1991
The last all-Montesa Cota before adopting Honda HRC engines. The first one also with Verlicchi alloy frame and liquid-cooled engine.
---
---
#37
Montesa Cota 314R 1996
Chassis derived from the Cota 311, but now incorporating an engine derived from the Honda CR 250. Featuring a new digital ignition with two engine maps.
---
---
#38
Montesa Cota 315R 1996
Directly derived from the Marc Colomer's World Champion bike. Aluminum alloy frame is more stylish and the engine much modified. Front forks by Paioli with vertical rear monoshock.
Specifications
- Displacement: 249 cc (72.2 x 61mm)

- Power: 17.5 hp @ 5000 rpm

- Compression Ratio: 8.2 to 1

- Gearbox: 5 speed

- Tyres: Front 2.75 x 21 Rear 4.00 x 18

- Rims: Front WM1 2 x 21; Rear WM2 3 x 18

- Brakes: Front disc 185 mm; Rear 150 mm disc

- Fuel Tank capacity: 2.7 litres

- Wheelbase: 1330 mm
---
---
#39
Montesa Cota 315R 2000
Paioli suspension replaced by Showa units. With this machine Dougie Lampkin achieved his first World Title with Montesa.
---
---
#40
Montesa Cota 315R 249cc 2004
The last Montesa Cota with a two-stroke engine. Takahisa Fujinami achieved a world title on this model, thus brilliantly closing the history of the Cota 2T.
---
---
#41
Montesa Cota 4RT 249cc 2018
In 2005 Honda decided that all its models would be equipped with 4-stroke engines and this also affects the Montesa Cota. First production trials model featuring electronic fuel injection.
---
---
#42
Montesa Cota 4RT 260cc 2005
Since its launch in 2005, Montesa offered the "Repsol" version of the 4RT, equipped with more sophisticated components and with an appearance similar to the factory bikes of Toni Bou and Takahisa Fujinami.
---
---
#43
Montesa Cota 300RR 283cc 2016
The greatest technical evolution of the Cota 4RT comes in 2016, with a 283 cc engine and total weight reduced to 72 kg, justifying the model name RR (Race Ready).
---
---
#44
Cota 300 RR 50 Aniversario 283 cc 2018
Limited edition of 50 numbered machines to celebrate 50 years since the birth of the first Cota, the 247. Frame, forks and swingarm painted in gold, with white bodywork.
---
---
#E2 1992
Montesa 1992 Cota 311 Paralímpica
A very special version of the Cota 311, it is painted white and has several modifications with which the rider Gabino Renales walked the mascot Petra during the inauguration of the 1992 Paralympic Games in Barcelona.
---
---
#E3
Montesa 1980 Cota 4T Portús
Antonio Roma "Portús" converted a Cota 330 2-stroke engine of 327cc to a 4-stroke of 360cc while preserving the original crankcases. This unique prototype, weighing just 95kg, appeared in various competitions.
---
---
#E4
Montesa Cota 309 Portús 238cc 1990
The technician from Vic (Barcelona) Antonio Roma "Portús" modified the engine of a Cota 309 incorporating a complete custom-built liquid cooling system, thus anticipating the factory, which would not release a model of this type until 1992.
---
---
#E5
Montesa Cota N4 315R Antonio Cobas, 2000
The highly regarded technician Antonio Cobas applied his skills to this Cota prototype reducing the frame to minimum trellis structure, with the Cota 315R engine acting as a stressed member.
---