ESO DT5 Speedway
1961 "ESO" Specifications.
Taken from an "ESO" sales brochure of 1961, the specifications for the ESO speedway machines were listed as follows: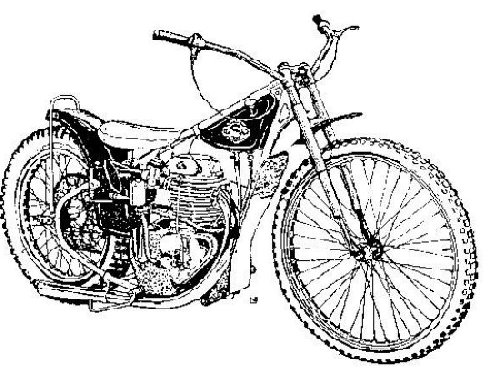 ESO DT 5 SPEEDWAY MOTORCYCLE
An engine with cylinder capacity of 500cc is the heart of this very fast and efficient speedway motor cycle.This four stroke single-cylinder with a bore of 88 and a stroke of 62 mm has a 7,500 r.p.m on output over 50 b.h.p.
High revolutions are enabled by a very light OHV valve gear, the camshaft of which is located high in the engine block. The cylinder is of light alloy, bushed with steel lining.
A high compression ratio of 1:14 requires the use of methylated spirit fuel. The carburetter is of Del'Orto type, the magneto is Lucas.
The primary drive is by chain to a dry clutch with asbestos-based lining. For races on short tracks the motor cycle is equipped only with a countershaft, adjusting the general drive.For longer tracks, a two speed gear is listed.
The frame of the speedway model is of simple design, of very good quality steel tubes. A fuel tank with a capacity 2ltr (3.5 pints) and an oil tank with a capacity of 0.5ltr are fitted on the frame. The seat is simple, as light as possible.
The Front fork is telescopic. The front wheel is equipped with a tyre of 2.75X23, the rear one with the prescribed tyre of 3.50X19. Both tyres are of the BARUM make and are today the best speedway tyres in the World. It goes without saying the speedway motor cycle has no brakes.
Low weight - 83kg - and easy control are the result of the light build of the whole motor cycle. The results of the ESO machines in the 1960 season in Europe as well as Australia confirm that the ESO motor cycles will play in 1962 an important role on the speedway all over the World.

          Specifications:
          Engine: Single Cylinder, OHV four stroke, air cooled.
          Bore stroke (mm): 88/62
          Cylinder capacity: 498cc.
          Power Output: 50 bhp at 7,500 rpm.
          Ignition: The Lucas Magneto.
          Tyres Front: 2.75 X 23 in.
          Tyres Rear: 3.50 X 19 in.
          Overall Length: 2,020 mm (79.5ins)
          Overall Height: 1,030 mm
          Overall Width: 850 mm (33.5ins)
          Ground Clearance: 80 mm
          Weight: 83kgs (183lbs)

---