Vic Huxley Speedway Champion
Refurbishing
Apologies for the dropsheets, paint tins and scattered detritus. More information...
The Vic Huxley Story
Courtesy of Marsh Huxley and Marilyn Thomson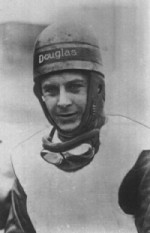 One of the pioneers of speedway racing, Vic Huxley had learnt to broadside in his hometown of Brisbane. After coming to England in 1928, he rode at Wimbledon, Harringay, White City and Hull Green (Birmingham).
Huxley was almost unbeatable, breaking records all over the country and scoring numerous triumphs, including eight £100 Championships. After a very successful career, he returned to Australia in October 1936 and announced his retirement early in 1937 when he was to concentrate on his business.
Late in 1998, and with the assistance of his Daughter Marilyn Thomson, I was fortunate enough to make contact with Marsh Huxley, brother of the late great Vic Huxley who kindly agreed for me to write this page and supplied pictures and information rarely seen and looks at how those early pioneers brought us speedway as we know it today.
Marsh Huxley Writes:
Vic was Born Victor Nelson Huxley on 23rd September 1906, and was always called Nels or Nelson by his Mother.
Vic Huxley started work at the age of 16 on a dairy farm, twenty five train miles from Brisbane. By the age of 18 he had left and joined the Exide Battery Company. By the time he was 19 he had saved enough money to buy a new 1926 G8 AJS big port, no lights.
It was not long before he got the bug of speed, joined a motor cycle club and entered in any competition that meant going fast. Flying quarter mile, hill climbing and the first speedway meeting which was in 1927 at the Deagon one mile Trotting Race Course. I was twelve at the time and all the family were there for the days racing plus a sports car event.
I can't recall whether he won anything because a few interstate riders came up with big Harleys and Indians, in fact there were all sorts and horse power on the day.
By this time Vic really got the bug and the next meeting was at the Coorparoo Trotting race track one mile by then and the exhibition quarter mile track was being made, and as I mentioned Vic had left work and was involved in helping at the track.
The opening of the quarter mile Exhibition Speedway was one mile from the Brisbane City centre and serviced right to the main gates by electric trams. Opening night early summer of 1927. On the AJS Vic had quite a lot of success but could only run second in the scratch races against the peashooter Harleys. One night towards the end of the season his G8 AJS failed when he pushed off from the pits to race in the final.
The promoters had the presence of mind to have two spare Harleys for loan and Vic was given one. Needless to say he won the final race of the night and the mob went wild. They overran the pits and we couldn't get near him for quite sometime, from then on its history.

Right: Vic after his first main 4-lap Final after the AJS Breakdown.
After that he was riding the I.O.M Douglas as the Harleys were having chain breaking troubles caused by the whip in the frame from the broadside motion. That is how Vic came to be riding Douglas in the early days in England.

I forgot to mention that Vic's wife came from Norwich, her maiden name being King.

Well that closes that episode and maybe if you need anything more along these lines I hope I can be of assistance. So for now Chris, I will close and wish you the compliments of the season and hope your finished article comes out well. Now to give my pen a rest

Yours Truly ..... Marsh Huxley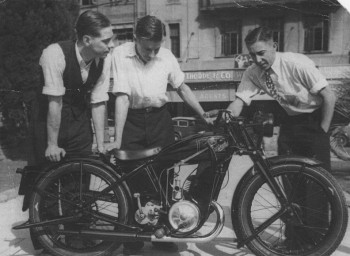 That's Marsh Huxley on the Right of the picture doing a big Sales Pitch.
Just in case you're wondering, the machine is a 1934 WARATAH that was completely assembled in Sydney by P and R Williams and was claimed to be Australian made.
This particular machine has a type 6E Villiers and Albion Gearbox and indeed, most the accessories were imported.
But then that's another story - it's the Vic Huxley story we will be looking at, and so, without further ado ............
---