Bert Spencer Speedway Rider
Refurbishing
Apologies for the dropsheets, paint tins and scattered detritus. More information...



Note 1: For other pictures and snippets of information that cannot as yet be fitted into the story, see Additional Information.

Note 2:Paul Spencer, Bert's son can be contacted direct at southern_cross_pub99 a t excite.com


Saturday March 2nd 1929, and the crowd at the Exeter Rugby Club had just finished watching a County Rugby Match. But instead of drifting away as they usually did, they stayed behind to watch a demonstration of a new sport that was about to hit the City the following weekend.
The sport was Speedway, and giving the demonstration were two Gentlemen by the name of Freddie Hore and Bert "The Baby Cyclone" Spencer - and for the first time ever, the roar of motorcycles echoed around the County Ground.
January 1999, and by chance, some seventy years later, Paul Spencer, the son of the man who was one of the first to ride around the Exeter track, made contact with me.
Many of his fathers memories contained in scrapbooks had been lost during a flood and all that remained was a collection of photographs as depicted on this page. We hope to be able to piece together the riding days of Bert Spencer, and would therefore welcome anyone who has any information or pictures, no matter how trivial that might help us retrace those steps - Steps back In Time.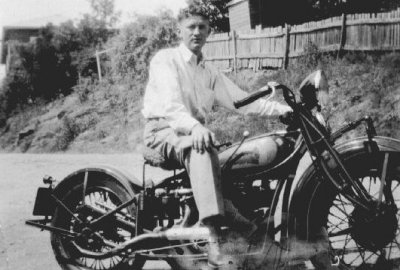 Born in London on the 13th may, 1908, Bert was to emigrate to Australia when he was only three and was to return in 1928 with the Group of riders from "Down Under" that introduced the sport to Britain in that Year.
We were originally unsure of the location of the first picture we have of Bert, however, Bryan Lambert, an active V.M.C.C member writes:
" the bike he is sitting on in the first picture is a four-cylinder Indian , probably with the Ace-type engine and certainly with saddle tank, matching mudguards and no speedo which makes it a 1935 model . I would guess he is in the UK , the fours were not exported to the southern hemisphere."
This would indeed make the next account plausible as Paul later wrote:
The last time I wrote, I told you that I would try and get some background data about the early thirties at the Brisbane end. My 87 year old aunt, the wife of Bert's brother remembers very clearly his return to Brisbane in 1933/4/5/. At a party here, dad's sister had her handbag stolen by an acquaintance of the family ! so I think that event fixed a few details. She remembers talk of a new bike (which looks like Dad imported the 4 cylinder Indian )and probably resold when he returned to Exeter. But the background in the story is definitely early Brisbane, so I guess it all fits in now.
The second picture below shows Bert (2nd from Left) clearly sat on a speedway machine on a social outing with a group of young riders of similar age to Bert. It was first thought that this picture was taken in England, but later, Paul Spencer noticed that the number plate of the centre machine (Rudge) was in fact a Victorian State licence plate..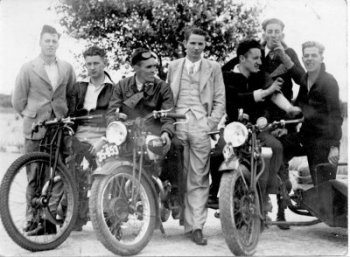 Reports of that opening demonstration and of the opening meeting the weekend after were documented by the local newspaper and reported the following:

March 2nd, 1929:
The opening of the New Speedway was set for Saturday March 9th but the sporting public were given the opportunity of a preview a week earlier when two riders took to the track for a short demonstration immediately after a Devon v Gloucester rugby match.
The first two riders ever to lap the County Ground were Freddie Hore, an Exonian who had emigrated to Australia, became a rider and returned with the first group of Aussie riders, and Bert Spencer, a 16 year old Australian who was nicknamed the "Baby Cyclone".
**NOTE - The press report of that time seem to have got their information
wrong or were adding extra interest as Bert was in fact 20 years old at that time.
Opening Meeting, Sat.March 9th:

The atmosphere in the stadium increased as the crowds poured in. The arrival of the civic party was greeted by loud cheering. The party included the Mayor and Mayoress, the Sheriff (Mr J. T. W. Templeman) and his lady, Sir Robert Newman Bart. M.P. for Exeter, Mr Nicholson the Chief Constable, Sir James and Lady Owen, Mr and Mrs Arthur Brock, the Directors of the Speedway and several other prominent citizens. Shortly before 8.00 pm and in front of over 11,000 eager spectators the Mayoress cut a white silken ribbon to declare the track open and wished the venture every success.
The parade of riders followed and what an impressive line-up it was. From Australia there were Frank Arthur, Ron Johnson, Buzz Hibberd and the Spencer brothers, Bert and Eric. England was represented by Jim Kempster, Roger Frogley, Allan Kilfoyle, Les Dailimore, Tommy Croombs and Les Blakeborough. From South Africa was Les Barker. Several local riders were also on parade. Apart from Freddie Hore they were "Buggie" Fleeman, Len Clarke, Roy Reeves (Torquay), Harry "Happy" Kirk (Tiverton), Paul Brockington (Taunton) and E.H.Jones from South Molton.
**NOTE - Another press report of that time that has got the facts wrong,
as Eric Spencer and Bert Spencer were NOT related.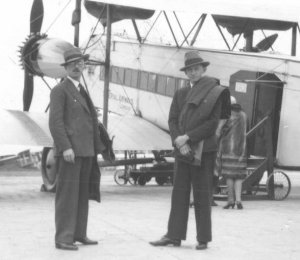 It was a man by the name of Leonard Glanfield (himself an Exonian by birth) who first brought Speedway to Exeter after he realised that the Rugby Ground would make an excellent track.
The next photograph (Pictured Left) is of Leonard and Bert together at Paris Airport, though it is not known why they were actually there. However, you can't but help admire the elegant dress of the two gentleman, though I'd be a little hesitant to fly in the aircraft behind them.
Reports from the Local Newspaper in June of that year read as follows:

Sat 22nd June:

A three cornered match race between Stevens, Bishop and Johnson had been planned to decide the track championship. but this did not materialize as Hard Luck Harold crashed into Bert Spencer in an earlier race and smashed up his engine. Instead Bishop beat Johnson in two straight runs. Buster Buckland retained the Plummer Cup. To do so he beat Charlie Swift who had previously defeated Happy Kirk to qualify.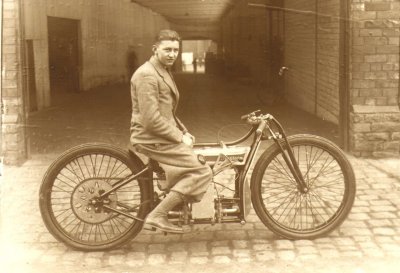 Another picture taken in Paris, this time of Bert sat on a Douglas Dirt Tracker and what a glorious picture this is. We know that both this and the airport shot were in Paris as it was written on the rear of the photograph. When sent to me, this photograph was very much larger but due to Web Space limitations it had to be reduced and does it little justice.
We know for sure that Bert also rode abroad in France, Spain, America and South America and may perhaps explain the pictures taken in Paris
Back to the News reports of that era and a report in July 1929 Read:

Tues 30th July:

In the heats leading up to the final Bishop had out maneuvered and out paced Stamford Bridge `crack' Gus Kuhn. Roger Frogley and Harold Stevens had met in the first heat and a bad start had given the Exeter man a yard and a half advantage which he made the most of. Both Max Grosskreutz and Lamont crashed in their heat but Billy won the rerun. The fourth heat looked like being a duel between Eric Spencer and Noel Johnson, but Spencer fell on the first lap and although he remounted quickly was unable to make up the lost ground. The first semi-final saw Bishop win easily after Stevens fell early on, while another bad start cost Johnson the second semi. He was left several yards behind which gave Lamont a tremendous advantage. Bert Spencer led the Handicap final from Swift, Bishop and Purser. After two laps Bishop moved up to second, but a broken chain ruined his chances. Swift too missed out when his tyre came off his back wheel.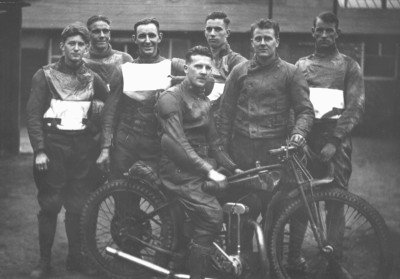 (Left) Bert pictured in what we at first thought was an early Exeter line-up. However, with the assistance of Tony Lethbridge and the Vintage Speedway magazine, we can now reveal that it is actually of a Plymouth team of around 1932. From Left: Bert Spencer, Frank Goulden, Jack Jackson, Bill Clibbett, Clem Mitchell and Eric Collins. On the bike is Eric Collins. Incidentally, the Team colours are actually Orange and White.
One such meeting was against a very strong Stamford Bridge Team, the newspaper report of the day gave the following report.
Saturday 10th August:

Until Exeter's visit, the Stamford Bridge team was unbeaten on their own narrow track around the Chelsea football pitch and had won 12 out of their 13 matches ridden so far in the Southern League, their only defeat having come away at Southampton. The Pensioners were to win all their remaining fixtures and become speedway's first ever league champions.
The evening of Saturday 10 August was a momentous occasion for the Exeter team as they prepared to face the might of the Londoners in front of a 25,000 strong crowd. Exeter, in their red and white colours, were represented by Noel Johnson (captain), Harold Stevens, Bert Spencer and Jack Bishop with Buster Buckland as reserve. At the drop of the flag in heat 1 Johnson and Spencer grabbed the lead and looked like holding it until Spencer dropped back with engine trouble and was eventually overtaken.
Exeter however held the advantage as scoring was on a 4-2-1 principle. Stevens and Bishop came out next against Gus Kuhn and Colin Ford. Again the Exeter pair went out in front taking full advantage of the narrow track to keep the opposition at bay. Unfortunately over enthusiasm caused them to collide and Stevens lost his footrest. Kuhn saw the change and nipped through for second place, but Harold managed to retain third and extend Exeter's lead.
With the scores at Exeter 9 Stamford Bridge 5 the riders came out for the final. Bishop and Johnson went to the front. Jack led with Noel covering him and holding off the home riders. On the last lap Bert Bolt made an all out attempt to get by, but in an effort to keep him out Johnson came off. Despite this Exeter retained their lead to win 13-8.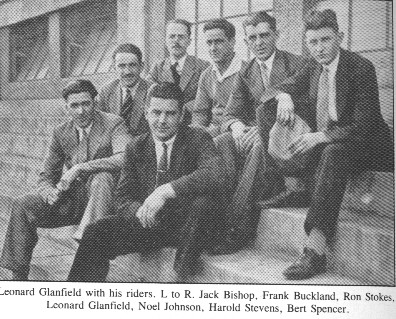 As the match report stated, the Exeter Team then rode in Red and White, could the above Black and White Photograph be actually red and White racing Jackets ?
The picture (Right) shows an Exeter team of this period sat under the Grandstand and is still the same today. You may notice that some of these riders look similar to the above Team, though it is difficult to be certain owing to the difference in quality.
**NOTE: Paul Spencer informs me - "The photo taken under the Exeter grandstand does bring memories. I remember that it was framed in silver, backed in oak and had the riders named engraved on the frame describing the momentous win over Chelsea at Stamford Bridge.
It must have bin quite a win ! Its also obvious in retrospect that with such quality photos the club must have treated their riders very well.
Another match report from that period reports:
Sat 31st August:

The next evening Exeter returned to the County Ground where they completed the double over Southampton, despite being without the services of Noel Johnson, the captain, who was fulfilling a previous engagement at the Leicester Super Speedway, and Harold Stevens who was still injured. Jack Bishop was his usual model of consistency leading the first heat from start to finish. His partner Bert Spencer was just beaten for second place by Clarry Eldridge while Eric Lister brought up the rear. Buster Buckland added four more points to the Exeter total when he won heat 2. Behind him another thrilling duel resulted in second place for Southampton's Vic Collins, who narrowly beat Ron Stokes to the line. The other Southampton rider Tommy Cullis fell. Bishop had everything his own way again in the third heat which he won in a time of 84.2 seconds. Collins kept Buckland in third place to make the final result Exeter 15 Southampton 8.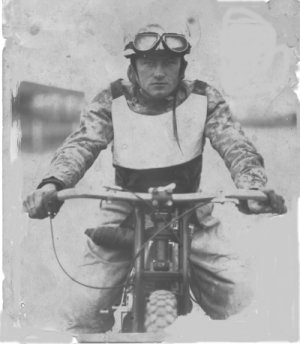 Another photograph of Bert with similar Racing Jacket colours, which we now know to be that of Plymouth.
The next series of articles from the local newspaper tell us that individual racing between local riders were staged, and note with interest the trophy that Bert Spencer collected. We wonder what happened to that trophy and if it is still around today.
Sat 14thSeptember:

No foreigners were present this Saturday but that was made up for by the splendid riding of the locals. The main feature involved attempts on the track record.

Although none were actually broken, Bert Spencer won a magnificent silver model yacht presented by Leonard Glanfield for recording the fastest single lap. Spencer, Buckland and Bishop had all tied with times of 19.6 seconds. In the run-off, Spencer clocked 19.8, Bishop 20.0 and Buckland 20.4.
**NOTE: What happened to that splendid trophy ? ....
Paul tells us - "the trophy went off for repair -all the silver
rigging disintegrated about 30 years again and has been lost- we cant find it".
Wed. 18th Sept:

Sadly the crowd was a mere 4,000, the smallest seen since the introduction of the speedway and a thousand down on the previous Saturday. Prior to Taft's arrival Glanfield had leaflets printed and handed out to the public before they entered the stadium. These explained the situation and also why (Frank) Arthur would not be appearing. While this gesture was greatly appreciated by the public, whose sympathy was obviously with Glanfield, many chose not to pay to go into the meeting. Despite the difficulties the racing was exceptionally good and the programme interesting. Instead of the much published head to head races between the local stars and Frank Arthur, a knockout competition between Bishop, Lancaster, Buckland and Spencer was introduced. The winner was Bishop who made the fastest time of the evening in his match race with Buckland.
Sat 21st Sept:

The locals were again left to provide the thrills on the Saturday evening. 17 year old Bert Spencer, the Baby Cyclone as he was known by his Exeter fans, looked set to take the double. Spencer rode magnificently throughout and confidently won the Gold Gauntlet final despite being harried all the way by Frank Buckland. Alas Bert missed out in the Exeter Handicap when, after another good start, he was forced out with machine problems. Buckland defended his Plummer Cup, easily defeating Reg Beer who had earlier beaten Kirk. Happy sustained facial injuries when he crashed in the main event but the damage was not serious.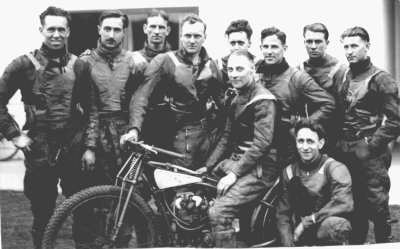 The reports then Dry up and it's not until July of 1930 that we find another mention of Bert Spencer at Exeter, only this Team he is a Belle Vue Rider (1930).
We do know that Bert also rode for Plymouth (see following reports) in 1931 and also for Norwich as the Photograph shows between 1937 - 1949, where he was captain.
Here Bert is on the extreme right.

Wed 16th July 1930:

The Southampton team was billed to appear on 16 July but due to a rearranged league fixture their visit had to be postponed. Instead a 'Flying 6' event was staged at short notice, featuring Belle Vue Manchester's Ivor Creek, Bert Spencer and Freddie Hore, both of Leicester Super, Joe Francis (Crystal Palace) and Exeter riders Frank Buckland and Charlie Swift. Creek saw off Buckland in the first heat, Swift beat Spencer in the second while Francis headed home Hore in the third. Creek won the final with Swift second.
Thurs June 11th 1931:

An International team match between Homelands and the Colonies was the main event on 11 June. This resulted in a 34-17 victory for the Homelands, as Ron Johnson scored more than half the Colonies' points. Scorers were Homelands: Ted Bravery 7+1, Joe Francis 7, Nobby Key 7, Buster Buckland 5 + 1, Norman Parker 5 + 1, Harry Shepherd 3 + 2. Colonies: Ron Johnson 9, Bobby Blake 3, Charlie Blacklock 2, Maurie Bradshaw 2, Bert Spencer 1, Dicky Smythe 0. Bobby Blake won the Exeter Handicap final from Reg Beer and Norman Parker.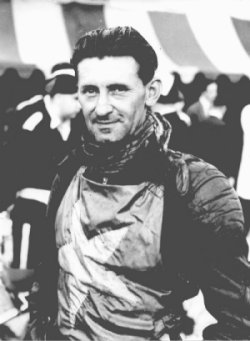 Sat 13th June:

Saturday June the 13th saw the opening of the Plymouth Pennycross speedway track with former Exeter riders Bert Spencer and Noel Johnson both in the Pennycross team.
The Exeter City team were also present at the opening meeting but were beaten 32-21 in the inter track match. Ted Bravery made his debut for Exeter in this match as did Syd Fuller and Bill Latchem. Buckland started well with two wins but failed to finish in his third outing. The scorers were:
Exeter: Buckland 6, Hawden 5, Beer 4, Fuller 2+1, Jarman 2, Bravery 1, Latchem 1.
Plymouth: Bert Jones 7+1, Maurie Bradshaw 7, Bert Spencer 6+2, Peter Slade 5, Spencer Stratton 3 + 1, George Preston 3, Noel Johnson 1+1.
Exeter supporters did however have the satisfaction of seeing Reg Robins win the final of the Plymouth Handicap.
Billed as the World's Champion, Vic Huxley of Wimbledon, proved his superiority on Thursday 18 June by beating Stamford Bridge's Wal Phillips 2-1 in the match race. Phillips pushed Huxley all the way and won the second leg when the Don punctured a tyre.

The County Ground also saw its first local derby on this occasion when the Exeter City team raced the return leg of their challenge match against the newly opened Plymouth outfit. Exeter gained ample revenge by winning 33-20 and 54-52 on aggregate. Buster Buckland was in superb form winning all three of his heats and recording the fastest time, 77.5 seconds. The scorers were:
Exeter:Buckland 9, Bravery 7+1, Beer 5+2, Fuller 5+1, Hawken 4+2, Jarman 3, Latchem (res) DNR.
Plymouth: Noel Johnson 7, Maurie Bradshaw 4+1, Peter Slade 4, Bert Spencer 3, Bert Jones 2, Spencer Stratton 0, George Preston (res) DNR.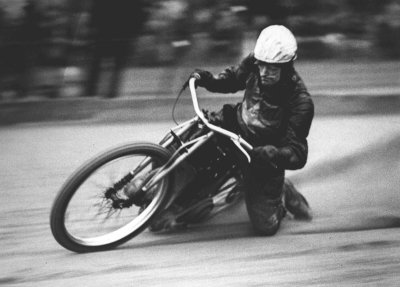 This final photograph of Bert in Norwich Colours has to be one of the finest "Leg Trailing" action pictures I have ever seen.
It captures so well the style of those times and it's not hard to see why speedway became such an overnight success with riders such as Bert Spencer to thrill the crowds.
The final report I have moves on to 1934, though I am not sure which Team Bert was riding for at that time, possibly Plymouth ?.


1934:
Friday 4th May:

Two year the Track had been closed. The third meeting on Fri, 4th May. There was little to chose between the local riders in the Open Race. Freddie Hawken, Tom Whitton and Dingo Davey were the three heat winners, with Hawken narrowly winning the Final from Whitton. Topping the bill were the Four Star match races. In the first, Ted Bravery disposed of Bill Stanley 2-1 while Bill Clibbett followed this up with a 2-0 victory over Bert Spencer. Despite his defeat, the "Baby Cyclone" rode with all the spectacular dash that had made him such a favourite at the County Ground in 1929.

Bert Spencer - Norwich

Having read the Spencer story so far, David Lomas, who recalls later days at Norwich speedway, kindly sent me a copy of the "Norwich and Yarmouth Speedway Handbook" of 1948 that adds more information on Bert's days at Norwich.

Looking back on the 1947 season, the booklet tells us that at the first meeting on April 5th, the team consisted of Bert Spencer, Paddy Mills, Roy Duke, Sid Hipperson, Syd Littlewood, Ted Bravery, Paddy Hammond and Len Read. But on August 9th, only four of these riders represented Norwich, with many riders out with injuries.

Amongst these were Bert Spencer who sustained a knee injury in a harmless looking fall, but the resulting break was to keep him sidelined for several weeks. Yet despite being forced out of the side, he was still Team's highest overall average scorer and still finished fourth top scorer in National League Division II. The Norwich averages that season were as follows:


	Bert Spencer	257    23    11.17
	Paddy Mills     444.5  47     9.45
	Phil Clarke	239    32     7.46
	Jack Freeman	289    41     7.04
	Aussie Powell    95    14     6.78
	Ted Bravery  	301.5  48     6.28
	Paddy Hammond   238    46     5.17
	Sid Hipperson   200.5  39     5.14
	Roy Duke	 94.5  21     4.5
	Geoff Revett    141.5  35     4.04
	Syd Littlewood   57    15     3.8
	Cyril Anderson   30    10     3
	Bluey Thorpe      4     2     2
	Charlie Challis   2     2     2


Our thanks to Dave Lomas for his contributions.
Bert Spencer had ridden for his country six times, appeared at Wembley Finals and held several quarter mile track records.
He retired from speedway at the age of 48 in 1956 after he broke his leg in a Brisbane Queensland Exhibition Ground crash. Paul Spencer recalls the accident:
"The accident happened right in front of me, his back wheel was clipped by Bonny Waddell and dad was flipped at 80 km/h into the outside fence. I was 10."
We hope that others who read this story may have further information on Bert's Racing days and that his son, Paul, can again have a full record of this Great Man's story.
Credits.
Photographs and Information Courtesy of Paul Spencer
Articles From Newspaper Reports Courtesy of Tony Lethbridge
From His Book "The Story of Exeter Speedway Vol.1 (1929-1945)
Norwich information Courtesy of David Lomas