Speedway Motorcycle Development Page 2
Refurbishing
Apologies for the dropsheets, paint tins and scattered detritus. More information...
The Machine Evolution - 2.
In March of 1929, a craftsman's handiwork appeared at the White City. It was the new dirt track Wallis, designed and built by George Wallis. The model had special lugs which had been designed for the chain stays to prevent rear-frame whip, and therefore minimized chain breakage; duplex lower tank rails were employed to give added rigidity; the front down tube was slightly more curved to bring the engine further forward; the countershaft was fixed and ran on roller-bearings; the front forks, to prevent twisting, were incorporated with a special arrangement of shock dampers. Almost any engine could be fitted, either 350 or 500cc. Frank Arthur took the Wallis, installed with a 344cc racing JAP engine, round for a few laps and pronounced it one of the finest machines he had ever ridden. He said it really steered itself over the bumps.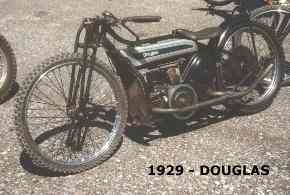 An entirely new redesigned Scott was available at £95 and had been selected, among others, by Arthur Franklyn, Frank Varey, Wilf McClure and Oliver Langton.
The end of April saw the new dirt track Wallis being manufactured by Comerford's Motor Exchange of Thames Ditton. In the ensuing month Colin Watson on his 350cc Harley Peashooter (the same machine on which Frank Arthur had so successfully performed the previous season), raised the Stamford Bridge record to 46.87mph. Frank Varey rose to stardom rapidly on his Scott at the beginning of the season and was now one of the most successful riders in the North at his home track, Belle Vue.
Art Pechar, "Silent Art" they called him, was again racing in England on his roaring Indian, but he was only a shadow of his former self. That accident at the White City in 1928 was a bad one, when he dived headlong into the fence, in a challenge race with Billy Lamont, which put him out of action for a month. He was near to breaking his neck on this occasion. Then came another serious spill at the start of the '29 season, also at the White City, in which he suffered an injured shoulder and a broken ankle.
It was obvious that these two crashes had some effect on the famous American, who had caused such a sensation the previous year, and Art and his lone Indian returned to their native country for good. Another page of speedway's history had been written.
Billy Lamont's form at West Ham early in May, (1929) was reminiscent of his riding at the opening Stamford Bridge meeting, namely, nearly flat-out all the way; no one could get anywhere near him, as his AJS was now powered by one of the new overhead-camshaft TT engines and the power unit had terrifically high revolutions.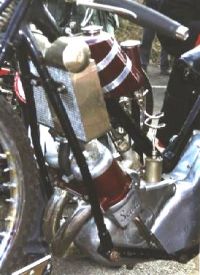 Frank Varey, now employed at the Scott works in the experimental department, had already beaten the redoubtable Arthur Franklyn at Belle Vue, and in recent meetings had acquired a Silver Helmet, a Golden Gauntlet, various Trophies and, at Warrington, a Golden Helmet.
Pictured Right is a 1930's water cooled, twin 2-Stroke Scott that was developed and ridden by Frank Varey. Nicknamed the "Red Devil", very few of these engines were ever built, although Bryan Lambert, (something of a specialist in current day Vintage racing) informs me that there at least two of these working machines still in existence today.
Eric Langton, although usually Rudge mounted, appeared on a Scott at Leeds in May, and this month also saw the opening, on Whit Saturday, of Britain's first third of a mile track, the Leicester Super, when "Sprouts" Elder (Douglas) clocked the fastest time of day at just over 47mph.
At that magnificent circuit the Douglases wound up to a scream that was never heard on the smaller circuits, and when the topnotchers went into the bends at close on 60mph they provided a real sight. Later Jack Chapman lapped the same track at over 49mph, while at the Crystal Palace the flying-mile record was gained by Triss Sharp and his Duggie at 44.68mph. He also equaled Ron Johnson's flying-start lap record of 45.45mph.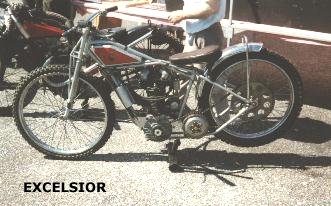 The middle of the season saw the appearance of the new Coventry Victor dirt track model fitted with a 488cc ohv, flat-twin engine and shortly afterwards, Arthur Jervis the White City (Manchester) Captain rode a special Rudge, while Roger Frogley appeared at Stamford Bridge on a new Harley. Later Roger won the Star Championship.