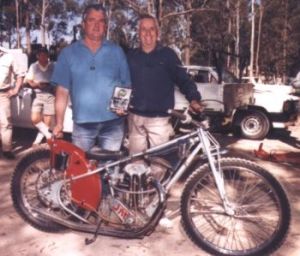 Many thanks to KEVIN RAE in Australia who kindly sent in this picture of his Dirtrax-JAP machine.
Kevin informs us that the machine was built in Australia in approximately 1966-67 and had been marketed by Bert Kingston (former Halifax Dukes rider circa 1964-65).
This particular machine bears the serial number 015, and Ken hopes to be able to unearth more information regarding the total number of machines that were built and over what time span they were produced.
True to his word, further research revealed some interesting details regarding the Dirtrax machine together with some excellent photographs. Ken Writes......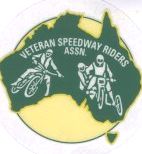 "Finally back to you with some information on the Dirtrax machines.
I have been in telephone contact with Bert Kingston in Brisbane who filled me in with some details.? The frames were built in Queensland by a chap by the name of Ernie Sues.? They were essentially made for the installation of the MSM (Meirson) motors.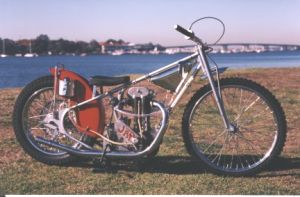 Bert advises that in fact he was, in his own words, the "Test Pilot" for these machines during 1967-68.? Earlier produced machines had the Meirson pushrod (JAP copy) motor, and the rear frame of the conventional bolt-up Mk.1 Rotrax type.? Later produced bikes had the MSM chain-driven OHC motor fitted and the rear frame was of the loop (JAWA) type, (as on my bike). To the best of Bert's recollection there were probably only about fifteen bikes made, (mine Serial No. 015), making it one of, if not the last made.? My bike, on this information therefore appears to be not totally authentic because of the fitment of a 500cc 4-stud JAP.? (When I came across the bike 6 years ago, it had a 350cc 5-stud motor fitted).

Anyway, this is the information I can come up with at this stage, and hope it and the attached photos will help you with your Dirtrax page. N.B. For your information there is quite an interesting web page that takes a look at Bert Kingston's Business in Brisbane and it contains a story on his racing career. There is a photograph in it of Bert posing on a machine which I suspect is an earlier type Dirtrax with probably an MSM push-rod motor fitted (have a look at the tank, do you think it spells out "Dirtrax"?).

NOTE: Have tried enlarging the picture Ken, certainly looks to end in "rax", but not sure if it's "Dirtrax" or "Rotrax". Maybe someone can shed some light from the picture in question pictured RIGHT.
Re the initial Dirtrax photo I sent you some weeks ago, I neglected to tell you who was in it. On the left is myself and on the right is my good friend Keith "Buck" Ryan, 1953 Australian Speedway Solo Champion, who rode in Scotland for Glasgow Tigers in 1947,48 and 49.He is also a former Australian Test Captain of the early 50's who had many a great duel with the legendary Jack Parker at our old Sydney Sportsground, and the Showground Royale.
Whilst going through your pages I came across the Kermond machine. This was the same type of bike that I first bought when I started riding back as an 18 year old in 1965. It had a long 5 stud JAP and had an all-chrome frame, and I remember that the fuel tank had embossed on each side the name "Kermond". It was also the only speedway bike that I have seen that had a quickly-detachable rear wheel (apparently a Rudge dog-drive) or so I was told at the time. (I wish I had never sold the thing and kick myself now! What a great machine it would be to restore now!)
Many Thanks Indeed Ken!!.....