The Dirtrax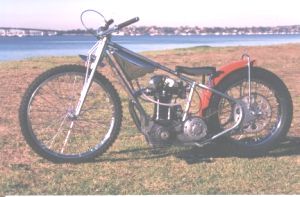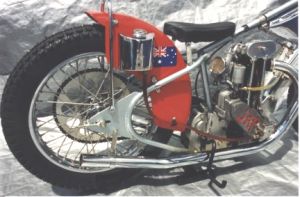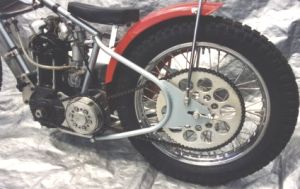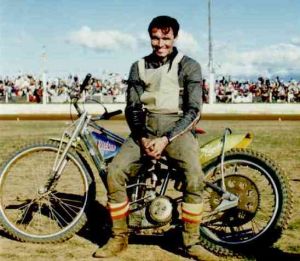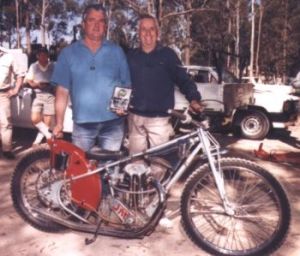 Many thanks to KEVIN RAE in Australia who kindly sent in this picture of his Dirtrax-JAP machine.
Kevin informs us that the machine was built in Australia in approximately 1966-67 and had been marketed by Bert Kingston (former Halifax Dukes rider circa 1964-65).
This particular machine bears the serial number 015, and Ken hopes to be able to unearth more information regarding the total number of machines that were built and over what time span they were produced.
True to his word, further research revealed some interesting details regarding the Dirtrax machine together with some excellent photographs. Ken Writes......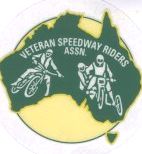 "Finally back to you with some information on the Dirtrax machines.
I have been in telephone contact with Bert Kingston in Brisbane who filled me in with some details.? The frames were built in Queensland by a chap by the name of Ernie Sues.? They were essentially made for the installation of the MSM (Meirson) motors.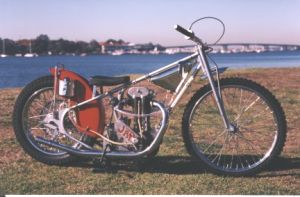 Bert advises that in fact he was, in his own words, the "Test Pilot" for these machines during 1967-68.? Earlier produced machines had the Meirson pushrod (JAP copy) motor, and the rear frame of the conventional bolt-up Mk.1 Rotrax type.? Later produced bikes had the MSM chain-driven OHC motor fitted and the rear frame was of the loop (JAWA) type, (as on my bike). To the best of Bert's recollection there were probably only about fifteen bikes made, (mine Serial No. 015), making it one of, if not the last made.? My bike, on this information therefore appears to be not totally authentic because of the fitment of a 500cc 4-stud JAP.? (When I came across the bike 6 years ago, it had a 350cc 5-stud motor fitted).
Anyway, this is the information I can come up with at this stage, and hope it and the attached photos will help you with your Dirtrax page. N.B. For your information there is quite an interesting web page that takes a look at Bert Kingston's Business in Brisbane and it contains a story on his racing career. There is a photograph in it of Bert posing on a machine which I suspect is an earlier type Dirtrax with probably an MSM push-rod motor fitted (have a look at the tank, do you think it spells out "Dirtrax"?).
NOTE: Have tried enlarging the picture Ken, certainly looks to end in "rax", but not sure if it's "Dirtrax" or "Rotrax". Maybe someone can shed some light from the picture in question pictured.
Re the initial Dirtrax photo I sent you some weeks ago, I neglected to tell you who was in it. On the left is myself and on the right is my good friend Keith "Buck" Ryan, 1953 Australian Speedway Solo Champion, who rode in Scotland for Glasgow Tigers in 1947,48 and 49.He is also a former Australian Test Captain of the early 50's who had many a great duel with the legendary Jack Parker at our old Sydney Sportsground, and the Showground Royale.
Whilst going through your pages I came across the Kermond machine. This was the same type of bike that I first bought when I started riding back as an 18 year old in 1965. It had a long 5 stud JAP and had an all-chrome frame, and I remember that the fuel tank had embossed on each side the name "Kermond". It was also the only speedway bike that I have seen that had a quickly-detachable rear wheel (apparently a Rudge dog-drive) or so I was told at the time. (I wish I had never sold the thing and kick myself now! What a great machine it would be to restore now!)
Many Thanks Indeed Ken!!.....
---
13-Aug-2019
peter.eastgate at bigpond.com
Dirtrax speedway frames
I recently visited Ernie Sues, the manufacturer of the dirtrax motorcycle frame. Ernie said that he manufactured 34 short-circuit or grass track frames and 78 speedway frames. Only one of the speedway frames was fitted with a
Mierson
Sprint Motor, the rest were fitted with either J A P or Jawa engines. Ernie is available to contact on phone [redacted] and now lives at Gordonvale just south of Cairns in Australia.
Peter
Brisbane Australia
---
Peter Eastgate shared this FB post on Ernie Sues:
Ernie's Last Bike
Ernie Sues has built 113 bikes during his life time; 76 speedway bikes and 37 grass track bikes. He named both types of bikes 'Dirtrax' and each bike frame was etched with a serial number. Now, at age 85 years Ernie is in the process of completing his 114th bike destined for a museum in Australia. During the 1960's a passion for 'driving fast and having fun' led Ernie into opening a shop in Buranda where he built and sold bikes and made thousands of motor bike accessories like exhaust pipes, crash bars, mufflers, generator frames and leather carry bags called pannier bags for the Army, Police and Post Office motorcycles - all handcrafted by Ernie.
Ernie's working career began when he completed an apprenticeship as a fitter and turner with the Australian Railways. At the age of 21 he completed his National Service with the Australian Airforce moving from Rathmines to Amberley during that time. On completion of this compulsory service he returned to Cairns but soon decided that there were more business opportunities in Brisbane. Not one to be idle he attended night school and completed a degree in Marine Engineering.
It was during this period that Ernie was also racing competitively in speedway and he became dissatisfied with the performance of the Jawa bikes he was riding. Ernie decided to build his own, initially building the bikes at his house in Bulimba before moving into a factory to make bikes and accessories to order.
Ernie's friend Rusty Rees, renowned Rusty's Market entrepreneur, lent him enough money to get him started. Ernie imported six new JAP(JA Prestwich Industries) engines and clutches for the bikes from England and rather than import the frames, front and rear wheel hubs he built these parts himself. The mud guards and seats were built using a jig for uniformity. Petrol tanks were hand beaten from a sheet of metal to shape by Ernie. Not a man to buy something when he could make it himself, Ernie's talent and ingenuity became his trademark. These bikes were soon noticed by other speedway enthusiasts and a manufacturing business began. His ability to improve on the engine's performance was due to an engine brake he built to determine how much horsepower was put out and by decreasing this down on the engines and increasing the torque it made his bikes a comparable performer to all the imported bikes and in many cases a winner.
Ernie's friend John Titman began working with Ernie as his chief mechanic and also raced the Dirtrax bikes during the weekend. John Titman won the Australian Champion Speedway competition and seven Qld Championships on a Dirtrax bike.
The world track record was won and broken by Kev Torpie on one of Ernie's bikes at the Exhibition speedway in Brisbane.
In 1990 after 29 years in business Ernie decided to close his business and to return to a warmer climate settling in Gordonvale. His workshop and equipment at his home are testament to his continued interest of building and fixing things.
The Dirtrax bike Ernie is currently completing was partially built many years ago as a stand-by in case of accidents to a racing bike. Fortunately, it wasn't needed and now with his Brisbane based friend John Titman's help, this bike when completed will be displayed permanently in Ipswich at the Queensland Motorsport Museum alongside a Dirtrax Grass track bike of Ernie's they already have. Another of Ernie's bikes is displayed permanently in the Auckland Museum in New Zealand.
When this 114th bike is completed this piece of Australian Speedway History will be on temporary display in Gordonvale.
Article and images courtesy Pyramid Views
Denny Lenton writes,
"In 1967, Ernie had a prang at the Ekka and returned from the hospital on crutches. He approached me and asked if I was riding in the short circuit meeting at Tivoli the next day. I was and he asked if I would ride in replace of him in races he had entered in on his 500BSA in the new frame he had built. I said I would ride in any race that I was not committed to as I was riding my own 350 AJS and also some events for Des Raffin. On the Sunday I did some practice laps on my bike, and said to Des I would do a few laps on his and I would concentrate on Ernies bike. After a few practice laps on his, all other bikes that I had ever raced seemed like hacks. As it turned out, I won every event I was in, on his bike, and became his permanent rider from that day until about 1969, progressing from the 500BSA to a 500JAP and at one stage a 350 JAP. Ernie was a perfectionist, and near enough was never good enough, everything had to be perfect."
---